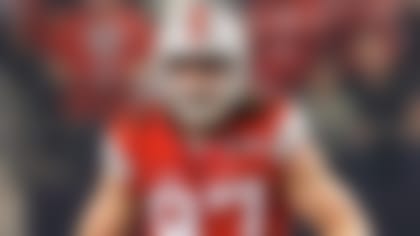 Preseason All-American teams are similar to preseason top-25 rankings in that neither guarantees success. However, these are not pointless, as the lists can help college football fans get ready for the upcoming season by letting them know the best players and teams to look forward to this fall.
And after a few months without football, I think fans are ready to ingest any available information to get ready for the upcoming season.
So, here are my early favorites to capture top FBS All-American honors at the end of the 2015 season, as well as others likely to be in the hunt for the top spots if they can step up their games this fall. I'll be taking a look at each position, continuing today with defensive linemen.
Joey Bosa, Ohio State: Bosa was a finalist for multiple national awards as a sophomore (21 tackles for loss, 13.5 sacks) but he'll take a few home after this season. The Big Ten's 2014 Defensive Player of the Year is already being called a mini-J.J. Watt (at 6-foot-6, 275 pounds, mind you) because he lines up inside and outside and has the length, strength, and agility to make plays reminiscent of those made by the reigning NFL Defensive Player of the Year.
Shawn Oakman, Baylor: We're all in awe of the physical attributes that this 6-8, 280-pound, chiseled athlete possesses. When playing with leverage, Oakman can take any left tackle in the country straight into the quarterback. Oakman's 19.5 tackles for loss and 11 sacks earned him first-team All-Big 12 and third-team All-America honors last season. He'll likely be a first-team All-America selection this season if he dominates as regularly as his physique should allow.
Derek Barnett, Tennessee: The Tennessee native made a great first impression as a true freshman in 2014. Barnett (6-3, 258) made the most tackles for loss of any Volunteer since 2000 (20.5) and recorded 10 sacks, utilizing a nice combination of strength, get-off, and an innate ability to get under the pads of his man to shorten the corner.
Shilique Calhoun, Michigan State: The two-time first-team All-Big Ten pick surprised some by returning to school for his senior year after accumulating 26.5 tackles for loss and 15.5 sacks over the last two seasons. Look for double-digit sacks from Calhoun (6-5, 250) in his last year in Lansing.
Myles Garrett, Texas A&M: Garrett's true freshman campaign already puts him among the best in the country at his position. The second-team All-SEC pick (14 tackles for loss, 11.5 sacks) has good size (6-5, 255). His natural bend gives him a chance to get around offensive tackles in a hurry as he pursues the quarterback. The sky is the limit for Garrett, and he'll likely be a fingertip away from the clouds in 2015.
Emmanuel Ogbah, Oklahoma State: Ogbah, a native of Lagos, Nigeria, made an instant impact as a redshirt freshman in 2013, recording four sacks. In 2014, he rode an accelerated learning curve into a Big 12 Defensive Lineman of the Year season (17 tackles for loss, 11 sacks). Obgah is not the swiftest edge rusher in the country, but will once again rack up big numbers because of his strength at the point of attack against the run as well as his hustle to the ball.
A'Shawn Robinson, Alabama: In the Tide's 3-4 alignment, Robinson lines up in the five-technique defensive end position, even though he's 6-4, 312 pounds. He can play the position at that size because of his tremendous athleticism. However, he can hold up at nose tackle and has the ability to collapse the pocket from anywhere on the line, which gives him a chance to earn All-America honors.
Maliek Collins, Nebraska: Any offensive line that doesn't double-team Collins should be prepared to pay the price. He earned second-team All-Big Ten accolades as a sophomore (14 tackles for loss, 4.5 sacks) by out-quicking guards off the snap, ripping them aside with strong hands or pushing them backwards with leverage (6-2, 300). Even if his numbers decline in 2015 as he receives more attention from opposing offensive lines, Collins will make enough plays to remind everyone that he's a force inside.
Robert Nkemdiche, Ole Miss: Forget about Nkemdiche's mediocre stat line (4 tackles for loss, 2 sacks) in 2014. The former top national high school recruit and Freshman All-American affects a lot of plays each game for the Rebels' defense. Although he is listed as a defensive tackle (6-4, 296), his athleticism allows him to line up all over the field. Whether it is beating his man with strength on the outside or splitting double teams inside, Nkemdiche is a constant around the ball.
Andrew Billings, Baylor: One of the strongest players in college football, Billings (6-2, 300) will likely plow his way into opposing backfields again in 2015. The consensus first-team All-Big 12 selection was credited with 11.5 tackles for loss and two sacks last season. He uses brute force, collapsing the pocket whenever his opponent isn't up to the challenge. Oakman and Billings give Baylor one of the best inside-outside duos in the country.
Jarran Reed, Alabama: The East Mississippi Community College transfer doesn't light up the stat sheet (6.5 tackles for loss, one sack in 2014) for the Tide, but he's utterly disruptive in the middle. He commands double teams and eats them like a 6-4, 313-pounder should.
Adolphus Washington, Ohio State: Washington nearly matched his sack total in 2014 (4.5) with four sacks in Ohio State's Scarlet and Gray Game this spring. The former Ohio High School Basketball Player of the Year brings that athleticism to the interior of the Buckeyes' front four. He has enough strength to hold up against the run, too. If that spring performance is any indication of Washington's (6-4, 290) readiness for his senior campaign, Washington and Bosa are going to present real difficulties for opponents.
Anthony Zettel, Penn State: Zettel (6-4, 274) brings a great motor to the defensive line and he uses it well, whether he's beating tackles on the outside or knifing into gaps inside to make plays in the backfield. The first-team All-Big Ten pick (17 tackles for loss, eight sacks in 2014) will be a thorn in the side of offensive coordinators throughout his senior season.