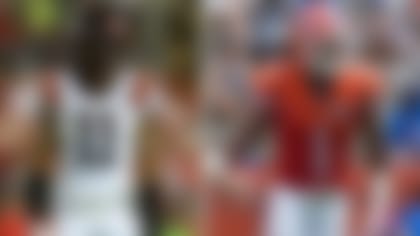 Preseason All-American teams are similar to preseason top-25 rankings in that neither guarantees success. However, these are not pointless, as the lists can help college football fans get ready for the upcoming season by letting them know the best players and teams to look forward to this fall.
And after a few months without football, I think fans are ready to ingest any available information to get ready for the upcoming season.
So, here are my early favorites to capture top FBS All-American honors at the end of the 2015 season, as well as others likely to be in the hunt for the top spots if they can step up their games this fall. I'll be taking a look at each position, continuing today with cornerbacks.
Kendall Fuller, Virginia Tech: Yes, there's another defensive back named Fuller coming out of Blacksburg. Three of Kendall's older brothers -- Vincent, Corey, and Kyle -- all excelled for Virginia Tech, and Kendall might be the best of the bunch. Despite playing with a fractured wrist for most of last season, Kendall Fuller used his excellent ball skills and tenaciousness to intercept two passes and break up 15 others. His foot quickness and fluid hips keep him in the back pocket of any receiver he's assigned to cover.
Vernon Hargreaves III, Florida: Having already earned All-America recognition in his first two seasons, intercepting six passes and breaking up 24 others, it's a no-brainer to include Hargreaves on this list. He does not back down against larger receivers (he's listed at 5-foot-11, 192 pounds), winning hand play downfield, going up high on jump balls, and dislodging the ball whenever possible. His father, Vernon Hargreaves II, was a two-time All-American at UConn and serves as the linebackers coach at Arkansas.
Adoree' Jackson, USC: Jackson did his best Charles Woodson imitation as a true freshman, starting 10 games at cornerback (10 pass deflections), making 10 catches for 138 yards (three touchdowns), and scoring twice on kickoff returns. His average of 29.7 yards per kick return ranked fifth in the country. The scary fact for USC opponents is that Jackson will only get better as a defender. Oh, and he recently was selected as a track & field All-American after anchoring the Trojans' 4x100 relay and excelling at the long jump.
Zack Sanchez, Oklahoma: Despite his slight build (5-11, 175) and three-star recruiting ranking, Sanchez earned a starting role in his first action as a Sooner in 2013. He's a tough player vs. the run and pass. Sanchez baits quarterbacks to step in front of their throws, and he has nice hands to take advantage of miscues (eight interceptions, 21 pass breakups in 2013-14). He's the type of guy any coach would want on an island against an opponent's top receiver.
Cameron Sutton, Tennessee: A full-time starter in both of his seasons in Knoxville, Sutton is already one of the country's best cornerbacks. He possesses the size (6-1, 189) to match up with tall receivers and has the agility to stay with quicker wideouts down the sideline. Quarterbacks have learned the hard way that Sutton also has the ball skills to make plays on passes in his direction. He had three interceptions and 13 pass deflections in 2014.
Xavier Woods, Louisiana Tech: Woods (5-11, 188) might fall into the "best player you've never heard of" category. The first-team All-Conference USA selection picked off six passes last fall and broke up seven others. He's a big hitter who looks to force a turnover (three forced fumbles) on nearly every one of his tackles (he had 71 stops in 2014). The fact that Woods doesn't play in a Power Five conference will hurt his All-America candidacy, and that's unfortunate because he's very worthy of the recognition.