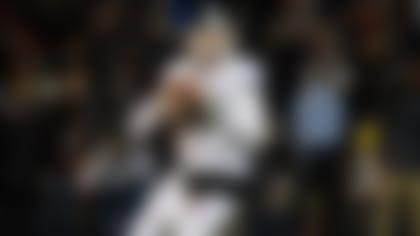 This week, I'll unveil my rankings of the top 15 senior, junior, redshirt sophomore and true sophomore prospects in college football, beginning today with seniors.
1. Connor Cook, QB, Michigan State
Cook is one of the most intriguing prospects in college football, and could be the 2016 draft's top overall pick if he can lead an inexperienced group of receivers to success in his final season with the Spartans. He has the size (6-foot-4, 220 pounds), athleticism, anticipation, toughness, and football intelligence to excel in the NFL.
2. Shawn Oakman, DE, Baylor
At 6-foot-8 and 280 pounds, Oakman certainly stands out wherever he goes. He'll need to show scouts consistent explosiveness, leverage, and motor, in addition to his bullish strength, before he will be labeled a "can't-miss" prospect.
3. Taylor Decker, OT, Ohio State
Decker is the undisputed leader up front for the Buckeyes. Scouts will be watching to see if he can prove that he has the natural bend and elite athleticism (to go along with his length, strength and toughness) to be a top-five pick.
4. Spencer Drango, OT, Baylor
Drango is a four-year starter, and there's no questioning his intensity or strength at the line of scrimmage. Like Decker, Drango needs to consistently hit targets in space and hold off top edge rushers with elite quickness in 2015 to show scouts he can be a top left tackle in the NFL.
5. Jordan Jenkins, OLB, Georgia
Jenkins came into his own as a junior last season. He has quick hands to beat blockers and deadly straight-line speed. If he's consistently disruptive in 2015, Jenkins (6-3, 253) should be in the top-10 conversation.
6. D'haquille "Duke" Williams, WR, Auburn
A sprained MCL suffered late in the year and suspension for breaking team rules made for a disappointing finish to Williams' 2014 season. As of this writing, he's not practicing with Auburn due to a "discipline issue." Scouts will be watching to see if Williams (6-2, 224) can thrive as a go-to guy in 2015 as they try to determine whether he's a top-10 pick or a second-rounder with question marks.
7. Vadal Alexander, G/OT, LSU
After starting for two seasons next to La'el Collins at left guard, Alexander (6-foot-6, 320 pounds) is expected to move back to right tackle this year. He started the last seven games of his freshman season at right tackle and earned Freshman All-American honors. Alexander could be a first-round pick as a guard, but success at right tackle this season is crucial for Alexander to prove he can succeed as a pass protector playing outside.
8. DeForest Buckner, DE, Oregon
Buckner (6-7, 290) flashes the skills of an elite prospect, but good offensive linemen can dominate when matched up against him, using his tall frame to keep him from getting leverage. If he can improve his stack-and-shed ability and motor while consistently winning the edge, he'll put some concerns about his ability to rest.
9. Shilique Calhoun, DE, Michigan State
Calhoun's flexibility around the edge is average, so he'll need to beat NFL-caliber tackles around the corner this season to show scouts that he can be a consistent pass-rush threat in the pros. Calhoun (6-5, 250) will be graded as a first-rounder if he can also hold his ground and shed regularly in the run game.
10. Nick Martin, G/C, Notre Dame
The brother of 2014 first-round pick Zack Martin, Nick (6-4, 301) offers versatility, as he moves between center and guard with ease. Teams looking to improve up front on offense should consider picking up Martin in the mid-to-late first round.
Take a look at the best photos from the 2015 college football fall camps.
11. Fabian Moreau, CB, UCLA
Moreau (6-0, 195) had an uneven junior season after head coach Jim Mora said he played like a potential first-round pick in 2014 spring practice. Moreau, a smooth athlete with only one career interception, will get his chance to live up to the hype in 2015.
12. Landon Turner, G, North Carolina
Turner (6-4, 325) will attract the attention of NFL evaluators with his ability to create movement at the line of scrimmage. He's not too heavy-footed to protect the quarterback, either. He'll be looking to prove he belongs in the top half of the first round this season.
13. Reggie Ragland, ILB, Alabama
Ragland (6-2, 252) is looking to show NFL general managers that he can be a three-down linebacker. He didn't play on third downs at times during his first year as a starter (in 2014), but Ragland is not slow-footed.
Tuerk (6-6, 285) has starting experience at just about every offensive-line position, and he could valued similarly to Cameron Erving (No. 19 overall pick in this year's draft) next year due to his versatility. He is a bit taller and more slender than most pro pivots, but with more work in the weight room, NFL teams could determine that center is where he'll fit best as a pro.
If Cash (6-2, 205) proves himself as a slot cover man during this season, it should help him join his former teammate, guard Laken Tomlinson, as a first-round selection. The Blue Devils are looking for their first back-to-back drafts with a first-round pick in school history.