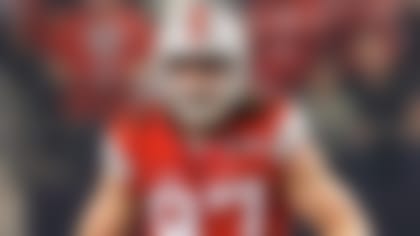 This week, I'll unveil my rankings of the top 15 senior, junior, redshirt sophomore and true sophomore prospects in college football, continuing today with juniors.
1. Joey Bosa, DE, Ohio State
Bosa is already being compared to J.J. Watt because he lines up inside and outside and has the length, strength, and agility to make plays reminiscent of those made by the reigning NFL Defensive Player of the Year. Yes, he's going to miss the opener due to a suspension, but he's still the guy with whom I'd start a team from scratch.
2. Scooby Wright III, LB, Arizona
Wright is both fundamentally sound and fun to watch. He can punch off blocks inside to get to running backs, spin off blocks on his way to the quarterback as an outside rusher, or explode through gaps on stretch plays to track down ball carriers trying to get outside. In short, he does it all.
3. Su'a Cravens, LB/S, USC
You can call him a linebacker (17 tackles for loss, five sacks in 2014) or a safety (three interceptions, nine pass breakups) -- I call him a playmaker. Of course, the Troy Polamalu comparisons have already begun, and it's tough to fully ignore that comp because he does explode into the backfield to stop the run and is able to sneak in front of second-level passes as well.
4. Jaylon Smith, LB, Notre Dame
Smith has a chance to be the second player to win the high school and college Butkus Awards (top linebacker); fellow Golden Domer Manti Te'o was the first. There have been few linebackers in recent memory with the tackling ability, quickness to the ball, and natural instincts that Smith possesses.
5. Vernon Hargreaves III, CB, Florida
Hargreaves does not back down against larger receivers (he's listed at 5-11, 192), winning hand play downfield, going up high on jump balls, and dislodging the ball whenever possible. Just put him on an island and watch him go to work.
6. Robert Nkemdiche, DT/DE, Ole Miss
I don't know if I've seen a player who is as disruptive as Nkemdiche but doesn't get the statistical credit he deserves (4 tackles for loss, 2 sacks in 2014). I agree with SEC coaches that he's a first-team All-SEC performer, using his defensive tackle size (6-4, 296) and defensive end athleticism to disrupt offenses inside and outside.
7. Laremy Tunsil, OT, Ole Miss
Domestic violence charges against Tunsil stemming from a family dispute have been dropped. However, questions linger about his eligibility after his stepfather alleged that Tunsil accepted improper benefits from sports agents and during his recruitment to Ole Miss. If he's eligible and fully recovered from the broken fibula and dislocated ankle he suffered in the team's loss to TCU in the Chick-fil-A Peach Bowl last season, Tunsil will be the best lineman in the country because of his ability to pass protect, seal the edge and get downfield in the run game -- everything you want from an elite left tackle.
The first Seminole freshman to start at cornerback in the season opener since Deion Sanders in 1985, Ramsey is a top talent at a nickel/safety spot that is becoming more important in college (and pro) football. His size (6-0, 201), tenacity, and closing speed (he ran a leg of the track and field squad's ACC champion 4x100 relay) make him a perfect fit for that playmaking role.
9. Kendall Fuller, CB, Virginia Tech
Fuller is carrying on the family name in Blacksburg quite well (three older brothers played for the Hokies). Despite playing with a fractured wrist for most of last season, Fuller used his excellent ball skills and tenaciousness to intercept two passes and break up 15 others. His foot quickness and fluid hips keep him in the back pocket of receivers, so look for his interception total to increase with two healthy wrists this season.
10. Ronnie Stanley, OT, Notre Dame
The fourth-year player is out to help quarterback Malik Zaire in his first season as Notre Dame's starter. Stanley could have been an early first round pick last April, but decided to return to South Bend to use his length and athleticism at left tackle for a second season (he started at right tackle in 2013).
11. Myles Jack, LB/RB, UCLA
Jack is this year's version of 2015 first-round pick Shaq Thompson, a productive Pac-12 linebacker who also regularly lines up at running back. Jack, the Pac-12 Offensive and Defensive Rookie of the Year in 2013, stepped up his game last season (88 tackles, eight for loss, seven pass deflections, three rushing touchdowns). Jack's athleticism is actually superior to Thompson's, as Jack can move well in slot coverage as well as attack the line of scrimmage.
12. Laquon Treadwell, WR, Ole Miss
Treadwell is as physical as he wants to be as a receiver and blocker. He seems to be recovering nicely from the broken leg and dislocated ankle he suffered last season. If he can recoup the speed and strength that made him an every-down threat in 2014, expect him to nearly double his 48 catches, 632 yards, and five touchdowns from last season in 2015.
13. Ezekiel Elliott, RB, Ohio State
The quarterback situation receives all of the attention in Columbus, but Elliott is the driving force on offense. While just average in size (listed at 6-0, 225), his ability to exploit a hole inside or hop outside to rip off chunks of yardage makes him a valuable player. So valuable, in fact, that he won both Offensive MVP awards in Ohio State's College Football Playoffs wins over Alabama (230 yards, two TDs) and Oregon (246 yards, four TDs).
14. Tyler Boyd, WR, Pittsburgh
Not only is Boyd's presence problematic for opposing defenses (two 1,000-yard seasons, 15 receiving touchdowns the past two seasons), but he's a threat as a kick (27.6 yards per attempt) and punt (10.1 yards per attempt) returner despite his taller build (6-2, 190). Boyd is suspended for the season opener, but look for him to sprint past, jump over and sidestep defenders in 2015.
15. Rashard Higgins, WR, Colorado State
Higgins' 1,750-yard, 17-touchdown effort in 2014 was quite impressive, as he showed an innate ability to snatch the ball out of the air on the run as well as simultaneously change direction and accelerate. If the Rams' new starting quarterback can get the ball into his hands, it won't be shocking to see him get even closer to (if not surpass) the 2,000-yard mark.