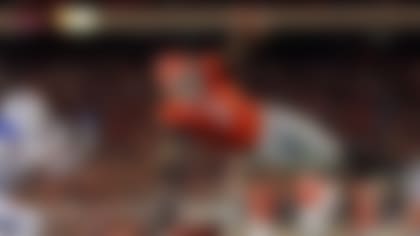 The devaluation of the running back position in the NFL has been widely debated over the past few seasons, but that narrative will come to an end in 2015 due to the tremendous amount of talent at the position in the pipeline.
Surveying the collegiate landscape, I see a number of blue-chip prospects with the capacity to carry the load as feature backs. From an impressive collection of "big" backs with prototypical physical dimensions to a handful of scat-backs with exceptional speed and quickness, the top runners in college football have enough core characteristics to earn high grades on draft boards across the league.
Although this list is a compilation of the top running backs in college football, there's no doubt in my mind that there are several prospects with the talent and potential to earn consensus Round 1 draft grades down the road. With that in mind, here's a peek at the running backs scouts will watch closely in the fall:
There's nothing like watching a five-star recruit live up to the hype on the biggest and brightest stages. That's why scouts are excited about Gurley's potential at the next level after watching him tear it up in the SEC as the hammer in the Bulldogs' offense. The 6-foot-1, 232-pound junior has tallied 27 rushing touchdowns over the past two seasons, while also posting 13 100-yard games during that span. That's impressive production for a runner who battled through an assortment of injuries that kept him from playing at peak form in 2013. Regardless, Gurley displayed enough speed, quickness and power in a number of impressive performances (Clemson, South Carolina and Georgia Tech) to evoke comparisons to a young Marshawn Lynch.
Karlos Williams, Florida State
It's hard to believe Williams spent two-plus seasons on the defensive side of the ball after watching him tote the rock with authority for the Seminoles last season. The 6-1, 223-pounder is a natural runner with exceptional vision, balance and body control. He is nimble in the open field, yet displays the strength and power to act as a sledgehammer on runs between the tackles. With Williams tallying more than 700 rushing yards on just 91 attempts, the combination of production and talent could make him a top choice of NFL scouts searching for an Adrian Peterson-like runner on the collegiate level.
Home-run hitters are always coveted at a premium by NFL coaches and scouts in the pre-draft process. Thus, evaluators are smitten with Gordon's speed, explosiveness and big-play potential as a perimeter runner. The 6-1, 203-pound speedster averaged an astonishing 7.8 yards per carry in 2013, while tallying more than 1,600 rushing yards for the Badgers. As a runner, Gordon is a long strider with sneaky quickness and acceleration in the hole. He flashes explosive pitter-pat bouncing runs to the perimeter, but is more than a "one-trick pony" as a runner. Gordon effectively runs between the tackles on counters and powers, exhibiting enough strength and power to run through arm tackles in traffic. As a result, NFL scouts are encouraged by his ability to be a feature back at the next level.
There is always a place in football for a big, bruising runner with exceptional feet and vision. Thus, scouts are paying close attention to Brown's progress as a feature back for the Longhorns. The junior standout has amassed 1,970 rushing yards in two seasons, including a 904-yard effort in 2013 that featured five 100-yard games and nine rushing touchdowns. Looking at Brown's game on tape, it's his physicality and burst that make me believe he will be an impact player in a power-based offense that features a downhill running game. Whereas some runners wear down at the end of games, Brown is at his best when he surpasses the 20-carry mark in a game. That's why scouts are salivating over his size, skill and potential as a feature back in an old-school offense at the next level.
Size definitely matters in the NFL, but scouts will make exceptions for runners with explosive skills on the perimeter. Abdullah will certainly benefit from the leniency due to his remarkable running skills and big-play ability. The 5-9, 190-pound I-Back has posted back-to-back 1,000-yard seasons as the feature runner in the Cornhuskers' option attack. Looking at Abdullah on tape, he exhibits the speed, quickness and agility to be a terrific change-of-pace back at the next level. While his size will always lead to concerns about his durability, the fact that he had nine games with 20-plus carries in 2013 says a lot about his ability to carry the load as a primary ball carrier.
Jeremy Langford, Michigan State
For all of the attention QB Connor Cook receives for spearheading the Spartans run to the Rose Bowl, it was the emergence of Langford as a dependable feature back that helped Michigan State make its way to Pasadena. The junior standout topped the 100-yard mark in eight of the Spartans' final nine games. More importantly, he recorded 20-plus carries in nine consecutive games, exhibiting a smooth running style that masks his strength and power as a downhill runner. Additionally, Langford flashed solid receiving skills, which make him a potential three-down back at the next level. If Langford can put together another 1,000-yard season -- while continuing to show balance, body control and vision as an inside runner -- he could cement his status as the top runner in the Big Ten.
Take a look at the cheerleaders of college football in action during the 2013 season.
Mike Davis, South Carolina
The 2013 SEC rushing leader quickly established himself as one of the top runners in college football after capably filling in for the departed Marcus Lattimore as the anchor of the Gamecocks' rushing attack. Measuring 5-9, 215 pounds with 40-yard dash speed reportedly in the 4.5-second range, Davis is a power runner with nifty feet and outstanding balance. He slithers through traffic between the tackles, yet displays the strength and power to run through contact on the second level. As a result, Davis routinely breaks off big gains against loaded defenses geared to stop the Gamecocks' potent running game. Thus, evaluators looking for a workhorse runner will pay close attention to Davis' progress over the next few years to see if he can carry the load as a pro.
Duke Johnson, Miami (Fla.)
Johnson, the most talented runner to play at "The U" since Frank Gore, has a game that's already ready made for the pros. Johnson is a talented runner-receiver with a shifty running style that makes him nearly impossible to bring down in the open field. In addition, he is a tough, hard-nosed ball carrier who refuses to go down on initial contact. Although that trait is admirable, the junior standout would be wise to avoid the unnecessary punishment when measuring just 5-9, 196 pounds. While those diminutive dimensions will keep some scouts from fully supporting his candidacy, the fact that he has posted seven 100-yard games in 20 appearances should erase some of the concerns about his emergence as one of the top runners in college football.
Take a look at the best college players to watch in the fall.
The explosive scat-back has all of the tools to take Alabama's running game to another level in 2014. He is an electrifying runner with superb stop-start quickness and acceleration. Additionally, Yeldon flashes sneaky strength and power to run through arm tackles in the hole. While he has struggled with fumbles and ball-security issues, Yeldon's spectacular production (207 carries for 1,235 rushing yards with 14 scores) and immense talent make it tough to ding him significantly for a correctable flaw. If he can manage to keep the ball from routinely hitting the turf, Yeldon has a chance to vault to the top of the list as one of the top runners in college football.
If you happened to catch a glimpse of Henry running roughshod over Oklahoma in the 2014 Sugar Bowl, you're well aware of why NFL scouts are already salivating about his potential as a pro. The 6-3, 238-pound sophomore is an athletic freak (Henry clocked a 4.52-second time in the 40-yard dash, 4.15-second pro-agility shuttle and 41-inch vertical at the 2012 SPARQ National Championships held at "The Opening" at Nike World Headquarters) with a hard-charging running style that strikes fear in the hearts of defenders at the second level. Most impressive, Henry displayed soft hands as a receiver and surprising agility for a man of his size. Given the lack of big, athletic backs among the collegiate ranks, Henry's rare combination of size, speed and skill has already piqued the interest of NFL scouts looking for a dynamic workhorse to build around.
Others to watch: Thomas Tyner, Oregon; Terrence Magee, LSU; Alex Collins, Arkansas; Derrick Green, Michigan.