Georgia RB Todd Gurley is "day-to-day" with an ankle injury that forced his removal from the Bulldogs' 44-41 win over LSU on Saturday, and will be limited at practice at least Monday and Tuesday, coach Mark Richt told reporters Sunday.
Things we learned in Week 5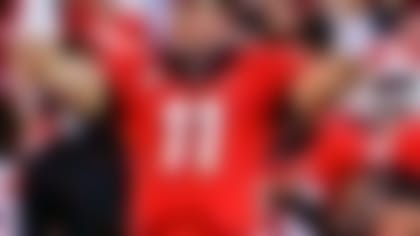 From Georgia's thrilling victory over LSU to USC's loss that got Lane Kiffin fired, here are 43 things we learned about Week 5 in college football. More ...
Considered one of the top running backs in the nation, the star sophomore missed part of the first half and the entire second half after being injured on a sideline tackle.
"He just sprained his ankle, so he's day-to-day," Richt said, according to macon.com. "No surgery, nothing like that. Just gotta let it get as much treatment as you can, and get ready as soon as you can."
Gurley was injured on a 23-yard first-half run. He has 450 yards on the season, including 154 in a season-opening loss to Clemson.
He was replaced Saturday by Keith Marshall. If Gurley is unable to play next week at Tennessee, freshmen J.J. Green and Brendan Douglas would compete for playing time with Marshall.
Given the way Gurley's injury looked on replay, the news couldn't be better for both the running back and the Bulldogs.