While he is looking forward to being an analyst on the SEC Network, Tim Tebow reiterated Tuesday that his main goal is to play quarterback in the NFL.
ESPN announced Monday that Tebow had been hired for the new network, which begins broadcasting in August. The contract has an out clause if an NFL team shows interest in signing him as a player, and Tebow tweeted Monday that he wanted to continue "to pursue my dream of playing quarterback in the NFL."
During a Tuesday conference call, Tebow, 26, said he still trains five days a week. "I feel like I'm the best that I've ever been as a quarterback right now, and I hope I get the opportunity to show that," he said.
Tebow said he was excited about the ESPN opportunity, "but who knows what the next few months will hold?"
The always upbeat Tebow was asked whether he could be an objective analyst.
Heisman to NFL disappointment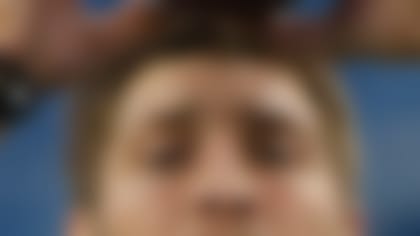 There is a mixed bag of results for Heisman Trophy winners in the NFL. This is a look at the biggest disappointments among Heisman winners in the NFL going back 25 years. More ...
"I would love to continue to be someone that is positive but also be someone that is objective," Tebow said. "I have never had a hard time saying what I believe or standing up for something, and hopefully, I can continue to be that same person as an analyst and sharing what I believe about players, about teams, about games."
Tebow's main ESPN role will be to appear on "SEC Nation," a Saturday morning pregame show that will travel to league campuses each week. He will make his ESPN debut during the network's coverage of the BCS championship game Jan. 6.
Tebow was part of two national title teams at Florida -- he was a backup on the 2006 team and the starter in 2008. He won the Heisman in 2007 and led Florida to a 12-1 record as a senior in 2009.
Tebow was Denver's first-round pick in the 2010 draft, then became the Broncos' starter in the second half of the 2011 season and led them to a first-round playoff win. But he was traded to the New York Jets after that season following Denver's signing of Peyton Manning. He played sparingly for the Jets in 2012, then was signed but cut by New England earlier this year.
Mike Huguenin can be reached at mike.huguenin@nfl.com. You also can follow him on Twitter @MikeHuguenin.