Texas head coach Mack Brown was a guest on the Dan Patrick show on Friday, and Patrick asked him about the long-standing rumor that the Longhorns wanted to sign Johnny Manziel and move him from quarterback to safety.
"We never offered Johnny, and we sure didn't offer him as a safety," Brown said. "That's been blown way out of proportion."
So, it's not that Brown wanted Manziel but only as a safety -- he didn't offer him at all. It's doubtful Longhorns fans will consider that a more forgivable sin. Maybe Brown would have been better off not commenting on that one.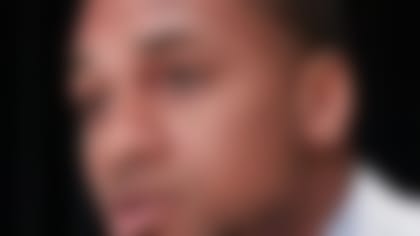 The competition gets tougher for Ole Miss and Donte Moncrief, who take on No. 1 Alabama. Take a look at where that matchup ranks among our top 10 games to watch in Week 5. More ...
"He was not interested because we had Colt McCoy, and he wanted to start," Brown said. "So he committed to (coach) Art Briles at Houston. Then when Art when to Baylor, he took (RG3) with him. So we never had a chance to get RG3."
As for the most recent breakthrough quarterback Texas allegedly whiffed on -- Florida State redshirt freshman Jameis Winston -- Brown said Texas never had a shot at him. Winston said earlier this month that he wanted to play at Texas, but never received any interest from the school.
"Jameis Winston was a young man who I didn't hear anything from until he met one of our guys in January at an All-Star game," Brown said. "And he said that he would like to visit Texas. He was already committed to Florida St. and really interested in Alabama. Alabama is not a hotbed for us. So I had some great friends that were very close to the situation, and I called and asked if we had any chance to get Jameis Winston ... they said 'You've got absolutely no chance. He's probably going to Florida St. If anyone can get him, it's Alabama.' Obviously I would have recruited him really hard if we had a chance."
Missing out on all this quarterback talent -- including two from in-state in the cases of Manziel and RG3 (Winston is from Alabama) -- has not cost Brown his job yet, but the heat was turned up on him again after Texas started the season 1-2 before beating Kansas State last week. In the days leading up to that game, a report surfaced that a member of the Texas board of regents had reached out to Nick Saban's agent in January to see if Saban would be interested in the Texas job if the school were to part ways with Brown.
Brown shook that off, too. When asked about the situation on Friday, Brown said "it didn't bother" him.
"I've been fired about three times in 16 years at Texas," he said. "I've been down before, I just want to fight and continue to go back. But I do think, message to young coaches: 'Don't give up. Don't let the negativity get you. Don't give in to everything everybody says that's unimportant. Go win. Do your job.' And that's the thing I'm trying to do."
He gets his next chance to quiet his critics on Oct. 3 at Iowa State -- the Longhorns are off this week.