Texas A&M defensive tackle Kirby Ennis, the Aggies' top interior defensive lineman and an NFL draft prospect, is out indefinitely with a left knee injury. The 6-foot-4, 310-pound senior limped off the field during A&M's win over Arkansas Saturday, then returned briefly with a brace on the knee before coming off the field again.
Aggies coach Kevin Sumlin was not encouraged about Ennis' playing status Tuesday.
Things we learned in Week 5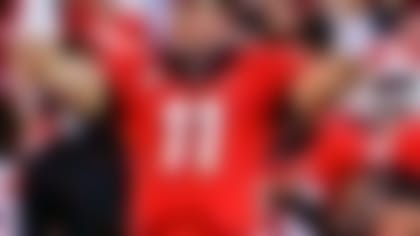 From Georgia's thrilling victory over LSU to USC's loss that got Lane Kiffin fired, here are 43 things we learned about Week 5 in college football. **More ...**
"Darian Claiborne's got a thigh bruise and I'd expect him to be back next week. Kirby Ennis is a lot more serious than that," Sumlin said, according to Texags.com. "We'll continue to evaluate that and see where he is by the end of the week."
Texas A&M ranks dead last in the Southeastern Conference in rush defense, allowing 215 yards per game, worse even than Kentucky by a margin of 14 yards. Injuries and suspensions have played a role in that, and Ennis himself was suspended for the season opener against Rice. Sumlin mentioned several players who have helped improve TAMU's run defense with their return, but made no secret of what Ennis means to the team's rush defense.
"(Linebacker) Claiborne's really helped us, Steven Jenkins being back full time has helped us," Sumlin said. "We really kind of solidified who we are until Kirby, as big an anchor as we've got down there, goes down."
Ennis had made just six tackles on the season, but he gives the Aggies a valuable presence inside with his ability to hold the point of attack. He is considered a fringe pro prospect. If his knee sidelines him for an extended period, he may need a strong offseason showing at the NFL Scouting Combine, or at TAMU's pro day, to draw draft interest.