If the Houston Texans draft South Carolina star defensive end Jadeveon Clowney, don't be surprised if owner Bob McNair has Clowney's locker placed next to that of Texans star J.J. Watt. McNair, being an alum of South Carolina, has obviously been paying attention to both the praise and criticism of Clowney.
McNair's Texans hold the first pick in the 2014 NFL Draft, and Clowney is among a handful of players considered to be a possibility for the pick. McNair has also suggested the club might trade out of the top pick, a scenario which could also conceivably land the 6-foot-6, 275-pound defensive end in Houston. But along with the physical attributes that have made Clowney one of the draft's most promising prospects, there also have been questions about his maturity and work ethic.
McNair, if the Texans indeed land the early-declaring junior, has that solution already in place. In a video interview with houstontexans.com, McNair said he sees Watt as the ideal mentor.
"He's not a J.J. Watt," McNair said. "J.J. didn't have that natural (ability). He worked. He developed his. I said to J.J., 'I don't know what will happen but if we get Clowney, we want you to instill in him the same kind of work habits that you have.' He said, 'Well, if he's in the same room with me, he'll have them.'"
Watt delivered 10.5 sacks and forced four fumbles for the Texans this season, making 80 tackles. McNair sees Clowney as more athletic than former Texans No. 1 overall pick Mario Williams. But he also understands why Clowney's work ethic might need a boost at the NFL level.
Underclassmen for 2014 draft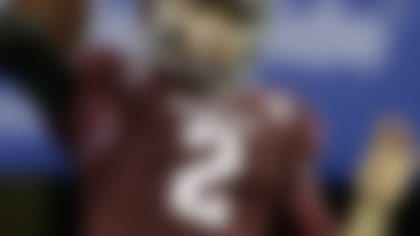 "He is a remarkable player. He's one of these players that is really a once-in-every-10-years kind of physical specimen that comes along. Mario Williams was that way. I think Clowney is actually a better athlete than Mario, so that kind of tells you what kind of player he can be," McNair said. "Like many of these fellows who have these great physical attributes, they didn't have to work as hard in junior high school, in high school, and in college, to be a superlative athlete, because they had this natural ability."
Clowney's production fell from 13.5 sacks in 2012 to just three this season, and critics piled on him for everything from taking plays off, to sitting out a game against Kentucky without telling coach Steve Spurrier prior to game day.