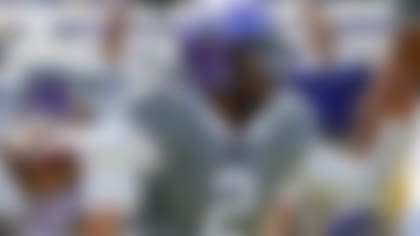 Picking just 25 players as the best in college football over the first half of the season is more than difficult -- it's downright frustrating.
It's tortuous to leave the likes of Florida State running back Dalvin Cook, Ole Miss receiver Laquon Treadwell, and defensive tackle Robert Nkemdiche off of an All-America squad. And there could be another All-America team built with players that have been bitten by the injury bug in the first half of the season: Georgia running back Nick Chubb, Michigan State offensive tackle Jack Conklin, Virginia Tech cornerback Kendall Fuller, UCLA linebacker Myles Jack and Arizona linebacker Scooby Wright III.
Ole Miss offensive tackle Laremy Tunsil should also be on this list, but he has yet to play this season due to a suspension. He'll get his chance to win postseason awards if he can handle one of the exceptional pass rushers listed below, Texas A&M's Myles Garrett, in his first action of the year on Oct. 24.
Nonetheless, the players below are very deserving of being listed among the best in the country at their positions.
Trevone Boykin, senior, TCU: Boykin's performance against Kansas State last week not only cemented his status as the top playmaking quarterback in the country, but might also prove to be one of his "Heisman moments." He was picked off twice in Manhattan, but threw for 300 yards and ran for another 124 as he led the Horned Frogs to the 52-45 comeback road win. If he does the same (or more) against Baylor on the day after Thanksgiving, he'll be holding a trophy in New York City.
Ezekiel Elliott, junior, Ohio State: Zeke's steady production this year, hitting 100 yards in all six contests, has helped the Buckeyes get through rough seas defending their national championship. He singlehandedly won a tough game in Indiana, putting up 274 yards on three long scores. Ohio State's quarterbacks showed some life against Maryland last week, but Elliott is still the team's most valuable player for the first half of the season.
Leonard Fournette, sophomore, LSU: People thought Fournette met expectations as a "super recruit" with a 1,000-yard season as a freshman, but he has turned up the heat in 2015, already crossing the four-digit barrier in just five games. The 1,022 yards and 12 touchdowns he's produced with tough running, elusiveness, and breakaway speed have put him near Boykin at the top of the Heisman Trophy race.
Check out the top images from the sixth weekend of college football play.
Corey Coleman, junior, Baylor: All you need to know about Coleman's year is that his seven-catch, 108-yard, two-touchdown effort in the Bears' 66-7 blowout of Kansas was his worst offensive production in a single game this season -- and he wasn't targeted in the second half. The electric receiver already has an FBS-leading 13 touchdown receptions, two more than he had in a great sophomore season. Junior quarterback Seth Russell can throw it short and let him elude and run past defenders, or Russell can hit Coleman deep for the big play.
Josh Doctson, senior, TCU: Doctson has followed up a breakout junior campaign (1,108 yards, 11 TD) with an outstanding start to his senior season. He ranks second in the country with 146 yards a game, and has already found the end zone 10 times. Doctson helped Boykin heat up late against Kansas State, scoring twice in last the six minutes to secure the 52-45 victory. Big plays like the 55-yard game-winning score with 1:18 remaining are Doctson's calling card, and he's going to put that card on the table several more times this season.
Joshua Perkins, senior, Washington: The Huskies bested USC on Thursday last week thanks in no small part to Perkins' four catches for 57 yards and a touchdown. Sure, the score came on a trick play, but this is no fluke, as Perkins' 17 catches for 224 yards are among the best in the country at his position. His leaner build (6-4, 226) and ability to control the middle of the field is reminiscent of former Cal TE Richard Rodgers, who is having a fine start to his professional career with the Green Bay Packers.
Check out the alternate college football uniforms worn during the 2015 season.
Taylor Decker, senior, Ohio State: It's hard not to love how Decker gets after his man on every single play. Add some good movement skills, knee bend, and length to that attitude, and any offensive line coach would love to have him on the team. Decker might not be an elite athlete, but few ends can beat him around the edge. He also regularly collapses the left side of the line for running lanes for Elliott and his quarterbacks, making him a complete lineman.
Spencer Drango, senior, Baylor: Baylor is averaging a ridiculous 725 yards of offense and 64 points per game, both leading the FBS. Drango is the Bears' rock on the left side of the line. He often manhandles his opponent in pass protection, as well as in the run game. Whether he lines up as a guard or tackle at the next level, an NFL team will get a strong, reliable long-time starter.
Pat Elflein, junior, Ohio State: Elflein's power and agility as a blocker helps keep the Buckeyes' offense on the move. Like Decker on the other side, Elflein moves his man in the run game, and can also get to the second level and lead outside if needed. If you enjoy line play, cue up Decker and Elflein on your DVR and get your popcorn ready.
Joshua Garnett, senior, Stanford: Garnett, the son of an NFL nose tackle (Scott), is flourishing during his final campaign. He's helped the Cardinal run off four straight wins after a disappointing season-opening loss at Northwestern, protecting quarterback Kevin Hogan and leading the way for Christian McCaffrey and Barry Sanders, Jr., in the run game. Garnett moves like he's 6-0, 231, not 6-5, 321, which makes him a valuable player -- and an intriguing NFL prospect.
Jack Allen, senior, Michigan State: The undefeated Spartans rely on Allen to be their rock in the middle of the offensive line. And the coaching staff has enough trust in their All-American center that when injuries forced their top two left tackles to the bench vs. Rutgers, they put Allen on the edge to protect their quarterback, Connor Cook. Later in the game, Allen switched back to center and was injured after a defender rolled up on his ankle. He asked the training staff to wrap up the ankle so we could finish the game, but his movement was too limited. That sort of toughness and athleticism should be celebrated, and hopefully the injury is not serious enough to keep him from earning postseason All-American status.