Nebraska senior quarterback Taylor Martinez could miss Saturday's game with Illinois because of turf toe.
Martinez missed the Huskers' most recent game, Sept. 21 against South Dakota State, because of the injury. Nebraska was off last week, but Martinez's foot still isn't 100 percent.
Martinez is expected to practice Tuesday afternoon, then meet with the media.
Things we learned in Week 5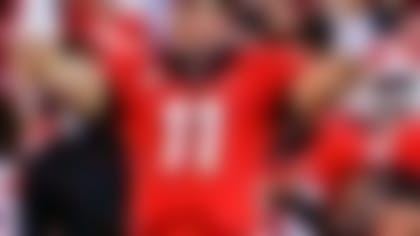 From Georgia's thrilling victory over LSU to USC's loss that got Lane Kiffin fired, here are 43 things we learned about Week 5 in college football. **More ...**
If Martinez can't play, coach Bo Pelini said redshirt freshman Tommy Armstrong or fifth-year senior Ron Kellogg III would start against the Illini. Armstrong started against South Dakota State.
"We're not putting him out there until I know he's going to feel 100 percent and can execute our offense at 100 percent," Pelini told reporters about Martinez.
Martinez has been able to work in passing drills, but his ability to run has been adversely affected.
"I know you can throw when your foot's bothering you, but you've got to be able to put your foot in the ground and go," Pelini told reporters. "That's a big part of our offense. Until he shows he's ready and willing and able to do that, that's when you'll see him."
Saturday's game against the Illini is Nebraska's Big Ten opener and also homecoming. Illinois has been surprisingly productive on offense but shaky on defense. That's a lot like Nebraska, which will be playing its fifth consecutive home game to open the season.
Mike Huguenin can be reached at mike.huguenin@nfl.com. You also can follow him on Twitter @MikeHuguenin.