Ask anyone right now for their list of the top 10 teams in college football and you'll probably hear a lot of the usual suspects: Alabama, Oregon, Ohio State, Clemson, Stanford, LSU, and so on. One team you won't hear, at least not yet, is Baylor. And I think that's a mistake.
The son of a Pro Football Hall of Famer tops Gil Brandt's initial look at the Hot 100 college football seniors. Check out the other prospects to follow this fall. More ...
They have an excellent quarterback in Bryce Petty, a junior who has helped Baylor become the No. 1 passing offense in the nation (444.3 yards per game) and No. 1 scoring offense at 69.7 points per game, albeit against inferior competition. In Lache Seastrunk, they have a running back who just might lead the nation in rushing this season. Tevin Reese and Antwan Goodley are small but productive receivers. And I think guard Cyril Richardson is the top senior interior lineman in the country. This is an explosive offense that has scored 69, 70, and 70 points in the Bears' 3-0 start.
Baylor's defense is also much improved, and, for the first time in years, the Bears have several talented players, including the offensive players mentioned above and safety Ahmad Dixon on defense. With the caveat that it has faced weak opposition to this point, the defense has allowed 3, 13, and 7 points.
Success is relatively new for the Bears, whose record until the past couple of years has not been stellar. But they've started to win games against teams they used to lose to, and because of that they've been able to get much better players. Their head coach, Art Briles, has done a great job since taking over in 2008 and has built a team that fans can be excited about.
I'm sure there will be people that scoff at my high ranking for Baylor, and after a bye this weekend the Bears will have to pass several tests in the coming weeks -- especially in November, when they get Oklahoma, Texas Tech, and Oklahoma State -- but at the end of the year I believe people will look back and realize that this is a much better team than they initially thought.
The Harris Poll, for which I am a voter, will release its first rankings in mid-October. Here are my top 10 teams heading into Saturday's games:
1. Alabama
2. Oregon
3. Ohio State
4. Stanford
5. Clemson
6. Florida State
7. LSU
8. Georgia
9. Texas A&M
10. Baylor
I rated UCLA linebacker Anthony Barr at No. 3 in my list of the top 100 senior prospects, and he is a great pro prospect. But I believe that if the draft was held today, South Carolina's Jadeveon Clowney, if he had declared for the draft, would still be selected ahead of Barr.
A senior, Barr is a terrific player with long arms and a very good burst off the edge. He also has shown very good instincts. But he is relatively new to his position, moving over to linebacker last season after spending his first two years at running back. He had a great statistical year in 2012, but after a hot start, when he registered at least one sack in his first six games, he tailed off a bit at the end of the year.
I think Clowney is a more finished product than Barr. He is faster, he has a better burst, and I think he can play better in space. His infamous play against Michigan in the Outback Bowl, when he knocked the helmet off running back Vincent Smith, stands out in the minds of a lot of teams. I haven't seen Barr make a play like that yet.
LSU at Georgia: The Tigers and Bulldogs have played 29 times since 1928, with LSU holding a 16-12 advantage, with one tie. Both teams like to run. Georgia is led by sophomore Todd Gurley, who rushed for 1,385 yards and 17 touchdowns last season. For LSU, Jeremy Hill is the team's leading rusher after starting only five games last year. Both teams also have experienced quarterbacks, the Tigers with Zach Mettenberger and the Bulldogs with Aaron Murray. Georgia has very good offensive linemen, and LSU has very good defensive linemen. I see this as a high-scoring affair that will come down to one or two key plays. One subtle factor to note in a game with a 3:30 p.m. ET start: With Georgia at home, LSU will be sitting on the sunny side of the field in the first half, which is a distinct advantage for the Bulldogs. I have Georgia winning, 31-27.
Wisconsin at Ohio State: The Badgers have won just one of their last eight conference road openers. They want to run the ball, and James White and Melvin Gordon are very good running backs, but the Buckeyes have held Wisconsin to an average of 73 rushing yards in the past three matchups. Braxton Miller, Ohio State's Heisman Trophy candidate, is expected to return, and he is a threat as both a runner and passer. Ohio State 34, Wisconsin 28, if Miller plays. If he does not play, Wisconsin has a chance to win.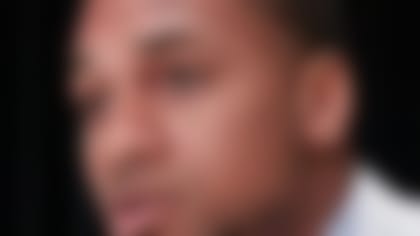 Ole Miss and WR Donte Moncrief take on No. 1 Alabama this week. Take a look at where that matchup ranks among our top 10 games to watch in Week 5. More ...
Mississippi at Alabama: Ole Miss won the first game ever played in this series, in 1894, but have only won nine of 56 games with two ties since. The Bulldogs have not won in Tuscaloosa since 1988. Bo Wallace has talked a lot the past couple of weeks, saying the Ole Miss offense could perform just as well as Johnny Manziel's Aggies did against Alabama. Ole Miss is one of the most improved teams in the country with a very good new head coach and some very good young players, but I think Alabama is tired of hearing things like the defense is not as good, that they can't run the ball, and that the Tide is not as good as Oregon. Alabama will roll, 31-10.
Colvin's stock rises to first round
Before the season, I had Oklahoma CB Aaron Colvin as my 43rd-ranked senior prospect. I'll have him projected as a first-round pick when my new rankings come out next week, somewhere in the mid-to-late 20s. At 6-foot, 185 pounds, Colvin has the size teams are looking for as well as the instincts. Since moving over from safety to cornerback last season, he's shown improvement under defensive coordinator Mike Stoops' system, and the more experience he's gained at the position the better he's become.
Idaho over Temple: This is the first ever meeting between these teams. The Owls have not played in a dome since 2006, when they lost to Minnesota, 62-0, at the Metrodome. I like Idaho's new head coach, Paul Petrino, to get his first win here.
» States with the most players in the NFL: Georgia is ranked fourth overall with 95 players in the NFL, and Louisiana is seventh with 62. But if you rank by population, Louisiana is first overall with one NFL player for every 73,000 people in the state. Georgia is sixth overall with one for every 101,000 in the state.
» Georgia has four players whose jersey has been retired: Herschel walker (34), Darren Sapp (40), Charlie Trippi (62), and Frank Sinkwich (21).