Washington head coach Steve Sarkisian is heading home.
Sarkisian has accepted the head coaching position at USC, athletic director Pat Haden confirmed in a statement released Monday.
Week 14: Things we learned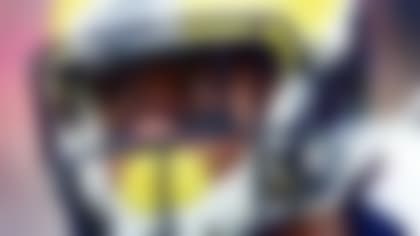 From Jeremy Gallon helping to revive Michigan's offense vs. Ohio State to David Fales outdueling Derek Carr, here are the lessons we learned in Week 14 of college football. **More ...**
"We are delighted to welcome Steve Sarkisian back to the Trojan Family," said Haden. "We conducted a very exhaustive and thorough search, pinpointing about 20 candidates and interviewing five of them. We kept coming back to Sark. He is the only one who was offered the job. I believe in my gut that he is the right coach for USC at this time. "He embodies many of the qualities for which we looked. He is an innovative coach who recruits well and develops players. He is a proven and successful leader. He connects with people. He has energy and passion. He knows how to build a program and create a culture that we value. He is committed to academic success and rules compliance. And he understands the heritage and tradition of USC."
Sarkisian, a native of Torrance, Calif., rose to prominence as an assistant under Pete Carroll during the Trojans' run of seven consecutive Pac-10 titles and seven consecutive BCS bowls, from 2002-2008.
"First, I'd like to thank the University of Washington and athletic director Scott Woodward for the opportunity they gave me five years ago," Sarkisian said in the statement. "I believe the Husky program is in a better place now than when we arrived, and I am proud and thankful of the players for that.
"That said, I am extremely excited to be coming home to USC and for the opportunity that USC presents to win championships. I can't wait to get started."
Sarkisian will be formally introduced at a news conference Tuesday, but he arrived in Los Angeles Monday night and was already at work on the transition with an evening of meetings.
"It's awesome to be home," he said on USC's downtown campus while clad in a black Trojans sweatshirt. "...Got a lot of work to do in a short amount of time here in the next few days," he said. "It's been obviously an emotional day or so for the players here, for myself and my former team, those kids up in Seattle."
After inheriting a Huskies program that went winless in conference play before his hiring, Sarkisian took Washington to a bowl game in his second season and turned quarterback Jake Locker into a first-round draft pick. Sarkisian has a 34-29 record in five seasons at Washington, with a 24-21 mark in Pac-12 play.
Sarkisian has long been an outstanding offensive mind, turning Washington running back Bishop Sankey and tight end Austin Seferian-Jenkins into two of the top players at their positions in all of college football. Sankey and Seferian-Jenkins are juniors, and Sarkisian's departure could be the final factor that pushes each to declare for the 2014 NFL Draft.
However, USC already hired an offense-minded upstart with ties to the program in Lane Kiffin, who was fired in September after going 28-15 (17-12 Pac-12) in four seasons. Kiffin had a 10-win season and a win over Oregon, led by Chip Kelly at the time, two accomplishments Sarkisian has not been able to achieve.
Sarkisian's immediate goal will be to sway several prominent USC underclassmen, including wide receiver Marqise Lee, running back Javorius Allen, cornerback Josh Shaw and defensive end George Uko, to return to school.
If Sarkisian can convince the majority of those players to return, USC will be a strong contender to win the Pac-12 next season.
USC has always churned out NFL prospects in bunches, even in down years. Sarkisian will inherit a roster as talented as any in the Pac-12, even as USC enters the final year of NCAA-imposed scholarship limitations. The offensive nucleus features sophomore wide receiver Nelson Agholor, and defensive end Leonard Williams has produced an All-American-caliber season as a sophomore and will be the centerpiece of the defense.
The challenge for Sarkisian will be to get the talent level trending back upward on the offensive line, where USC has struggled since losing Matt Kalil after the 2011 season. Everything else is set up for Sarkisian to succeed immediately.
Now Sarkisian has to make his homecoming a happy one.
The Associated Press contributed to this report.