Miami (Fla.) senior quarterback Stephen Morris has not been overly impressive this season, but he looked as if he was on his way to a huge game Saturday at USF until he was injured early in the second quarter.
Morris was 11 of 16 for 222 yards and two touchdowns in little more than a quarter before an ankle injury sidelined him with UM leading 21-7. He barely played last week in a rout of FCS foe Savannah State because of an injury to his ankle, and came in with only 404 passing yards and four TDs through the first three games.
Miami easily held on vs. USF, winning 49-21 after rolling up 540 total yards.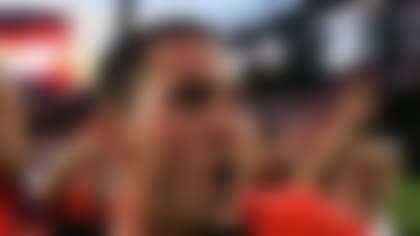 From Aaron Murray's big-game heroics vs. LSU to Oklahoma's statement win at Notre Dame, here are the things we learned from college football's fifth weekend. **More ...**
In a post-game news conference, Morris called USF a dirty team and said Bulls players were twisting his ankles underneath the pile.
"I guess they saw the injury report," he said.
Morris (6-foot-2, 218 pounds) has a strong arm and throws a nice deep ball. He made big strides last season when Jedd Fisch was the offensive coordinator. But Fisch now is the Jacksonville Jaguars' coordinator, and Morris hasn't been as sharp as expected. He was Saturday, leading Miami to touchdowns on its first three possessions; he ended two of them with TD passes. Miami racked up 251 yards in the first quarter alone.
After Morris limped off, he remained on the sideline for the rest of the game.
The final score could have been worse: Miami lost two fumbles inside the Bulls' 5-yard line and also missed a 23-yard field goal.
Mike Huguenin can be reached at mike.huguenin@nfl.com. You also can follow him on Twitter @MikeHuguenin.