TEMPE, Ariz. -- Wearing a Pac-12 champion hat, Stanford track suit and a giant smile, this Trent Murphy bore little resemblance to the Trent Murphy who spent 60 minutes terrorizing Arizona State quarterback Taylor Kelly.
That Murphy is a 6-foot-6, 261-pound monster who accumulated seven tackles, two tackles for loss, one sack and one forced fumble in a 38-14 demolition of the Sun Devils that secured a second straight Rose Bowl bid.
Week 15: Things we learned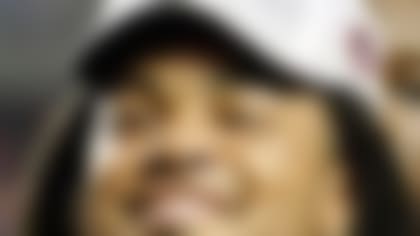 From Auburn RB Tre Mason's record day in the SEC championship game to Blake Bortles' rising draft stock, here are the lessons we learned in Week 15 of college football. **More ...**
This Murphy can't be bother by the fact he got jobbed out of Pac-12 defensive player of the year honors by Arizona State defensive tackle Will Sutton despite posting 10 more sacks this season.
"We got the Pac-12 championship trophy, and that's the biggest award we could ever get," Murphy said. "I'm absolutely happy that we got that. If he got the player of the year and the Pac-12 championship, then I would have been a little upset."
Perhaps the biggest indication of the difference between Murphy's personas on and off the field comes when he admits he has had doubts about going from facing right tackles to left tackles coming into this season.
"When Chase Thomas was here -- he was a phenomenal player and in the NFL now -- he always liked to rush off the right side, so I was rushing off the left side," Murphy said, referring to the former Cardinal LB who now plays for the Atlanta Falcons. "I was worried that my left side was my good side, and I wouldn't be as effective on the right this year when I switched. I was able to put up some good numbers."
Good numbers would be an understatement. Murphy, ranked fourth on NFL Media analyst Gil Brandt's Hot 100 list, has 21.5 tackles for loss and 14 sacks in 13 games this season. Murphy was relentless Saturday, making left tackle Evan Finkenberg look like a turnstile, and the rest of the Cardinal front seven took turns doing the same to the rest of the Arizona State offensive line.
"Nobody else does that to us," Arizona State head coach Todd Graham said. "The thing that hurts our offense the most is them destroying the line of scrimmage and moving the line of scrimmage back."
Take away sophomore running back D.J. Foster's 51-yard touchdown run on Arizona State's first possession, Stanford allowed 2.07 yards per carry on the other 42 attempts it faced. Kelly was sacked five times. Backup quarterback Michael Eubank and running back Deantre Lewis were stuffed at the goal line on consecutive plays.
This was dominance. And it could have been worse for Arizona State, with overlooked defensive end Ben Gardner out for the season because of injury. Murphy identified Gardner as the teammate most likely to wow NFL scouts.
"He is not the biggest guy or the fastest guy," Murphy said. "He is a little smaller for a 3-4 defensive end down there, but his knowledge of the game and how quick he plays and his ability to be disruptive in the backfield, I think they will be really impressed with his tape."
The same will be true when the NFL gets a good look at Murphy -- both of him.