Count Snoop Dogg's son Cordell Broadus among those glad to see the dismissal of USC head coach Lane Kiffin.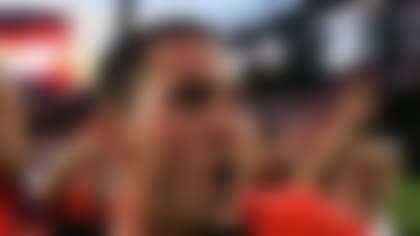 From Aaron Murray's big-game heroics vs. LSU to Oklahoma's statement win at Notre Dame, here are the things we learned from college football's fifth weekend. More ...
"Honestly, I think they should have fired Kiffin a while ago," Broadus told Scout.com. "I think with a new hire, USC is going to raise the bar now, and this is going to energize the program. The new staff is going to be big for the program and I'm very anxious to see what they're going to look like."
Broadus is a 6-foot-1, 185-pound junior wide receiver from Diamond Bar, Calif. regarded as one of the top recruits at his position in the Class of 2015. Broadus holds scholarship offers from most of the Pac-12 -- including USC, UCLA and Washington -- with LSU highlighting his the schools from across the country seeking his signature.
Broadus offered up a suggestion for who the Trojans' next coach should be, one with plenty of familiarity with the program and the Pac-12.
"My top choice for them would be Coach Sark," Broadus said, referring to Washington coach Steve Sarkisian. "I know he was offered the job before and turned it down, but if he took the job, I would be going to USC for sure. He has turned Washington around and doing big things. When he got there, he didn't have any player. Now that he has players, I see Washington doing big things."
Sarkisian is one of the more intriguing candidates being bandied about to fill the USC vacancy, with strong arguments on both sides whether to stay or go. A native of Torrance, Calif., Sarkisian knows the success the program is capable of at peak prowess as an assistant during Peter Carroll's run of seven straight Pac-10 championships and BCS bowls. However, UW just opened the gorgeous newly renovated Husky Stadium and has momentum on the field and the recruiting trail without the crushing effects of NCAA-imposed scholarship reductions he would inherit at USC.
Then again, if Sarkisian's best team to date at UW -- one that features quarterback Keith Price, running back Bishop Sankey, tight end Austin Seferian-Jenkins and linebacker Shaq Thompson -- can't jump Oregon or Stanford to finish in the top two of the Pac-12 North this year, will the Huskies ever be able to make that leap? Depending on how the next two weeks play out with back-to-back games with the Cardinal and Ducks, that stark realization might lead Sarkisian to consider his options.