A combination of veteran quarterbacks and young defenses has contributed to some of the explosive offensive displays in the SEC in the first month of the season, LSU coach Les Miles said Monday.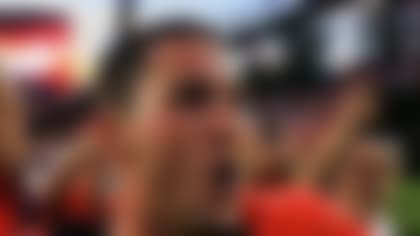 From Aaron Murray's big-game heroics vs. LSU to Oklahoma's statement win at Notre Dame, here are the things we learned from college football's fifth weekend. More ...
"I think the quarterback position in this conference right now is as salty as it's been, as capable a group of quarterbacks as there is. So I think that's one of the reasons," Miles said in his Monday news conference, according to a transcript published at nola.com. "I also think there's probably some youth on the defensive side that's reflective of real quality defenders leaving early to go to the NFL Draft. And the quarterback position, generally speaking, is improved greatly by staying."
That trend was emphatically led Saturday by Georgia's 44-41 win over LSU, in which senior quarterbacks Aaron Murray and Zach Mettenberger combined for 670 passing yards. Alabama's AJ McCarron, South Carolina's Connor Shaw are two more effective senior quarterbacks, to say nothing of sophomore sensation Johnny Manziel of Texas A&M. Missouri senior James Franklin is having a resurgent season, leading the Tigers to one of the league's only two unbeaten records entering October. Senior Tyler Russell of Mississippi State threw for 2,897 yards last season but has missed most of the year with a concussion. He is expected back this weekend.
As for juniors on the defensive side of the ball leaving early for the NFL, none can speak to that more than Miles. Last year alone, LSU lost defensive lineman Bennie Logan, linebacker Barkevious Mingo, dismissed defensive back Tyrann Mathieu, linebacker Kevin Minter, defensive end Sam Montgomery, safety Eric Reid and cornerback Tharold Simon. Other early-departing juniors from SEC defenses last year included Florida safety Matt Elam, Florida defensive lineman Sharrif Floyd, Georgia defensive lineman Kwame Geathers, Florida linebacker Jelani Jenkins, Georgia linebacker Jarvis Jones, Auburn defensive end Corey Lemonier, Texas A&M defensive end Damontre Moore, Georgia linebacker Alec Ogletree, Missouri defensive lineman Sheldon Richardson, and Tennessee defensive end Darrington Sentimore.
Still, Miles said he believes the younger defenses in the SEC could be much more effective by November.
"You have quarterbacks that stay and continue to apply their trade," Miles said. "Possibly some of the more skilled defenders going on to the league. So it's still very hard for me to believe that in the back end of this year we won't be a very quality defense and a much better defensive league."