Welcome to the Southeastern Conference, Missouri and Texas A&M. These former members of the Big 12 get their first chance to prove they belong in the country's most talented conference this weekend, hosting Georgia and Florida, respectively.
In terms of producing professional talent, the Tigers and Aggies fall about where you would expect: in the middle of their new conference. They both rank eighth within the 14-team league with 13 total selections over the past five NFL drafts. Georgia is second (28) behind LSU (30), while Florida sits fourth (20) behind Alabama (24). But Missouri actually ranks third in the SEC with six first- or second-round selections during that time, behind Alabama's 14 and Florida's 10. A&M again rates eighth in the conference in early-round picks with three, but one of those three was 2011 Associated Press NFL Defensive Rookie of the Year Von Miller -- who beat out former Missouri star Aldon Smith for that title despite accumulating fewer sacks (Miller had 11.5 to Smith's 14).
Brooks: College stock report
Is Matt Barkley still bound to be the No. 1 pick in 2013? Bucky Brooks checks in on some of the top prospects. **More ...**
So even though expectations for Missouri and Texas A&M are not exceptionally high in a conference that claims the past six BCS championships, NFL teams have managed to find enough talent in Columbia and College Station in recent years to portend at least some modest success.
A win this weekend would certainly provide an immediate boost for either squad.
All games are on Saturday, with all times Eastern.
Miami at Kansas State, Noon, FX
Arthur Brown suited up for "The U" before transferring to Kansas State to be closer to his hometown of Wichita (and to get more playing time), and for the second straight year gets to play his former team. The instinctive 'backer hopes to be a bit more productive against the Hurricanes in Manhattan this week than he was in Miami in 2011 (six tackles, 0.5 for loss), flowing through traffic to find hard-charging running back Mike James, the only senior on Miami's starting 11 on offense. As usual, the Hurricanes have great athleticism and speed to burn on defense -- and they'll need all of it to stop the Wildcats' gritty 6-foot-5, 226-pound quarterback Collin Klein (1,918 passing yards, 1,141 rushing in 2011). NFL teams will look for stout defensive tackle Darius Smith (6-2, 315) to stay in his gap and speedy linebacker Ramon Buchanan to track Klein down at the second level.
College Football Predictions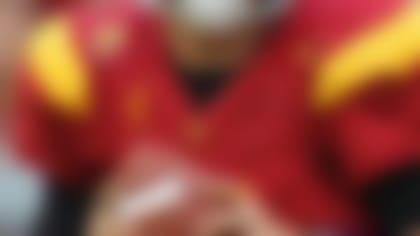 How will Matt Barkley's USC Trojans fare in 2012? NFL.com's analysts share their predictions for the college season. **More ...**
Auburn at Mississippi State, Noon, ESPN
MSU defensive tackle Josh Boyd (6-3, 300) wasn't underappreciated playing next to 2012 first-round pick Fletcher Cox, but he'll use power and leverage to make plays against Auburn's big, strong left guard John Sullen (6-5, 313). Linebacker Cameron Lawrence has to help Boyd limit Auburn's run game and assist cornerback-turned-safety Corey Broomfield in locking down Tigers tight end Philip Lutzenkirchen (6-5, 255), who scored twice against the Bulldogs last season.
Florida at Texas A&M, 3:30 p.m., ESPN
Thanks to Hurricane Isaac, A&M had to postpone its opener against Louisiana Tech in Shreveport last week, giving new head coach Kevin Sumlin zero pre-conference games to prepare for the Gators' arrival in College Station. He would have preferred seeing how his team performed in competition. Still, he has some notable talents in junior left tackle Luke Joeckel (6-6, 310), junior right tackle Jake Matthews (the 6-foot-5, 305-pound son of Hall of Fame lineman Bruce Matthews), and playmaking senior receivers Ryan Swope (6-0, 206) and Uzoma Nwachukwu (6-0, 194). Florida running back Mike Gillislee (5-11, 209) will be escorted by athletic left tackle Xavier Nixon (6-6, 314) and sixth-year left guard James Wilson (6-4, 323), who should have their heads on a swivel to find the Aggies' active outside linebackers. Sean Porter (6-2, 230) and Damontre Moore (6-4, 250) combined for 34.5 tackles for loss and 17.5 sacks in 2011.
Georgia at Missouri, 7:45 p.m., ESPN2
This game should include plenty of offense if the play of the two junior quarterbacks is as good as expected. Georgia's Aaron Murray is a more traditional pro-style passer, while Missouri's James Franklin can make yardage with his legs as well as find receivers downfield. Murray has two potential NFL receivers in Marlon Brown (6-5, 216) and strider Tavarres King, while Franklin has the reliable T.J. Moe to show super-freshman Dorial Green-Beckham (6-6, 220) the ropes. If the Tigers can score against Georgia's talented defense, they'll be just fine in their new conference. Up front, the Bulldogs bring three draftable seniors in versatile tackle/end Abry Jones (6-3, 309), huge-but-nimble John Jenkins (6-3, 358) and rush end/linebacker Cornelius Washington (6-4, 268). Missouri has defensive talent, too, with junior DT Sheldon Richardson (6-3, 290) using his length and quickness to win gaps up front, and Zaviar Gooden (6-2, 230) coming from the weak side.
Michigan State at Central Michigan, 3:30 p.m., ESPNU
NFL scouts are very interested to see how CMU tackles Eric Fisher and Jake Olson fare against the length and strength of junior William Gholston (the 6-foot-7, 275-pound cousin of former NFL first-round pick Vernon Gholston) and the rest of the young but talented group of Michigan State defensive ends. Fisher is returning from a knee injury suffered late last season, but if he can shut down Gholston with his athleticism and strong hands, he could seal a top-50 spot. Gholston also needs to prove he has the motor and get-off to beat an NFL-quality tackle.
Casserly: Barkley vs. Jones
Matt Barkley and Landry Jones are two of the top prospects for the 2013 draft. Charley Casserly scouts both quarterbacks. **More ...**
Western Kentucky at Alabama, 3:30 p.m., SEC Network
The Hilltoppers won't put a scare into the Tide, but it will be interesting to see how two prospects fare against Alabama's gaggle of future NFL players. WKU's excellent tight end Jack Doyle (6-6, 253) was the team's leading receiver last week, but will have a much more difficult time getting open against the stars executing head coach Nick Saban's pro-style defensive scheme. WKU defensive end Quanterus Smith (6-5, 249) projects as a 3-4 rush linebacker at the next level. He must beat massive junior right tackle D.J. Fluker (6-6, 335) and sophomore Cyrus Kouandjio (6-6, 311) off the edge regularly to be considered worth a mid-round selection.
Purdue at Notre Dame, 3:30 p.m., NBC
The Irish have NFL prospects worth watching throughout the season, including Manti Te'o (6-2, 255) at middle linebacker, athletic defensive end Kapron Lewis-Moore and safeties Jamoris Slaughter and Zeke Motta. But I'm most interested in watching how Purdue's second-team All-Big Ten defensive tackle Kawann Short (6-3, 315) handles Notre Dame's veteran center, Braxston Cave.
Nebraska at UCLA, 7:30 p.m., Fox
UCLA RB Jonathan Franklin (5-11, 195) appears ready to put up big numbers in his final year with the Bruins, covering 214 yards and scoring three times in the team's win over Rice. Senior right guard Jeff Baca (6-3, 295) leads a young Bruins line against stronger opponents this weekend: Nebraska defensive tackle Baker Steinkuhler (6-6, 290) and end Cameron Meredith (6-4, 260).
Louisiana Tech at Houston, 8:00 p.m., CBS Sports Network
Scouts were excited to see silky-smooth receiver Quinton Patton against Texas A&M last week, but Hurricane Isaac changed those plans. Still, they can see him in a competitive one-on-one matchup when Houston's wiry D.J. Hayden sets his sights on shutting down the Bulldogs' 2011 first-team All-WAC pick. Hayden was Conference USA's Newcomer of the Year last fall (after helping Navarro College win the NJCAA national championship before that).
Illinois at Arizona State, 10:30 p.m., ESPN
Power back Cameron Marshall is coming off a 1,000-yard season for the Sun Devils, and receivers Jamal Miles and Rashad Ross have the speed to contribute at the next level. Arizona State's tackles, junior Evan Finkenberg (6-4, 290) on the left side and senior Brice Schwab (6-7, 302) on the right, will be pitted against long, lean Michael Buchanan (6-6, 250).
Follow Chad Reuter on Twitter @ChadReuter