In his weekly Scout's Take notebook, former NFL scout Bucky Brooks takes a look at the biggest developments in college football and how the NFL community is reacting to them.
The reigning Biletnikoff Award winner is arguably the top receiver in college football; teams have been salivating over his explosive speed and big-play potential since he emerged as the Trojans' top playmaker in 2012.
Lee suffered the injury to his left knee in USC's loss at Arizona State Saturday night after he awkwardly fell during a punt return. Early signs are positive (Lee said on Sunday it feels "like I'm all right," and tests reportedly showed no ligament tear), but if it ends up being more severe, it could impact his standing around the NFL.
Lee said he is hopeful he can return for the Trojans' next game, an Oct. 10 home date with Arizona. Regardless of when he returns, scouts will pay close attention to how hard he pushes to get back on the field. Evaluators will watch to see if he is extra cautious with one eye on the NFL, if the junior receiver is intent on entering the draft after this season, or if he continues to diligently grind away to rejoin his teammates.
Of course, scouts will weigh in with varying opinions on whether a playmaker with a glowing career resume like Lee needs to prove anything else, but his season has been littered with drops, miscues and poor quarterback play. While his sensational 2012 season certainly makes it easy for scouts to bank on his upside, the star receiver needs to post a big game at some point to solidify his status as one of the top offensive weapons in college football.
NFL scouts have to be pleased with the progress of LSU's Zach Mettenberger and Georgia's Aaron Murray this fall. The SEC showdown between the two quarterbacks' teams on Saturday gave NFL scouts another opportunity to evaluate both of them on a big stage. Each prospect entered the game squarely on the radar of scouts searching for a franchise quarterback, but questions about their respective games have prevented NFL teams from jumping completely on board. However, some of the skepticism should subside after Mettenberger and Murray put on a show Saturday.
Things we learned in Week 5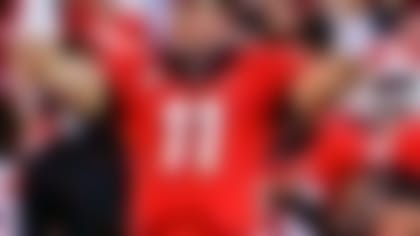 From Georgia's thrilling victory over LSU to USC's loss that got Lane Kiffin fired, here are 43 things we learned about Week 5 in college football. **More ...**
Mettenberger, a 6-foot-5, 230-pound senior, answered questions about his big-game makeup by showing exceptional poise and confidence against the Bulldogs. He repeatedly made big-time throws with the game on the line, and kept the Tigers in the game with his superb precision from the pocket. Mettenberger completed 23 of 37 pass attempts for 372 yards and three touchdowns. Most importantly, he showed evaluators that he could make every throw in the book with zip and velocity, while also displaying impressive accuracy and ball placement. Although Mettenberger wasn't able to lead his team to victory, the fact that he made enough plays to take the game down to the wire will do a lot for his pro chances going forward.
For Murray, the showdown continues to enhance a career resume that was lacking notable big-game wins prior to the season. He has started to change that narrative with his second victory over a top-10 opponent this season. In taking down the Tigers, Murray showed exceptional awareness, poise and confidence under duress. More importantly, he showed he has the arm strength and athleticism to survive against NFL-caliber defenders. Murray moved around within the pocket to find passing lanes for accurate throws downfield; he displayed impressive anticipation and timing by throwing receivers open against tight coverage. He also displayed a competitive zeal that suggests he is a feisty leader that loves big-time competition.
With Mettenberger and Murray putting on strong performances in a big game in front of a large contingent of NFL scouts, the buzz surrounding these two QBs will certainly grow in the scouting community.
Last week, I wrote about how the big, physical running back is always en vogue in the NFL. After watching South Carolina RB Mike Davis pummel another opponent with a hard-nosed running style, I'm convinced the buzz will soon get loud in NFL circles about his potential as a future workhorse.
Davis, a 5-foot-9, 215-pound sophomore, has rushed for 508 yards on 71 carries (7.2-yard average) with six touchdowns. He has shown the ability to carry an offense on his shoulders with a hard-nosed running style built on toughness and physicality. Although Davis shows home-run speed with three runs of 50-plus yards this season, he is at his best grinding between the tackles on an assortment of downhill runs from power formations. He punishes defenders on contact and finds a way to fall forward at the end of runs.
Against Central Florida on Saturday, Davis showed a full repertoire of skills while rushing for 167 yards on 26 carries with three touchdowns. He punished the Golden Knights with a handful of 3- and 4-yard gains on power plays, before breaking off a big gainer in the second half when the defense wore down. He punched in a pair of 13-yard scores by running through contact in the hole on the way to the end zone. Now, the power-based offense has been a part of the Gamecocks' game plan this season, but it really works well because Davis is the kind of workhorse who excels with more carries over the course of the game.
From an NFL evaluation standpoint, Davis' display of power, strength and endurance is exactly what NFL coaches covet with feature backs in power-based offenses. His ability to post 100-yard games against quality competition (North Carolina, Georgia and Central Florida) will pique the interest of scouts looking for a potential feature back.
With Davis possessing the desirable physical dimensions and displaying a pro-ready game, there is little doubt scouts will start taking copious notes on the hard-charging sophomore going forward.