Count Clemson coach Dabo Swinney among those who think Tigers junior wide receiver Sammy Watkins will turn pro after this season.
Watkins (6-foot-1, 205 pounds) generally is considered one of the top three wide receivers nationally, and Swinney on Tuesday told Greg Wallace, who covers Clemson for BleacherReport.com, that he thought Watkins was "a top-10 pick."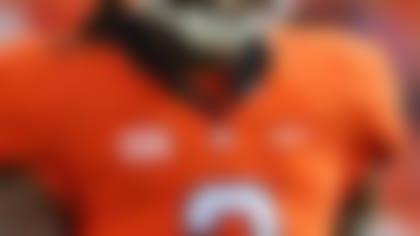 He also said, "I'd be surprised if he came back. But I didn't think [running back C.J.] Spiller was coming back."
Spiller was expected to turn pro after his junior season in 2008, but he stayed for his senior season and was drafted ninth overall by the Buffalo Bills in the 2010 draft. One reason Spiller returned is he knew he would be the feature back as a senior; he had shared time with James Davis. If Watkins stays in school, he will be working with a new quarterback in 2014: Clemson starter Tajh Boyd is a senior.
Watkins leads Clemson with 58 receptions for 813 yards and five TDs.
Later Tuesday, when asked about his draft status, Watkins told Wallace, "I haven't really focused on that. I have to focus on this season, and [the NFL] will be there."
Swinney also said junior defensive end Vic Beasley (6-2, 235), who is tied for the national lead in sacks with 10, could go early, too. "I hope [Watkins and Beasley] have the option," Swinney said. "I hope the Dallas Cowboys and teams in the top 10 are lined up to pick them."
Mike Huguenin can be reached at mike.huguenin@nfl.com. You also can follow him on Twitter @MikeHuguenin.