The AAC's first season kicks off Thursday with three games, only one of which has any appeal. But Rutgers' trip to Fresno State could end up being one of the best games of the first weekend.
All the AAC teams are in action except Memphis, which opens Sept. 7 against Duke.
There are two games for AAC teams against other "Big Six" competition, and any wins the AAC can get over their "major" league brethren will be good for the new league's image.
Prohibitive league favorite Louisville opens its season on national TV on Sunday against a solid Ohio team. Junior QB Teddy Bridgewater has a plethora of skill-position talent surrounding him, so much, in fact, that it could be tough for Bridgewater and offensive coordinator Shawn Watson to keep everybody happy. But that's a good problem to have. Louisville was ranked ninth in the preseason coaches' poll and appears to have the best shot of anyone in the nation to finish with an unbeaten regular-season record.
Here is a look at the games involving league schools:
9. Southern U. at Houston, Friday, Aug. 30 at 8:30 p.m. ET
The skinny: Southern was 4-7 in the FCS ranks last season. Jaguars senior WR Lee Doss (6-feet-2, 170 pounds) can run and is a solid receiver, but Houston should roll. Southern has played three FBS programs since 2008 and lost by an average of 40 points per game.
8. McNeese State at USF, Saturday, Aug. 31 at 7 p.m. ET
The skinny: This is the first game for new USF coach Willie Taggart and it comes against a solid FCS program. This also will be the debut at USF for sophomore DE Aaron Lynch, a highly touted Notre Dame transfer. McNeese has four new starting offensive linemen, so Lynch and his running mates along the D-line could dominate. Can USF's rebuilt offense do anything noteworthy?
2013 college football predictions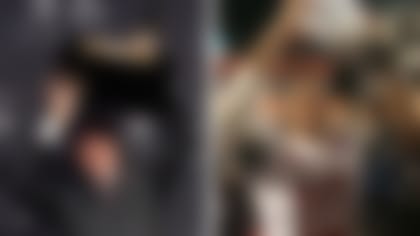 The NFL Draft 365 team kicks off the college football season with our forecast of the 2013 campaign. We predict conference titleists, the national champ, and award winners. More ...
7. Towson at Connecticut, Thursday, Aug. 29 at 7:30 p.m. ET
The skinny: Towson is ranked 12th in the preseason FCS poll, so there is some intrigue. Towson junior Terrance West, a two-time 1,000-yard rusher, runs behind a good line and will test UConn's run defense. Look for star Huskies linebacker Yamin Smallwood to rack up a dozen or so tackles. Can UConn throw the ball effectively this season? If the Huskies falter in that aspect against Towson, they could easily lose.
6. Akron at UCF, Thursday, Aug. 29 at 7 p.m. ET
The skinny: Year 2 begins for Akron coach Terry Bowden, whose team won once last season. Bowden likes his quarterback, sophomore Kyle Pohl, saying he has a "golden arm." But Pohl isn't as good as UCF QB Blake Bortles, who is the second-best at that position in the AAC, behind Teddy Bridgewater. Bortles (6-4, 230) has a strong arm and also can hurt defenses with his legs; he threw 25 TD passes and ran for eight TDs in 2012. UCF, which beat the Zips by 42 last season, appears way too talented for Akron.
5. Temple at Notre Dame, Saturday, Aug. 31 at 3:30 p.m. ET, NBC
The skinny: Temple's skill-position guys are unproven, which means the Irish defense should dominate. Look for Irish DT Louis Nix III and DE Stephon Tuitt to have big days. Notre Dame's new tailback is George Atkinson III, and he'll be running against a physical, experienced defense. Temple looks to have a solid defensive tackle rotation, headed by squatty senior Levi Brown (6-2, 308).
4. Ohio at Louisville, Sunday, Sept. 1 at 3:30 p.m. ET, ESPN
The skinny: Louisville begins its quest for perfection -- and Teddy Bridgewater begins his quest for the Heisman. Ohio is the best non-conference opponent on Louisville's schedule, but the Bobcats' defense won't be able to slow Louisville's offense, which should be extremely potent. A big storyline: How will TB Michael Dyer, a former star at Auburn, fit with Louisville's offense? Louisville's defense was uneven a year ago, and Ohio QB Tyler Tettleton, RB Beau Blankenship (1,604 rushing yards last season) and WR Donte Foster are talented. (Weird fact: Blankenship, Foster and Tettleton are from Oklahoma.)
3. Purdue at Cincinnati, Saturday, Aug. 31 at 12 p.m. ET, ESPNU
The skinny: Tommy Tuberville makes his debut as Cincinnati's coach. If the interior of a solid Cincy offensive line can neutralize star Purdue DT Bruce Gaston, the Bearcats should be in good shape. Tuberville said the Bearcats could play as many as four tailbacks. Purdue's passing attack is a big question, so look for Cincinnati LB Greg Blair -- who is underrated nationally -- and his defensive mates to crowd the line of scrimmage to shut down the Boilers' rushing attack. This is a prime opportunity for an AAC victory over a "Big Six" non-conference opponent.
2. Texas Tech at SMU, Friday, Aug. 30 at 8 p.m. ET, ESPN
The skinny: The over-under on combined passing attempts? Let's set it at 90. SMU knows its quarterback is senior Garrett Gilbert. But projected Texas Tech starter Michael Brewer is out with a back injury, so the Red Raiders will go with Davis Webb or Baker Mayfield. Both are true freshmen -- and Mayfield is a walk-on. The Red Raiders have an all-new starting secondary. SMU coaches have been touting new TB Traylon Shead (6-2, 230), a JC transfer. Tech's new coach is Kliff Kingsbury, a Red Raiders alum who had been Texas A&M's offensive coordinator. Tech has won 14 in a row in the series, with the most recent meeting in 2010. A win over a Big 12 team would be a big deal for the AAC.
1. Rutgers at Fresno State, Thursday, Aug. 29 at 10:30 p.m. ET, ESPNU
The skinny: While Boise State, as usual, is getting all the preseason attention in the Mountain West, Fresno State is being overlooked despite the presence of QB Derek Carr, WR Davante Adams and OT Austin Wentworth. This is Fresno's toughest non-conference test. Rutgers has a rebuilt secondary, which has to make Carr happy. Watch for Rutgers senior FS Jeremy Deering, a great athlete who will be playing his first game in the secondary. Rutgers WR Brandon Coleman is a big-timer (and you have to think at some point during the game, he looks at Carr and says to himself, "Man, what if I played with a quarterback like that?"). Rutgers' offensive line, headed by OT-turned-OG Kaleb Johnson, should be able to carve out a lot of running room. At some point, though, Scarlet Knights QB Gary Nova is going to have to hit some passes.
Mike Huguenin can be reached at mike.huguenin@nfl.com. You also can follow him on Twitter @MikeHuguenin.