Shaw, 41, is in his third season as Stanford's coach and is 34-6 with the Cardinal. He was an assistant under Jim Harbaugh with the Cardinal from 2007-10 before being promoted to coach when Harbaugh left for the San Francisco 49ers.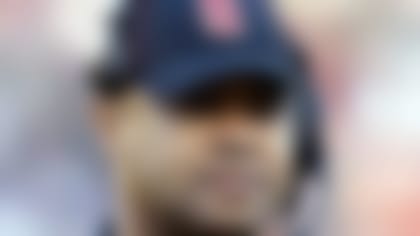 With Mack Brown stepping down, Texas is looking for a new head coach for the first time in 16 seasons. Stanford's David Shaw is among the top potential targets. More ...
A Stanford alum, Shaw does have NFL experience. He was a quality control coach with Philadelphia and Oakland from 1997-2000, then was the Raiders' quarterbacks coach in 2001. He was Baltimore's wide receivers coach from 2002-05.
Shaw's background and success make him a natural target for both college and pro teams. His demeanor and NFL background make him popular to NFL GMs looking for new leadership. The same goes for college ADs.
Leaving a college job for the NFL is one thing; leaving for another college job is another. While Shaw obviously feels comfortable at his alma mater, it would make sense to at least listen if Texas does initiate talks.
Recruiting at Texas is much easier than recruiting at Stanford. Texas has a natural in-state recruiting base; Stanford has to recruit nationally (Stanford's 22 starters in the Pac-12 title game came from 14 different states). In addition, while Texas is a good academic school, Stanford is in a different class and has some of the most stringent academic requirements among FBS schools. In addition, with the growing strength of the Pac-12, it's easier to win in the Big 12 than it is in the Pac-12. Financially? It's not close. Shaw reportedly makes $2.5 million at Stanford; Mack Brown made more than twice that at Texas. Plus, Texas has no state income tax and it's much less expensive to live comfortably in Austin than it is in the Palo Alto area.
The flipside: The pressure at Stanford is much less -- much, much less -- than it is at Texas and numerous other "big" schools. Harbaugh re-made Stanford in his image and, in the process, made the Cardinal nationally relevant again. Shaw has done a nice job of continuing that relevance. Both coaches have shown that Stanford can be a player in the national-title race, despite its academic requirements. And you cannot overstate "comfort level" when it comes to a coach's enjoyment of a job; Shaw's comfort level obviously is high.
Shaw will try to lead Stanford to its second consecutive Rose Bowl victory when it meets Michigan State on Jan. 1.
Mike Huguenin can be reached at mike.huguenin@nfl.com. You also can follow him on Twitter @MikeHuguenin.