Arizona State caught a break when hybrid defensive end/outside linebacker Carl Bradford returned to school for his redshirt junior season, helping the Sun Devils to the Pac-12 South title and their first 10-win season since 2007. But Bradford reportedly will not be back for another encore and will instead enter the 2014 NFL Draft.
Underclassmen for 2014 draft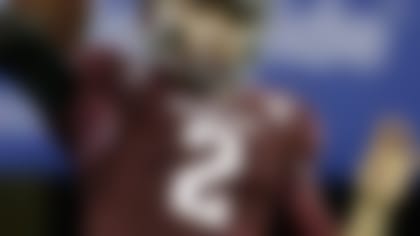 Take a look at the list of players who have announced their intentions to apply for early entry into the 2014 NFL Draft, including Texas A&M QB Johnny Manziel. **More ...**
Bradford (6-foot-1, 241 pounds) saw slightly decreased production from his breakout sophomore season, but still posted 61 tackles, 19 tackles for loss, 8.5 sacks, three forced fumbles and one interception. In 2012, Bradford accounted for 81 tackles, 20.5 tackles for loss, 11.5 sacks and three forced fumbles.
A former high school fullback, Bradford brings that same physical dimension to his play on defense. Considering how undersized edge defenders have been exploited in the run game during the playoffs, that approach could elevate Bradford above his peers with similar skill sets.
Having made the "Freaks List" -- compiled annually by Bruce Feldman of CBSSports.com to document the top athletes in college football -- with a 35.5-inch vertical jump, 10-foot-2 broad jump and numerous feats of strength in the weight room, Bradford could be a viable option at outside linebacker on Day Two of the draft for teams that miss out on Anthony Barr, Khalil Mack or Ryan Shazier.