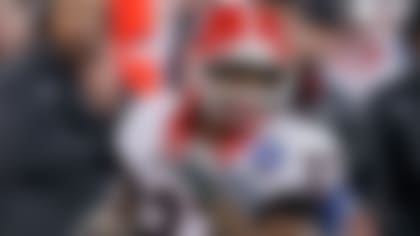 I'm a firm believer that the game film never lies. However, I also believe that film provides a micro-view of a player or a team and that the inclusion of pertinent data in conjunction with the tape allows for the big picture to be uncovered.
In this week's series, I will attempt to provide a more robust analysis of some of the strengths and weaknesses of college players from a variety of positions, but I will filter the results through an NFL evaluator's lens, continuing today with running backs.
Finding data to distinguish physical backs is fairly simple. Quantifying a runner's explosiveness and individual talent independent of the work his offensive line does is a greater challenge. I believe the "Individual Explosiveness Index" I've created can help aid in this department.
I've also created a "Combo Grade," which helps to shine a light on running backs who combine physicality with the necessary elusiveness to project as a next-level running back. These rankings (in parentheses) represent where the player ranked among the top 16 backs within this study.
Nick Chubb, Georgia
Individual Explosiveness: 3.75 (3rd)
Combo Grade: 7.25 (1st)
I've written about his ability to bang out yardage after contact already, but what I didn't tell you was that Chubb created more missed tackles per carry than any of the returning running backs. The data is simply telling us what we already know -- Chubb stepped in and picked up right where Todd Gurley left off last season and will probably do it again this year. He's the total package.
Samaje Perine, Oklahoma
Individual Explosiveness: 4.24 (1st)
Combo Grade: 7.04 (2nd)
Oklahoma has a new offensive coordinator who is planning a more wide-open, spread-based attack, but Perine will still be a huge part of what the Sooners do. Perine is a physical runner who can shred arm tackles (second in the nation in broken tackles with 18), and he uses subtle movement on the second level to elude would-be tacklers. In other words, he can hammer and shake when needed. I studied the tape to figure out why such a stocky running back could finish with such a high Explosion Index, and I found my answer. Perine simply combines vision and outstanding decisiveness to find and maximize his big-play opportunities.
Ezekiel Elliott, Ohio State
Individual Explosiveness: 3.80 (2nd)
Combo Grade: 6.90 (3rd)
Like Chubb, Elliott's data points perfectly match what we saw from him over the second half of the season. Elliott's average of 3.1 yards per carry after contact exemplifies his ability to gain yards after contact and keep the first downs rolling in, but he hit explosive runs on 10 percent of his carries, which might be even more impressive. On tape, Elliott hits the hole with authority and ramps up to top speed quickly, so I wasn't surprised to see him finish with such a high Explosive Index. Elliott combines power with burst, which is why he is a highly regarded prospect and top Heisman candidate.
Devontae Booker, Utah
Individual Explosiveness: 3.23 (6th)
Combo Grade: 6.03 (4th)
On tape, I see a running back who has to work hard for his yardage, so it didn't shock me to find out that Booker gained just 1.8 yards per carry before first contact. In other words, get somebody blocked, guys! Booker managed to grind out 2.8 yards after contact per carry, which was better than James Conner (Pittsburgh), Royce Freeman (Oregon) and Corey Clement (Wisconsin). Booker's combo grade confirms the popular opinion that his sum is greater than the individual parts when viewing his NFL potential.
Critical Factor: Breaking tackles
NFL scouts will tell you that if a runner isn't a "make-you-miss" back, then he must be able to break tackles and create yards for himself after contact. Physical runners tend to have limited ceilings because they are often grinders, but grinders find work in the NFL if they are able to win in short yardage and on the goal line.
Georgia sophomore Nick Chubb is a grown man with layers of muscle jammed into his uniform. It should come as no surprise that Chubb was one of the best in the nation at churning out yardage after first contact, averaging 3.5 yards per carry after contact.
To put Chubb's accomplishment into perspective, he finished behind Todd Gurley (3.9), but ahead of Melvin Gordon (3.0), Tevin Coleman (3.2) and Jay Ajayi (2.7) while breaking tackles on 7.7 percent of his carries, which is way above the SEC average.
Pitt's James Conner stands at 6-foot-2 and 240 pounds and is the reigning hammer of the college football world. Conner lacks the burst to escape fast defenses, so he used his CFB-leading 28 broken tackles to push piles and grind out 26 rushing touchdowns.
Shock Linwood had success in Baylor's scheme, but the tape and data make me question whether it is translatable on the next level. Linwood average a measly 1.8 yards after contact and broke tackles on just 2.3 percent of his carries. While he was able to slip tackles, his individual explosion index (2.21) was well-below the NFL standard.
Critical Factor: Creating yardage with quickness, wiggle and vision
To make a successful transition from college to the pros, a running back must be able to create yardage for himself beyond what is blocked for him and these traits are essential for that.
Take a look at the best photos from the 2015 college football fall camps.
If a runner can't see creases or anticipate openings, he won't be able to find running lanes, so vision is important. The next essential trait is an ability to make defenders miss at the line of scrimmage or on the second level. If a running back can't make defenders miss or can't break tackles, then he's unlikely to be a long-term starter in the NFL.
Arkansas' Jonathan Williams will miss this season after surgery on his injured foot, but it is worth noting that his foot quickness and wiggle in the hole allowed him to shake 44 tackle attempts in 2014.
Kenneth Farrow's level of competition at the University of Houston might be questioned at times, but he created missed tackles on 21.5 percent of his runs while gaining 15-plus yards on 8.6 percent of his carries, which definitely drew the attention of NFL scouts.
TCU's Aaron Green is an explosive runner who was able to make defenders miss on 18 percent of his carries thanks to his lateral elusiveness and vision. While TCU's scheme created space to the tune of 3.8 yards per carry before first contact, Green had more explosive carries per attempt than any of the top returning running backs. On the flip side, Green's average of 1.3 yards after contact was by far the worst for the same list of top running backs.