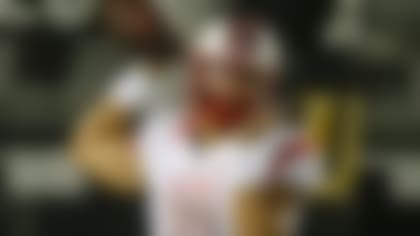 There still are seven weeks until the first game of the season, and to help pass the time, we decided to rank all the FBS quarterback situations.
Not a top 10 or a top 25, but all 128.
The most important thing to note before you dive in: This is not simply a comparison of the talent level of the starters (we'll let the 2015 and 2016 NFL Drafts sort that out). Instead, there are some variables.
The most important is how comfortable coaches should be entering the season with their quarterback situation -- both starter and reserve. That "comfort level" encompasses the remaining variables, too.
No. 2 is how a quarterback fits into his offense -- obviously important when it comes to considering run-first quarterbacks.
No. 3 is the experience level of the starting quarterback.
No. 4 is the experience level of the backup. (A team with an experienced backup is going to rank higher than a team without an experienced quarterback.)
Finally, No. 5 is an objective opinion of how these guys will produce in their offense this season.
As an example using all five variables: Navy's Keenan Reynolds is 5-foot-11 and 195 pounds, and is barely an adequate passer. He has no shot at playing in the NFL; indeed, he probably could play for (maybe) 20 FBS programs (and it would be as a reserve for some of them). But Reynolds is a great fit for what Navy does offensively, and he is coming off a historic season in the Midshipmen's triple-option offense. He is in the top 10 on our list but, frankly, wouldn't be in the top 100 nationally if it came to sheer talent (there are backups at big schools with more innate talent).
Our rankings continue with a look at Nos. 91-100.
Starter/backup: Pete DiNovo/Justin Holman
Buzz: DiNovo was the surprise winner of the job, which means he'll be the guy tasked with replacing Blake Bortles. Holman backed up Bortles last season. DiNovo should benefit from a lot of skill-position talent surrounding him.
Starter/backup: Patrick Towles/Drew Barker
Buzz: Towles (6-5, 236) played in five games as a true freshman reserve in 2012, then redshirted last season. UK runs a version of the spread but wants to throw the ball more effectively this season, and Towles looks to have the necessary skill set to do it. He also has some running ability. Barker (6-3, 216), a true freshman who enrolled in the spring, adapted quickly to the offense. But there's quite a difference between going against UK's defense in scrimmages and against SEC defenses in real games.
Starter/backup: Paxton Lynch/Jason Stewart
Buzz: Lynch (6-6, 225) is a big guy with a strong arm, and if he makes the normal progression expected from a sophomore, Memphis' passing attack could be interesting. Lynch played at a small religious high school outside of Orlando and didn't emerge as a prospect until late in his senior season of high school. He redshirted in 2012 and showed some signs last season of becoming a good college quarterback. Stewart is a JC transfer who went through spring ball and looked OK.
Starter/backup: Neal Burcham or Matt Davis
Buzz: Burcham started twice as an injury replacement as a redshirt freshman last season, but Davis -- who originally signed with Texas A&M before spending last season at a junior college -- arrived in May to shake things up. Davis was a highly regarded dual-threat guy out of high school, and playing him would add a different element to the offense because of his running ability. The flipside: Burcham is a dropback passer, which would seem to best fit what head coach June Jones wants in a quarterback.
Take a look at the best college players to watch in the fall.
Starter/backup: Cole Gautsche/Clayton Mitchem
Buzz: New Mexico's offense is all about the run, and Gautsche (6-4, 234) is all about the run, as well. He is a tough, physical runner, not a surprise considering his size. But he has had concussion issues that have limited his time. Mitchem, a senior, started seven games last season as an injury fill-in; he is a much better passer than Gautsche, but he is not a running threat. If Gautsche remains healthy, it'll be a big plus.
Starter/backup: Gary Nova/Mike Bimonte
Buzz: Nova, a senior, has been maddeningly inconsistent throughout his career, and if he struggled in the Big East/AAC, what is going to happen now that he is in the much tougher Big Ten? There are two reasons for at least some semblance of hope: He is experienced and he should benefit from working with new offensive coordinator Ralph Friedgen. If he falters, Rutgers might go with third-string redshirt freshman Chris Laviano.
Starter/backup: Michael Brewer OR Mark Leal
Buzz: Talented-but-inconsistent Logan Thomas is gone -- but it easily could get to the point this season that Hokies fans actually pine for Thomas. Leal was the backup last season, but he had a poor spring. Brewer is a Texas Tech transfer who arrived this summer. Brendan Motley was OK during the spring, but he has been hurt and has fallen out of the running -- for the time being, anyway. This is an underwhelming group.
Take a look at the top 10 players from Virginia to play in the NFL.
Starter/backup: Greyson Lambert/David Watford
Buzz: Cavaliers coach Mike London is on the hot seat, and he really needs Lambert, a sophomore, to play well. Watford started last season, but London already has anointed Lambert -- who threw 75 passes as the backup last season -- as this season's starter. He is not as athletic as Watford, but he does have a nice arm and is unlikely to make the same type of crippling mistakes as Watford. In short, UVa loses some athleticism but hopes to gain some consistency at the position.
Starter/backup: Mike White/Steven Bench
Buzz: White won the job this week. Bench, who began his career at Penn State, started twice for the Bulls last season; White made five starts as a true freshman. Bench has some running ability, but White seems to have more upside. White would be helped by a rushing attack that must improve to become merely adequate. USF averaged 88.7 rushing yards per game last season.
Starter/backup: Johnny McCrary or Stephen Rivers or Patton Robinette
Buzz: McCrary, a redshirt freshman, has the highest upside of the three, but defense-minded new coach Derek Mason might be leery of an inexperienced quarterback. Robinette, a sophomore, is a tough kid who started three times last season; he is a good runner but a limited passer. Stephen Rivers, the brother of Chargers QB Philip Rivers, is a transfer from LSU who has immediate eligibility. He has a big arm but threw just two passes in three seasons at LSU. All three potential starters are at least 6-4 and at least 215 pounds.
Mike Huguenin can be reached at mike.huguenin@nfl.com. You also can follow him on Twitter @MikeHuguenin.