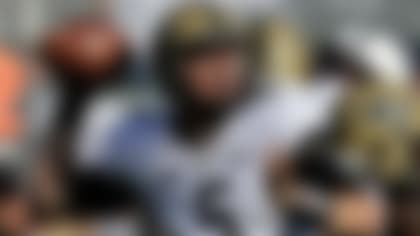 There still are seven weeks until the first game of the season, and to help pass the time, we decided to rank all the FBS quarterback situations.
Not a top 10 or a top 25, but all 128.
The most important thing to note before you dive in: This is not simply a comparison of the talent level of the starters (we'll let the 2015 and 2016 NFL Drafts sort that out). Instead, there are some variables.
The most important is how comfortable coaches should be entering the season with their quarterback situation -- both starter and reserve. That "comfort level" encompasses the remaining variables, too.
No. 2 is how a quarterback fits into his offense -- obviously important when it comes to considering run-first quarterbacks.
No. 3 is the experience level of the starting quarterback.
No. 4 is the experience level of the backup. (A team with an experienced backup is going to rank higher than a team without an experienced quarterback.)
Finally, No. 5 is an objective opinion of how these guys will produce in their offense this season.
As an example using all five variables: Navy's Keenan Reynolds is 5-foot-11 and 195 pounds, and is barely an adequate passer. He has no shot at playing in the NFL; indeed, he probably could play for (maybe) 20 FBS programs (and it would be as a reserve for some of them). But Reynolds is a great fit for what Navy does offensively, and he is coming off a historic season in the Midshipmen's triple-option offense. He is in the top 10 on our list but, frankly, wouldn't be in the top 100 nationally if it came to sheer talent (there are backups at big schools with more innate talent).
Our rankings continue with a look at Nos. 81-90.
Starter/backup: Nick Sherry/Blake Decker
Buzz: Sherry started all but one game in 2012, then entered last season as the starter before losing the job. Sherry (6-5, 235) is a prototypical dropback passer and has a strong arm, but if he again can't do the job, coaches will turn to Decker (6-2, 215), a JC transfer who had a solid spring. The quarterback will operate behind a good line and will have a strong group of receivers.
Starter/backup: Matt Joeckel/Trevone Boykin
Buzz: Boykin started nine games at quarterback last season, but he probably is better suited for wide receiver or even running back. That's why hopes are high that Joeckel -- whose twin, Luke, was the second overall pick (Jaguars) in the 2013 NFL Draft -- can win the job after transferring this summer from Texas A&M; he played in 10 games in three seasons with the Aggies. While Joeckel (6-4, 240) is nowhere near as athletic as Boykin, he is a better passer and has some mobility. The offense also should get a boost from the hiring of Doug Meachem, who will be co-coordinator and call the plays. He was the offensive coordinator last season at Houston and used to work at Oklahoma State.
Starter/backup: Justin Thomas/Tim Byerly
Buzz: Thomas played in 10 games as a reserve last season, and the guy can fly: He was the state 100-meter champion in Alabama. Thus, if he gets to the edge in Tech's triple-option offense, watch out. But can he be effective running between the tackles or throwing the ball? That's a good question, which is why Byerly -- a sturdier runner -- has a chance to unseat Thomas. Still, this is an interesting combination and one that should provide Tech with better quarterback play than it received last season.
Starter/backup: Tyler Murphy/Darius Wade
Buzz: Murphy is a transfer from Florida who is eligible immediately. He started six games as an injury replacement for the Gators last season and was barely adequate. But if BC can keep him protected, he is likely to play relatively mistake-free ball. Besides, this is a run-oriented offense, and Murphy can be OK in that type of offense. He has some running ability, too. Wade is a true freshman who went through spring drills.
Starter/backup: Jake Heaps OR Brad Kaaya
Buzz: It wasn't supposed to be this way. This was supposed to be senior Ryan Williams' job. Williams, who followed Geno Smith at powerhouse Miramar (Fla.) High, began his career at Memphis, but transferred home (Miramar is a Fort Lauderdale suburb about 30 miles from UM's campus) in 2011 and was a backup the past two seasons. But Williams tore his ACL during spring practice, and while he hopes to return in September, it certainly isn't a given. That gave redshirt freshman Kevin Olsen the inside track to the starting job, but he has suspended for at least the first game. The well-traveled Heaps (he began his career at BYU before going to Kansas) transferred in over the summer and is battling Kaaya, a true freshman.
Starter/backup: Jesse Scroggins or Anu Solomon
Buzz: This is the final go-round for Scroggins, who began his career at USC. Solomon, a redshirt freshman, is the better runner, but Scroggins is the better passer and has at least a modicum of mobility. Arizona has a nice group of wide receivers, so it makes sense for Scroggins to win the job because of his arm.
Starter/backup: Brandon Allen/Austin Allen
Buzz: Bret Bielema's offense needs its quarterback to avoid mistakes and be a game manager. Brandon Allen didn't do that so well last season, but there is hope he can do the job capably this season. His younger brother is the backup.
Take a look at the top 10 players from Purdue to play in the NFL.
Starter/backup: Danny Etling/Austin Appleby
Buzz: Etling was thrown to the wolves as a true freshman last season before he truly was ready, making seven starts, but it could pay off this season. He had some moments last season, and the staff is looking for him to be consistent this season. A legit goal this season is for Etling to throw for 2,300 yards and 18 TD passes; he has the talent, if not necessarily the help, to do it.
Starter/backup: Mitch Leidner/Chris Streveler
Buzz: Starting QB Philip Nelson left the program, giving Leidner (6-4, 237) -- who did make four starts last season -- the starting job. While Leidner's passing ability has a ways to go -- a long way, in fact -- he is a big, physical runner and this is a run-first offense.
Starter/backup: Colin Reardon/Nathan Strock
Buzz: Reardon, a sophomore, played relatively well last season, his first as the starter. He showed some flashes of being a productive passer and must become more consistent. Reardon also is a running threat.
Mike Huguenin can be reached at mike.huguenin@nfl.com. You also can follow him on Twitter @MikeHuguenin.