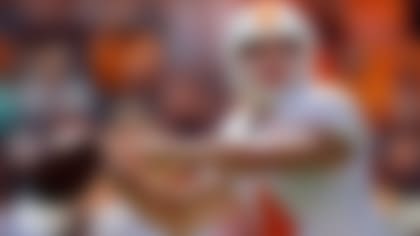 There still are seven weeks until the first game of the season, and to help pass the time, we decided to rank all the FBS quarterback situations.
Not a top 10 or a top 25, but all 128.
The most important thing to note before you dive in: This is not simply a comparison of the talent level of the starters (we'll let the 2015 and 2016 NFL Drafts sort that out). Instead, there are some variables.
The most important is how comfortable coaches should be entering the season with their quarterback situation -- both starter and reserve. That "comfort level" encompasses the remaining variables, too.
No. 2 is how a quarterback fits into his offense -- obviously important when it comes to considering run-first quarterbacks.
No. 3 is the experience level of the starting quarterback.
No. 4 is the experience level of the backup. (A team with an experienced backup is going to rank higher than a team without an experienced quarterback.)
Finally, No. 5 is an objective opinion of how these guys will produce in their offense this season.
As an example using all five variables: Navy's Keenan Reynolds is 5-foot-11 and 195 pounds, and is barely an adequate passer. He has no shot at playing in the NFL; indeed, he probably could play for (maybe) 20 FBS programs (and it would be as a reserve for some of them). But Reynolds is a great fit for what Navy does offensively, and he is coming off a historic season in the Midshipmen's triple-option offense. He is in the top 10 on our list but, frankly, wouldn't be in the top 100 nationally if it came to sheer talent (there are backups at big schools with more innate talent).
Our rankings continue with a look at Nos. 71-80.
Starter/backup: Nick Mullens/Ricky Lloyd
Buzz: Mullens started the final six games as a true freshman last season and showed a better-than-expected grasp of the offense. His understanding of the offense should be even better this season now that he has been joined by his high school coach: Southern Miss' new offensive coordinator is Chip Lindsey, who was an administrative assistant at Auburn last season after serving as a prep coach. Mullens isn't necessarily a great athlete, but he has some mobility and throws a nice ball. Lloyd is coming back from an ACL injury.
Starter/backup: Pete Thomas/Brayle Brown
Buzz: Thomas (6-5, 235) is on his third school; he was a hyped recruit at Colorado State and started for two seasons with the Rams before eventually leaving for North Carolina State, where he started last season but fell out of favor with the coaching staff. His final go-round will be at ULM. He has a strong arm but is not a runner.
Starter/backup: Tyler Jones/Connor White
Buzz: Jones started seven times as a true freshman last season, and coach Dennis Franchione is comfortable enough with him that he has expanded the offense and will incorporate some no-huddle this season. Jones is an OK runner, and he also showed an ability as a true freshman to avoid mistakes in the passing game.
Check out the best moves of college football cheerleaders in 2013.
Starter/backup: Brandon Doughty/Nelson Fishback
Buzz: Doughty was recruited by Willie Taggart, who preferred a run-first offense, and predictably struggled a bit under pass-first coach Bobby Petrino last season. Former offensive coordinator Jeff Brohm is the new coach, and he needs Doughty to cut down on his mistakes (14 picks). Doughty showed some flashes of consistent play, throwing for 2,857 yards and completing 65.8 percent of his passes, and he does have a nice arm.
Starter/backup: Cooper Rush/Cody Kater
Buzz: Kater began 2013 as the starter but suffered a broken collarbone in the opener and missed the rest of the season. Rush was a redshirt freshman thrown into the breach, and he held up relatively well; he threw for 2,349 yards and 15 TDs, but he also tossed 15 interceptions. Both know the offense, which Kater proved with a strong spring.
Starter/backup: Kameron Bryant/Taylor Lamb
Buzz: Bryant began last season as the backup, but eventually moved into the starting role and played well; he completed 71.2 percent of his passes, and threw 14 TD passes and just four picks. He also has the necessary running ability in App State's version of the spread. The team is moving to the FBS ranks this year, and it will come with some setbacks, but coaches are confident in Bryant's abilities. Bryant played in three different offensive schemes in high school.
Starter/backup: Driphus Jackson/Tyler Stehling
Buzz: Jackson is a good athlete whose dual-threat abilities are tailor-made for the Owls' offense. He played well as a redshirt freshman in 2012 but struggled some last season as he dealt with injuries. His running ability is better than that of predecessor Taylor McHargue, and if Jackson is just an adequate passer, he will match McHargue in that department.
Starter/backup: Justin Worley/Joshua Dobbs
Buzz: The Vols have a plethora of issues and quarterback is one. Tennessee had three starting quarterbacks last season, and Worley played the best of the three. But his hold on the starting job appears tenuous.
These are the top 10 college football rivalry games, as determined by the College Football 24/7 staff.
Starter/backup: Sam Richardson/Grant Rohach
Buzz: Richardson, who was bothered by a thumb injury, started eight games last season, while Rohach started the other four. Richardson won the job in a bit of a surprise, as Rohach is more athletic and looked to be the better fit in new coordinator Mark Mangino's offense. The potential exists for a competent passing attack.
Starter/backup: J.T. Barrett/Cardale Jones
Buzz: Braxton Miller's season-ending shoulder injury changes a lot of things with Ohio State. Barrett (6-1, 220) is a redshirt freshman who was recruited by some schools as a cornerback. He is athletic and possesses some elusiveness, but he lacks a strong arm. Jones is a big sophomore (6-5, 250) who has a cannon for an arm. But while he is a physical runner, he is not elusive and has not been as consistent as Barrett during camp.
Mike Huguenin can be reached at mike.huguenin@nfl.com. You also can follow him on Twitter @MikeHuguenin.