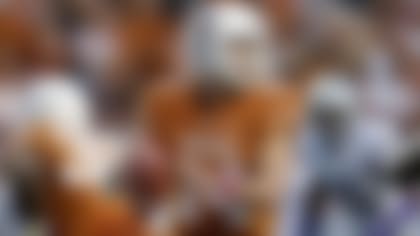 There still are seven weeks until the first game of the season, and to help pass the time, we decided to rank all the FBS quarterback situations.
Not a top 10 or a top 25, but all 128.
The most important thing to note before you dive in: This is not simply a comparison of the talent level of the starters (we'll let the 2015 and 2016 NFL Drafts sort that out). Instead, there are some variables.
The most important is how comfortable coaches should be entering the season with their quarterback situation -- both starter and reserve. That "comfort level" encompasses the remaining variables, too.
No. 2 is how a quarterback fits into his offense -- obviously important when it comes to considering run-first quarterbacks.
No. 3 is the experience level of the starting quarterback.
No. 4 is the experience level of the backup. (A team with an experienced backup is going to rank higher than a team without an experienced quarterback.)
Finally, No. 5 is an objective opinion of how these guys will produce in their offense this season.
As an example using all five variables: Navy's Keenan Reynolds is 5-foot-11 and 195 pounds, and is barely an adequate passer. He has no shot at playing in the NFL; indeed, he probably could play for (maybe) 20 FBS programs (and it would be as a reserve for some of them). But Reynolds is a great fit for what Navy does offensively, and he is coming off a historic season in the Midshipmen's triple-option offense. He is in the top 10 on our list but, frankly, wouldn't be in the top 100 nationally if it came to sheer talent (there are backups at big schools with more innate talent).
Our rankings continue with a look at Nos. 61-70.
Starter/backup: Cyler Miles/Jeff Lindquist
Buzz: Miles was a highly touted recruit and started a game as an injury replacement as a redshirt freshman last season. But he was suspended and missed spring practice, setting his development back a bit. Miles (6-4, 217) has dual-threat ability, which will give new coach Chris Petersen some leeway with his offense. Miles is the only quarterback on the roster who has thrown a college pass, and he has thrown just 61 in his collegiate career. His upside is large, though.
Starter/backup: Brandon Connette/Brian Burrell
Buzz:Derek Carr's departure left a giant hole -- but Connette's decision to transfer from Duke to be closer to home fills that hole more than a little bit. Connette (6-2, 213) started three games and played a lot for a good Duke offense last season, and his running ability is a big plus. Burrell (6-4, 219) has good size and a nice arm, but he threw just 12 passes last season -- 647 fewer than Carr -- in his first go-round with the Bulldogs after transferring in from a junior college.
Starter/backup: Clint Trickett/Paul Millard
Buzz: WVU coach Dana Holgorsen is on the hot seat and he desperately needs at least a solid season from Trickett, who started seven games last season but was hurt most of the way. Trickett has a good arm and certainly can wing it deep. WVU is loaded at running back, while depth at receiver is iffy. Will Holgorsen rely on the run?
Starter/backup: Chad Voytik/Trey Anderson
Buzz: Voytik (6-1, 205), a sophomore, is quite different from predecessor Tom Savage, who was a prototypical pocket passer. Savage also was a statue when it came to mobility, and Voytik's running ability will be a plus considering Pitt's iffy offensive line. Voytik doesn't have near the arm strength that Savage had, but he offers a different dimension -- one that could help the Panthers' offense be better than it was last season.
Starter/backup: David Ash/Tyrone Swoopes
Buzz: Ash (6-3, 227) is a solid starter -- when healthy. But he has had concussion issues, making his health an iffy proposition (he played in just three games last season, then hurt his foot during the spring). He is a solid passer who should fare well in Texas' revamped offense, which should be heavier on the run this fall and give him an ability to use a lot of play-action. Swoopes (6-4, 240) is a good athlete but far from a polished quarterback. His running ability is ahead of his passing ability, though he does have a big arm. If Ash is hurt again, the Longhorns are going to struggle.
Starter/backup: Angel Santiago/A.J. Schurr
Buzz: Santiago started 11 times last season but missed spring drills -- not a good thing when there's a new coach. The good news is that the new coach, Jeff Monken, plans to continue to run the triple option. Santiago is a tough runner, but he is not an adequate passer. Schurr is better as a passer, but lacks Santiago's running skills.
Starter/backup: Fredi Knighten/Chandler Rogers
Buzz: Knighten (5-11, 189) played well in limited backup time last season, including leading the game-winning TD drive in a win over Ball State in the GoDaddy.Com Bowl. To give you an idea of his skill set, he was recruited to Arkansas State by Gus Malzahn. Knighten is a dangerous runner and is accurate while throwing on the run. He must prove he can throw vertically, but he has an intriguing upside in this offense.
Starter/backup: Wes Lunt/Aaron Bailey
Buzz: Lunt is eligible after sitting out last season following a transfer from Oklahoma State; he started the first two games in 2012 as a true freshman with the Cowboys before being injured and shuffled down the depth chart. He has a good arm and should work well with coordinator Bill Cubit, who loves to throw the ball around. Still, there is a bit of mystery surrounding Lunt. Bailey is an athletic sophomore. Senior Reilly O'Toole, who has played in 23 career games, also could get in the mix.
Starter/backup: Casey Cochran/Chandler Whitmer
Buzz: Cochran started the final four games last season and -- wonder of wonders -- actually proved to be a quarterback who could throw the ball with some accuracy (one of those hadn't been seen in a while on the UConn campus). Whitmer, who has started 16 games in the past two seasons, gives UConn an experienced backup, too. It's true: UConn's quarterback situation looks good for a change.
Starter/backup: Jacoby Brissett/Garrett Leatham
Buzz: Brissett sat out last season after transferring from Florida, and coaches think he can provide the steady quarterback play that was missing last season. Brissett (6-4, 236) has a good arm and understands the offense, but there is no established go-to receiver.
Mike Huguenin can be reached at mike.huguenin@nfl.com. You also can follow him on Twitter @MikeHuguenin.