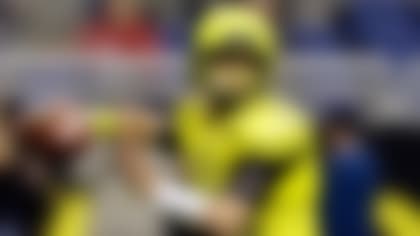 There still are seven weeks until the first game of the season, and to help pass the time, we decided to rank all the FBS quarterback situations.
Not a top 10 or a top 25, but all 128.
The most important thing to note before you dive in: This is not simply a comparison of the talent level of the starters (we'll let the 2015 and 2016 NFL Drafts sort that out). Instead, there are some variables.
The most important is how comfortable coaches should be entering the season with their quarterback situation -- both starter and reserve. That "comfort level" encompasses the remaining variables, too.
No. 2 is how a quarterback fits into his offense -- obviously important when it comes to considering run-first quarterbacks.
No. 3 is the experience level of the starting quarterback.
No. 4 is the experience level of the backup. (A team with an experienced backup is going to rank higher than a team without an experienced quarterback.)
Finally, No. 5 is an objective opinion of how these guys will produce in their offense this season.
As an example using all five variables: Navy's Keenan Reynolds is 5-foot-11 and 195 pounds, and is barely an adequate passer. He has no shot at playing in the NFL; indeed, he probably could play for (maybe) 20 FBS programs (and it would be as a reserve for some of them). But Reynolds is a great fit for what Navy does offensively, and he is coming off a historic season in the Midshipmen's triple-option offense. He is in the top 10 on our list but, frankly, wouldn't be in the top 100 nationally if it came to sheer talent (there are backups at big schools with more innate talent).
Our rankings continue with a look at Nos. 51-60.
Starter/backup: Anthony Boone/Thomas Sirk
Buzz: Backup Brandon Connette's decision to transfer to Fresno State hurts. Boone has talent, but he was inconsistent last season and now Duke is going to have to live with that inconsistency. Boone generally is accurate, but he can make bad decisions and, as a result, had as many interceptions as TD passes last season (13 of each).
Starter/backup: Gunner Kiel/Jarred Evans
Buzz: The highly touted Kiel began his career at Notre Dame before transferring to Cincinnati and sitting out last season. He is a strong-armed guy who supposedly can make all the throws -- and with accuracy. He also has good mobility, though asking him to throw on the run can lead to some difficulties. Cincinnati has a deep group of receivers, and those receivers should be living large with Kiel throwing the ball. Evans is a JC transfer who will have to hold off sixth-year senior Munchie Legaux, who missed most of last season with a broken leg, for the backup job.
Starter/backup: Trevor Simien/Zack Oliver
Buzz: Simien backed up Kain Colter last season, but still saw a lot of time. He is a vastly better passer than Colter, so look for Northwestern to be more pass-oriented this fall. Simien has a nice arm but must become more consistent.
Starter/backup: Joel Stave OR Tanner McEvoy
Buzz: Stave is a returning starter who threw for 2,494 yards and 22 TDs last season. But he also tossed 13 interceptions and doesn't appear to be a high-level quarterback. Thing is, as long as he cuts down on the picks, he should be fine for this run-oriented offense. But can he do that -- and can he make a big pass when it is needed? McEvoy was a JC transfer last year; he was moved from quarterback to safety last season, then moved back to quarterback during the spring. The decision on a starter might not be made until late August. Hey, where's Russell Wilson when you need him?
Starter/backup: Terrel Hunt/Austin Wilson
Buzz: Hunt began last season as the backup, but he was the starter by the third game. He is a good athlete and a tough, physical runner. But he must improve as a passer, especially in throwing vertical patterns. The coaching staff has tweaked the offense a bit and plans to use more up-tempo, which should nicely fit Hunt's skill set. Still, he has to make defenses respect his arm.
Starter/backup: Tommy Armstrong Jr./Ryker Fyfe
Buzz: Armstrong was pressed into far more action than coaches expected last season; he started eight games because of an injury to Taylor Martinez. Martinez has graduated and the job belongs to Armstrong, who must show more consistency as a passer. He has some dual-threat talents, but as with Martinez, opposing defenses are going to cheat on the run until the Huskers can show they can effectively pass. Fyfe is a walk-on who had a solid spring, though if he plays a lot, the Huskers are in trouble.
Take a look at the top 10 players from LSU to play in the NFL.
Starter/backup: Anthony Jennings/Brandon Harris
Buzz: Jennings guided a comeback win over Arkansas after replacing an injured Zach Mettenberger, but he struggled in an Outback Bowl win over Iowa. Harris is a highly touted true freshman. Both are athletic dual-threat types -- far different than pocket-passer Mettenberger. Both need help with their throwing mechanics. But given the running ability of both quarterbacks, LSU's strength up front, its plethora of backs and a paucity of proven receivers, the Tigers seem likely to rely even more on the run than usual, which will ease some of the pressure on the quarterbacks when it comes to throwing the ball.
Starter/backup: Kenny Hill/Kyle Allen
Buzz: Hill, a sophomore, has been given the giant task of trying to replace Johnny Manziel. Allen, a true freshman from the Phoenix area who enrolled early and went through spring practice, should see time, too; he was the consensus No. 1 quarterback nationally in the 2014 recruiting class. Both are talented, and A&M's biggest issues this season seem likely to remain on the defensive side of the ball.
Starter/backup: Travis Wilson/Kendal Thompson
Buzz: Wilson (6-7, 240) is a big, strong-armed junior who has had medical issues, including a concussion last season; he was cleared for contact in June. He should be a good fit for new coordinator Dave Christensen's up-tempo attack. Thompson, a transfer from Oklahoma, is a running threat who could see time in some special packages.
Starter/backup: Sefo Liufau/Jordan Gehrke
Buzz: Liufau started seven games last season, becoming the first true freshman quarterback to start a game for the Buffs since 2008, and showed signs that he can be a high-level college quarterback. He has some mechanical issues to fix and he needs to add strength (he's 6-4 and 225, so that shouldn't be that difficult), but he has a nice upside -- and it has been a while since you could say that about a Buffs quarterback. He also is the only quarterback on the roster who has taken a college snap.
Mike Huguenin can be reached at mike.huguenin@nfl.com. You also can follow him on Twitter @MikeHuguenin.