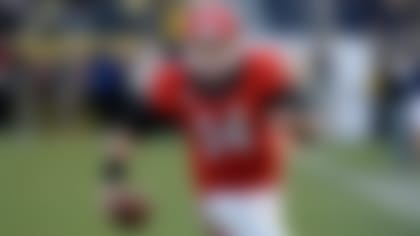 There still are seven weeks until the first game of the season, and to help pass the time, we decided to rank all the FBS quarterback situations.
Not a top 10 or a top 25, but all 128.
The most important thing to note before you dive in: This is not simply a comparison of the talent level of the starters (we'll let the 2015 and 2016 NFL Drafts sort that out). Instead, there are some variables.
The most important is how comfortable coaches should be entering the season with their quarterback situation -- both starter and reserve. That "comfort level" encompasses the remaining variables, too.
No. 2 is how a quarterback fits into his offense -- obviously important when it comes to considering run-first quarterbacks.
No. 3 is the experience level of the starting quarterback.
No. 4 is the experience level of the backup. (A team with an experienced backup is going to rank higher than a team without an experienced quarterback.)
Finally, No. 5 is an objective opinion of how these guys will produce in their offense this season.
As an example using all five variables: Navy's Keenan Reynolds is 5-foot-11 and 195 pounds, and is barely an adequate passer. He has no shot at playing in the NFL; indeed, he probably could play for (maybe) 20 FBS programs (and it would be as a reserve for some of them). But Reynolds is a great fit for what Navy does offensively, and he is coming off a historic season in the Midshipmen's triple-option offense. He is in the top 10 on our list but, frankly, wouldn't be in the top 100 nationally if it came to sheer talent (there are backups at big schools with more innate talent).
Our rankings continue with a look at Nos. 41-50.
Starter/backup: Jacob Coker OR Blake Sims
Buzz: Coker has received a ton of hype since transferring from Florida State. He was beaten out by eventual Heisman winner Jameis Winston at FSU and was a backup for the Seminoles last season. Instead of sitting behind Winston again, Coker transferred to Alabama. But while he has excellent size (6-5, 230) and a strong arm, consider this: He hasn't thrown an important pass in a game since he was a high school senior in 2010 (at, coincidentally, St. Paul's Episcopal School in Mobile, Ala. -- the same high school as AJ McCarron). Coker also didn't arrive in Tuscaloosa until after spring practice was over, so you need to forgive Nick Saban and new coordinator Lane Kiffin if they're feeling a bit nervous.
Starter/backup: Dylan Thompson/Connor Mitch
Buzz: Thompson, a senior, is 3-0 as a starter in his career, but he faces a tall task in trying to replace the steady Connor Shaw as the full-time starter. Thompson played well as a sophomore in 2012, but not so well last season. Steve Spurrier can be hard on his quarterbacks, and if Thompson struggles early in the season, things could get ugly. But Spurrier professes to like almost everything about Thompson, including how he prepares. Still, it's hard to imagine Thompson playing as well as Shaw.
Take a look at Nike's latest updates to college football uniforms for the 2014 season.
Starter/backup: Hutson Mason/Brice Ramsey
Buzz: Mason got an early start on replacing Aaron Murray, as a Murray injury led to Mason starting the regular-season finale and Georgia's bowl game. He's not nearly as talented as Murray, but he's a senior who fully understands the offense and should play relatively mistake-free football. Plus, Georgia is loaded at running back, so you'd think the Bulldogs would be more ground-oriented than usual. Ramsey is an athletic redshirt freshman.
Starter/backup: Quinn Kaehler/Brad Odeman
Buzz: Kaehler, a senior, began last season as the backup, but took over the starting job by the third game of the year and ended up throwing for 3,007 yards and 19 TDs. While he is 6-4 and 215 pounds, he doesn't have a great arm. But he understands the offense, generally is accurate and doesn't force throws. He missed spring practice after having minor elbow surgery but should be fine.
Starter/backup: Jake Rudock/C.J. Beathard
Buzz: Rudock, who, like Houston's O'Korn, is from prep powerhouse Fort Lauderdale St. Thomas Aquinas, started all 13 games as a sophomore last season after winning the job in summer camp. While not a great runner, he is heady and knows how to use his feet to keep plays alive in the pocket. But as heady as he is, he threw 13 picks, a number that must decrease by at least five if Iowa is to reach its potential. Iowa should have a strong ground game, which will lessen some pressure on Rudock. Beathard is the grandson of former NFL GM Bobby Beathard.
Check out the top 10 players from Louisville to play in the NFL.
Starter/backup: Will Gardner/Patrick Thomas
Buzz: It certainly would've been interesting to see new Louisville coach Bobby Petrino work with Teddy Bridgewater, but Gardner looks to be a nice consolation prize. He was tremendous in Louisville's spring game (32-of-37 for 542 yards). Gardner (6-5, 226) has a strong arm and gets to work with a loaded offense. The backup? That race is up in the air, though Thomas is a JC transfer with dual-threat abilities.
Starter/backup: Jameill Showers/Mack Leftwich
Buzz: Showers competed with Johnny Manziel for Texas A&M's starting job in 2012. Everyone knows how that turned out, and Showers left for UTEP. He played well when healthy last season. Showers (6-2, 230) has a good arm and is dangerous on the run as a passer; he also has OK speed and can run over defenders. But he missed the final five games with a shoulder injury, and the offense disappeared without him. If he's healthy, UTEP's offense will be effective.
Starter/backup: Grant Hedrick/Ryan Finley
Buzz: Hedrick began last season as the backup to Joe Southwick, but started the final five games and ended up playing more than Southwick. Hedrick has some running ability and completed 69.0 percent of his passes. He doesn't necessarily have a high ceiling in terms of a football future, but he could throw for 25 TDs or so this fall. He has had fumbling issues.
Starter/backup: Cole Stoudt/Deshaun Watson
Buzz: Stoudt, a senior whose dad, Cliff, played in the NFL, patiently has waited for his turn, and now that Tajh Boyd is gone, it's Stoudt's job. He is not nearly as mobile as Boyd, but the flip side is that he is expected to take better care of the ball. He won't be as flashy or as productive as Boyd, but Stoudt has the skills necessary to keep this offense humming. Watson is a true freshman who has a ton of talent.
Starter/backup: Kyle Pohl/Nick Hirschman
Buzz: Pohl generally played well last season, his first as the starter. He has a strong arm, and while he threw 14 TD passes, he also took a few too many chances and tossed 10 interceptions. He completed 56 percent of his passes last season, and if he can get his completion percentage above 60 -- a legitimate goal -- he should flirt with 3,000 passing yards. Hirschman began his career at Colorado and played in three games for the Zips last season.
Mike Huguenin can be reached at mike.huguenin@nfl.com. You also can follow him on Twitter @MikeHuguenin.