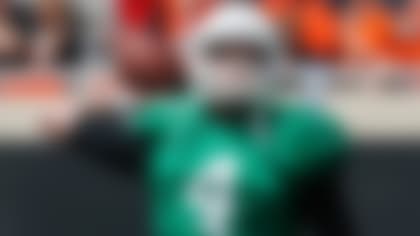 There still are seven weeks until the first game of the season, and to help pass the time, we decided to rank all the FBS quarterback situations.
Not a top 10 or a top 25, but all 128.
The most important thing to note before you dive in: This is not simply a comparison of the talent level of the starters (we'll let the 2015 and 2016 NFL Drafts sort that out). Instead, there are some variables.
The most important is how comfortable coaches should be entering the season with their quarterback situation -- both starter and reserve. That "comfort level" encompasses the remaining variables, too.
No. 2 is how a quarterback fits into his offense -- obviously important when it comes to considering run-first quarterbacks.
No. 3 is the experience level of the starting quarterback.
No. 4 is the experience level of the backup. (A team with an experienced backup is going to rank higher than a team without an experienced quarterback.)
Finally, No. 5 is an objective opinion of how these guys will produce in their offense this season.
As an example using all five variables: Navy's Keenan Reynolds is 5-foot-11 and 195 pounds, and is barely an adequate passer. He has no shot at playing in the NFL; indeed, he probably could play for (maybe) 20 FBS programs (and it would be as a reserve for some of them). But Reynolds is a great fit for what Navy does offensively, and he is coming off a historic season in the Midshipmen's triple-option offense. He is in the top 10 on our list but, frankly, wouldn't be in the top 100 nationally if it came to sheer talent (there are backups at big schools with more innate talent).
Our rankings continue with a look at Nos. 31-40.
Starter/backup: Davis Webb/Patrick Mahomes
Buzz: Webb shared the starting job with Baker Mayfield last season -- both were freshmen -- but Mayfield has transferred and the job is all Webb's now. Indeed, Mahomes -- a true freshman who also is an excellent baseball player (his dad was a major-league pitcher) -- is the only other scholarship quarterback. Webb threw for 2,718 yards and 20 TDs last season -- nice numbers considering his inexperience. He also threw nine picks, but Tech coaches can live with that as long as he improves his completion percentage (it was 62.6 last season).
Starter/backup: Devin Gardner/Shane Morris
Buzz: Gardner has all the needed physical tools -- he has a strong arm and can be a dangerous runner -- but was wildly inconsistent last season and made too many mistakes. New coordinator Doug Nussmeier should be a calming influence. It would also help if Michigan developed some semblance of a rushing attack to take pressure off Gardner; that might not happen, though. Morris is the quarterback of the future and looks to have a high ceiling.
Starter/backup: Maty Mauk/Eddie Printz
Buzz: Mauk got an early look at life as a starter in the SEC last season, when James Franklin was injured; Mauk started four games and played well enough in those starts that Mizzou was able to win the SEC East. He wasn't all that accurate as a passer, hitting just 51.1 percent of his attempts, but he avoided mistakes and did throw 11 TD passes; he also throws a nice deep ball, and while his interception numbers belie it (just two picks), he is not afraid to take chances. Mauk, who also is a running threat, plays with a swagger and is uber-confident.
Starter/backup: Trevor Knight/Cody Thomas
Buzz: Knight started five games last season, but it wasn't until the last one -- a Sugar Bowl upset of Alabama -- that he truly looked like a guy who was capable of leading OU to Big 12 titles. Knight is a good runner, giving Sooners coaches a different element at the position than they have been used to. Consistency was the biggest issue last season, but the proverbial light seems to have gone on, which should lead to big things from Knight. Thomas is a redshirt freshman, so if Knight does struggle, things would get interesting -- and not necessarily in a good way for the Sooners.
Starter/backup: Jacquez Johnson/Greg Hankerson
Buzz: Johnson, a junior, was the Conference USA newcomer of the year after transferring in from a junior college last season; he threw for 1,876 yards and 12 TDs and was the Owls' leading rusher with 772 yards and another 10 TDs. He came on strong down the stretch. Hankerson could be used in special packages.
Take a look at the top 10 players from Maryland to play in the NFL.
Starter/backup: C.J. Brown/Caleb Rowe
Buzz: Brown, a sixth-year senior who has battled injuries, won't be an all-league honoree. But he does give Maryland a ton of experience as the Terps enter the Big Ten. He understands the offense, and doubles as a running threat and a solid passer; his passing numbers were down last season because the Terps lost both starting wide receivers to broken legs in the same game. Rowe is a solid No. 2 guy.
Starter/backup: Joe Licata/Tony Daniel
Buzz: Licata should contend for All-MAC honors this season, assuming a go-to receiver emerges for the Bulls. He threw for 2,824 yards and 24 TDs last season; the TD total was one shy of the school's single-season record. He missed spring practice because of a hip injury, but should be fine this fall. Daniel looked fine in spring drills.
Starter/backup: P.J. Walker/Connor Reilly
Buzz: The Owls were 2-10 last season, but they found a quarterback. Walker started seven games as a true freshman and threw for 2,084 yards and 20 TDs; he threw at least two TD passes in six of his starts. He also showed that he can be dangerous as a runner. The Owls have issues elsewhere -- a lot of them, in fact -- but quarterback isn't one of them.
Starter/backup: J.W. Walsh/Daxx Garman
Buzz: Walsh, a junior, has started eight games in the past two seasons, but it's his job now that Clint Chelf is gone. He had a strong spring, showing more accuracy and a better understanding of the offense. Walsh has the ability to hurt defenses with his legs, too.
Starter/backup: Jeff Driskel/Treon Harris
Buzz: Driskel and the Gators had 11 wins in 2012, but truth be told that team was all about defense. Driskel was lost to a broken leg early last season, and the Gators' offense -- moribund already -- became fit for the morgue. The hope is that a scheme change will help. Driskel (6-4, 230) is gifted physically and possesses a strong arm, but he was ill-suited for the Gators' old pro-style attack. UF will be using the spread this season, and Driskel is a powerful and surprisingly fast runner who has a chance to succeed as a read-option guy. In addition, the overhauled offensive staff is stressing that Driskel get rid of the ball quickly on pass plays, which should be helpful.
Mike Huguenin can be reached at mike.huguenin@nfl.com. You also can follow him on Twitter @MikeHuguenin.