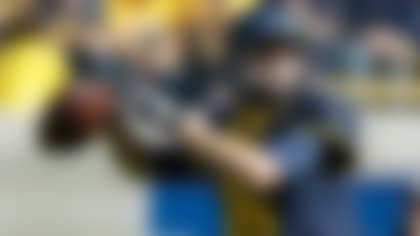 There still are seven weeks until the first game of the season, and to help pass the time, we decided to rank all the FBS quarterback situations.
Not a top 10 or a top 25, but all 128.
The most important thing to note before you dive in: This is not simply a comparison of the talent level of the starters (we'll let the 2015 and 2016 NFL Drafts sort that out). Instead, there are some variables.
The most important is how comfortable coaches should be entering the season with their quarterback situation -- both starter and reserve. That "comfort level" encompasses the remaining variables, too.
No. 2 is how a quarterback fits into his offense -- obviously important when it comes to considering run-first quarterbacks.
No. 3 is the experience level of the starting quarterback.
No. 4 is the experience level of the backup. (A team with an experienced backup is going to rank higher than a team without an experienced quarterback.)
Finally, No. 5 is an objective opinion of how these guys will produce in their offense this season.
As an example using all five variables: Navy's Keenan Reynolds is 5-foot-11 and 195 pounds, and is barely an adequate passer. He has no shot at playing in the NFL; indeed, he probably could play for (maybe) 20 FBS programs (and it would be as a reserve for some of them). But Reynolds is a great fit for what Navy does offensively, and he is coming off a historic season in the Midshipmen's triple-option offense. He is in the top 10 on our list but, frankly, wouldn't be in the top 100 nationally if it came to sheer talent (there are backups at big schools with more innate talent).
Our rankings continue with a look at Nos. 21-30.
Starter/backup: Bo Wallace/DeVante Kincade
Buzz: Wallace is entering his third season as the starter and is a solid dual-threat quarterback. He must cut down on his interceptions, though: He has thrown 40 TD passes but also 27 picks in two seasons. He had a strong spring, lending hope the interception total will be in the single digits this fall. Kincade is a redshirt freshman who is a good runner.
Starter/backup: Taysom Hill/Christian Stewart
Buzz: Hill is one of the best dual-threat quarterbacks in the nation. He threw for 2,938 yards and 19 TDs and also rushed for 1,344 yards and 10 scores; he was 10th nationally in total offense last season (329.4 yards per game). He needs to improve as a passer -- he tossed 14 picks and completed just 53.9 percent of his attempts -- but is a tough, physical runner with speed, and had six 100-yard games last season. Stewart is a senior who has played in one game.
Check out special college football uniforms worn during the 2013 season.
Starter/backup: Connor Halliday/Luke Falk
Buzz: Halliday (6-4, 200), a senior, is a nice fit in coach Mike Leach's "Air Raid" attack. Halliday should graduate with each of the school's important career passing records, impressive considering Ryan Leaf, Drew Bledsoe, Jack Thompson and Mark Rypien are Cougars alums. But while Halliday threw for 4,597 yards and 34 TDs last season, he also tossed an alarming 22 picks. In short, he still makes too many mistakes. If he can cut the interception total by 10, he could throw for 5,000 yards. Tyler Bruggman, a redshirt freshman, appeared to be the likely backup, but was released from his scholarship in July and will transfer. Falk also is a redshirt freshman.
Starter/backup: John O'Korn/Billy Cosh
Buzz: O'Korn was excellent as a true freshman last season, throwing for 3,117 yards and 28 TDs. Despite not arriving until the summer, he adapted quickly to the offense -- his background at prep powerhouse Fort Lauderdale (Fla.) St. Thomas Aquinas helped in that regard -- and put up the best overall numbers of any true freshman quarterback. O'Korn has some mobility, but his strength is his ability to throw from the pocket. He wore down as the season progressed, though; that shouldn't happen this season. Cosh is a senior who began his career at Kansas State.
Starter/backup:Matt Johnson/James Knapke
Buzz: Johnson threw for 3,467 yards and 25 TDs last season, his first as the starter; he also showed that he can be an effective runner. BG's new coach is Dino Babers, who coached Eastern Illinois to the FCS playoffs last season; his quarterback was Jimmy Garoppolo, who attempted 568 passes last season -- 199 more than Johnson. There could be some hiccups along the way as he becomes fully comfortable, but Johnson has the ability to thrive in Babers' up-tempo attack.
Starter/backup: Marques Williams/Mitch Trubisky
Buzz: Williams backed up senior Bryn Renner last season, then was elevated into the starting role for the final six games when Renner was lost to injury. Williams, a junior, is much more of a running threat than Renner -- he has OK speed and runs with a certain toughness -- and is UNC's leading returning rusher. He's not as good a passer as Renner, but he still is solid in that role. Given Williams' dual-threat capabilities, he actually might fit coach Larry Fedora's offensive system a bit better than Renner. Trubisky is a touted redshirt freshman.
Starter/backup: Jared Goff/Austin Hinder
Buzz: Sonny Dykes' first season as Cal's coach was nightmarish, with the Golden Bears finishing 1-11. But he found his quarterback. Goff threw for 3,508 yards and 18 TDs as a true freshman; the yardage total was a single-season record at a school that has produced the likes of Aaron Rodgers, Steve Bartkowksi and Joe Kapp. Goff (6-4, 195) has a strong arm, but needs to add weight and bulk, and he also needs the running game to improve so he isn't responsible for all of the offense. Cal has good receivers and Dykes loves to throw the ball, so a 4,000-yard season is a distinct possibility. Hinder is a senior who has barely played.
Starter/backup: Nate Sudfeld/Zander Diamont
Buzz: IU would be much higher on this list had dual-threat QB Tre Roberson, who started four times last season, stuck around; instead, he announced in June he was leaving for FCS member Illinois State. Sudfeld (6-5, 232) is a big, strong-armed guy who threw for 2,523 yards and 21 TDs last season. He trusts his arm a bit too much at times (nine picks last season) and isn't a running threat. This unquestionably is Sudfeld's team now and a 3,200-yard, 30-TD season should be the goal. The backup situation is iffy; Diamont is a true freshman from the Los Angeles area.
Starter/backup: Jake Waters/Jesse Ertz
Buzz: Waters did a solid job after transferring in from a junior college last season, throwing for 2,469 yards and 18 touchdowns and also proving to be a running threat. He is not going to wow anyone with his athleticism, but he is a steady hand who understands Bill Snyder's offense. Ertz is a redshirt freshman.
Starter/backup: Cody Kessler/Max Browne
Buzz: It will be interesting to see how Kessler adapts to new coach Steve Sarkisian. Kessler threw for 2,968 yards and 20 TDs in his first season as the starter in 2013, and the new offense should lead to an increase in both numbers. Browne is a highly touted redshirt freshman. Both quarterbacks were the object of Sark's recruiting affections when he was Washington's head coach.
Mike Huguenin can be reached at mike.huguenin@nfl.com. You also can follow him on Twitter @MikeHuguenin.