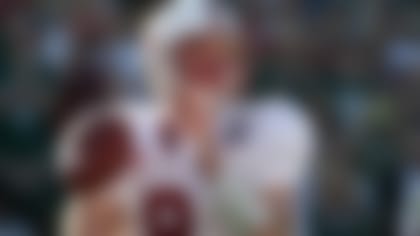 There still are seven weeks until the first game of the season, and to help pass the time, we decided to rank all the FBS quarterback situations.
Not a top 10 or a top 25, but all 128.
The most important thing to note before you dive in: This is not simply a comparison of the talent level of the starters (we'll let the 2015 and 2016 NFL Drafts sort that out). Instead, there are some variables.
The most important is how comfortable coaches should be entering the season with their quarterback situation -- both starter and reserve. That "comfort level" encompasses the remaining variables, too.
No. 2 is how a quarterback fits into his offense -- obviously important when it comes to considering run-first quarterbacks.
No. 3 is the experience level of the starting quarterback.
No. 4 is the experience level of the backup. (A team with an experienced backup is going to rank higher than a team without an experienced quarterback.)
Finally, No. 5 is an objective opinion of how these guys will produce in their offense this season.
As an example using all five variables: Navy's Keenan Reynolds is 5-foot-11 and 195 pounds, and is barely an adequate passer. He has no shot at playing in the NFL; indeed, he probably could play for (maybe) 20 FBS programs (and it would be as a reserve for some of them). But Reynolds is a great fit for what Navy does offensively, and he is coming off a historic season in the Midshipmen's triple-option offense. He is in the top 10 on our list but, frankly, wouldn't be in the top 100 nationally if it came to sheer talent (there are backups at big schools with more innate talent).
Our rankings continue with a look at Nos. 11-20.
Starter/backup: Christian Hackenberg/Michael O'Connor
Buzz: Hackenberg arrived last summer as a highly hyped true freshman and exited the season as the nation's best true freshman quarterback. He started every game and threw for 2,955 yards and 20 TDs in coach Bill O'Brien's offense. But O'Brien is gone now and has been replaced by James Franklin, who didn't have a quarterback nearly as good as Hackenberg at Vanderbilt. There was no question about Hackenberg's continued growth had O'Brien remained, but there has to be a slight one now: Does the new staff know how to handle him? Hackenberg (6-4, 234) is a prototype dropback passer with all the needed tools to be a superstar. O'Connor is a true freshman who enrolled early and went through spring drills.
Starter/backup: Connor Cook/Damion Terry
Buzz: Michigan State's defense received a ton of acclaim last season, but Cook (6-4, 219) played well in his own right. He threw for 2,755 yards and 22 TDs against just six interceptions in his first season as the starter. And that was without a real go-to receiver. His cause is helped by Michigan State's run-first attack, but Cook -- who has some mobility -- is a nice fit in the scheme. He needs to get his completion percentage in the 63-percent range (it was 58.6 last season), but that should come with added experience. The staff obviously believes in him, as he was given the added responsibility of calling audibles this season as a junior. Terry is a redshirt freshman who has exciting potential.
Starter/backup: Nick Marshall/Jeremy Johnson
Buzz: Marshall, a senior, never is going to be anything close to an elite passer. But he is an elite athlete who fits nicely into coach Gus Malzahn's spread-option scheme, and all Marshall did in his first season on the Plains last fall was lead Auburn to the national title game. Marshall can be deadly on the read-option, and because Auburn is so run-oriented, he often has receivers running wide open. You don't have to be an elite passer to hit wide-open receivers. Marshall ran for 1,068 yards and 12 TDs and threw for 1,976 yards and 14 more scores last season. He won't have running back Tre Mason to lean on this season, which likely puts more of the offensive burden on Marshall. Johnson, a sophomore, played well as a reserve last season; he started once as an injury replacement.
Starter/backup: Taylor Heinicke/David Washington
Buzz: ODU is in just its sixth season of football and will be a FBS program for the first time. But the Monarchs already have an established quarterback. Heinicke (6-1, 213) will be a four-year starter, and he has thrown for 11,483 yards and 102 TDs in his career; he also has rushed for 1,181 yards and 20 TDs. Heinicke was the national FCS player of the year in 2012, when he threw 44 TD passes. He had nine 300-yard games last season. As good as Heinicke is -- and as well as he fits ODU's up-tempo attack -- don't expect mind-blowing stats this season as he faces tougher competition. Washington is a sophomore who played in six games as a reserve last season.
Check out the best moves of college football cheerleaders in 2013.
Starter/backup: Everett Golson/Malik Zaire
Buzz: Golson guided the Irish to the 2012 national championship game, then missed last season because he was suspended for academic reasons. He spent part of last year working with quarterback guru George Whitfield, which should help his all-around game. The Irish missed Golson's dual-threat ability last season. His running skills put pressure on defenses on the edge, and he also is effective while throwing on the run. Zaire is an athletic redshirt freshman who might see time in special packages.
Starter/backup: Terrence Broadway/Brooks Haack
Buzz: Broadway, a senior, is entering his third season as the starter for the Ragin' Cajuns; he began his career at Houston -- as the backup to Case Keenum. Broadway is a great fit for ULL's version of the spread, having accounted for 6,485 yards of offense and 53 TDs in two seasons. But he also has thrown 21 interceptions, and that is one facet of his game that can improve. Haack is a sophomore who started once as an injury replacement last season.
Starter/backup: Kevin Hogan/Evan Crower
Buzz: Hogan (6-4, 228) will be the full-time starter for the second season, and he fits nicely in coach David Shaw's conservative offense. (While Hogan is listed as a senior, he did not play as a true freshman and thus could return in 2015.) Hogan is a surprisingly good runner and threw for 2,630 yards and 20 TDs last season. Still, Stanford is not going to win if Hogan has to throw, and his performance in a three-game stretch last season against Oregon State, Oregon and USC (a combined 318 yards) was underwhelming. Again, though, he fits with what Stanford wants to do on offense and Shaw raves about him. Crower is a fourth-year junior who has barely played.
Starter/backup: Garrett Grayson/Nick Stevens
Buzz: Grayson (6-2, 220) was a full-time starter for the first time as a junior last fall and led an offense that finished in the top 30 nationally in rushing and passing (CSU was one of just six schools to accomplish that feat). He threw for 3,696 yards and 23 TDs last season, and will contend for All-Mountain West honors this fall. If he can nudge his completion percentage to around 65 percent (it was 62.6 last season), he could flirt with 4,000 passing yards. There are a plethora of receivers, though the rushing attack is iffy. Stevens is a redshirt freshman.
Starter/backup: Cody Fajardo/Devin Combs
Buzz: Consider Fajardo "Colin Kaepernick Lite," which is fitting since he succeeded Kaepernick as the Wolf Pack's starter. Fajardo (6-2, 215), a senior, battled leg injuries for most of last season, but still managed to rush for 621 yards and eight TDs and throw for 2,668 yards and 13 TDs; the rushing total was basically half of what he achieved in 2012 (1,121). Fajardo understands the nuances of the "Pistol" offense and is an accurate passer, and he would be helped by a stronger offensive line and a deeper receiving corps. Combs is a senior who has played in eight games in two seasons.
Starter/backup: Dak Prescott/Damian Williams
Buzz: Prescott, a junior, began last season as the backup but eventually ascended into the starting role and played well, if sometimes lacking consistency. He is a dangerous runner (829 yards, 13 TDs last season), but has some work to do as a passer. Prescott (6-2, 235) has the skill set to improve in that facet, and former Utah QB/offensive coordinator Brian Johnson was hired as quarterback coach to help him reach his potential. Williams played some as a true freshman last season and is an athletic guy who is a good runner.
Mike Huguenin can be reached at mike.huguenin@nfl.com. You also can follow him on Twitter @MikeHuguenin.