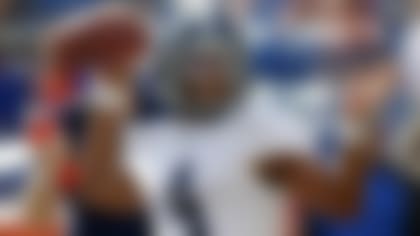 There still are seven weeks until the first game of the season, and to help pass the time, we decided to rank all the FBS quarterback situations.
Not a top 10 or a top 25, but all 128.
The most important thing to note before you dive in: This is not simply a comparison of the talent level of the starters (we'll let the 2015 and 2016 NFL Drafts sort that out). Instead, there are some variables.
The most important is how comfortable coaches should be entering the season with their quarterback situation -- both starter and reserve. That "comfort level" encompasses the remaining variables, too.
No. 2 is how a quarterback fits into his offense -- obviously important when it comes to considering run-first quarterbacks.
No. 3 is the experience level of the starting quarterback.
No. 4 is the experience level of the backup. (A team with an experienced backup is going to rank higher than a team without an experienced quarterback.)
Finally, No. 5 is an objective opinion of how these guys will produce in their offense this season.
As an example using all five variables: Navy's Keenan Reynolds is 5-foot-11 and 195 pounds, and is barely an adequate passer. He has no shot at playing in the NFL; indeed, he probably could play for (maybe) 20 FBS programs (and it would be as a reserve for some of them). But Reynolds is a great fit for what Navy does offensively, and he is coming off a historic season in the Midshipmen's triple-option offense. He is in the top 10 on our list but, frankly, wouldn't be in the top 100 nationally if it came to sheer talent (there are backups at big schools with more innate talent).
Our rankings continue with a look at Nos. 101-128.
Starter/backup: Nick Arbuckle/Ronnie Bell
Buzz: Arbuckle, a JC transfer, appears to have wrested the starting job from Bell, who threw for 2,573 yards and 15 TDs last season. Arbuckle, who threw 73 TD passes in two seasons at Pierce College in California, is expected to provide a needed boost for the passing attack. Georgia State's offensive coordinator is Jeff Jagodzinski, a former Boston College head coach who also has been an NFL assistant.
Starter/backup: Tucker Carter/Austin Robinson
Buzz: Departed starter Eric Soza was a tough runner but only a so-so passer. In that regard, Carter -- who was the backup last season -- should be a step up (and the step might be a huge one). The flipside: Carter (6-3, 220) is not a runner. Carter is one of just two new starters on offense, meaning that as long as he doesn't mess things up, the Roadrunners should be OK on that side of the ball. Carter starred at perennial power Allen (Texas) High and in JC before arriving at UTSA.
Starter/backup: Zach Terrell/Chance Stewart
Buzz: Terrell started six games as a redshirt freshman last season, and he predictably had an up-and-down season. But the "ups" lend hope he can be a steady performer this season. Stewart (6-5, 220) is a true freshman who arrives amid some hype: He originally committed to Wisconsin.
Starter/backup: Cody Sokol/Ryan Higgins
Buzz: Higgins started seven games last season as a redshirt freshman but was unimpressive. Sokol is a transfer from Iowa who is eligible immediately. Sokol is a good passer and that was the difference. He threw for 3,807 yards and 43 TDs at Scottsdale (Ariz.) Community College in 2011, then signed with Iowa in February 2012. He redshirted that season, then lost out in the battle for the Hawkeyes' starting job last fall.
Starter/backup: Montell Cozart/T.J. Millweard
Buzz: Cozart started three games last season as a true freshman and provides KU with a running threat. As a passer? Let's just say he is a good runner. Still, he is athletic and looks to have the skills to eventually become an adequate passer. Millweard began his career at UCLA before transferring.
Starter/backup: Derrius Vick/J.D. Sprague
Buzz: Vick served as the top backup in each of the past two seasons and is comfortable with the offense. He has some dual-threat ability, as does Sprague, a former walk-on.
Starter/backup: Brogan Roback/Reggie Bell
Buzz: Roback -- a consensus three-star prospect out of high school -- started four times as a true freshman last season and predictably struggled. But he has a nice arm and some good weapons on the outside -- he should have time to throw behind what is expected to be an OK line. Bell is a dual-threat guy who is a much better runner than Roback and could see time in special packages.
Take a look at the action from Peyton Manning's Passing Academy, where Archie Manning and Jameis Winston were on hand.
Starter/backup: Ozzie Mann/Jack Milas
Buzz: Mann, a sophomore, beat out Milas, a redshirt freshman, for the right to take Keith Wenning's place (Wenning now is with the Baltimore Ravens). Expect a big drop-off. While Milas has the stronger arm, Mann is the steadier of the two. The Cardinals will be a run-first team this fall, so the new quarterback's job should be a bit easier than normal.
Starter/backup: Chad Chalich or Matt Linehan
Buzz: Chalich, a sophomore, started seven games last season, throwing for 1,224 yards with five TDs and three interceptions. The staff has high hopes for Linehan, a redshirt freshman who is the son of former St. Louis Rams head coach and current Dallas Cowboys assistant Scott Linehan. Chalich has some running ability, while Linehan looks to have a solid upside as a passer.
Starter/backup: Dontreal Pruitt or Brandon Silvers
Buzz: Troy is looking for a replacement for Corey Robinson, who had four consecutive 3,000-yard seasons. Pruitt (5-11, 180) is a touted JC transfer who threw for 3,939 yards and 45 TDs last season at East Mississippi CC. Silvers (6-2, 218) is a redshirt freshman. One positive: There will be good skill-position talent surrounding the quarterback.
Starter/backup: Philip Ely or Michael Julian or Logan Woodside
Buzz: Ely is eligible after transferring from Alabama and sitting out last season. He was in over his head -- way over his head -- with the Tide, but has a chance to start for the Rockets. Woodside was the backup quarterback last season. Julian is a redshirt freshman who missed spring practice with a knee injury.
Starter/backup: Tanner Lee/Devin Powell
Buzz: Lee is a redshirt freshman who coaches think has a good upside. Nick Montana, Joe's son, started 11 games last season, but was inconsistent and finished third in this race. Powell started the other two games last season.
Starter/backup: Kale Pearson or Karson Roberts or Nate Romine
Buzz: The Falcons used four starting quarterbacks during last season's 2-10 debacle. Romine, who started five times as a true freshman last season, is the best passer of the three in contention for the job this season. Pearson, who is a senior, missed all but one game last season with a torn ACL; he is a shifty runner but adds nothing to the passing mix. Roberts, a junior, is the best mix as a runner and passer, but he doesn't necessarily stand out in either facet.
Take a look at Nike's latest updates to college football uniforms for the 2014 season.
Starter/backup: Andrew Hendrix/Austin Gearing
Buzz: Gearing, a sophomore, started four games last season and is Miami's leading returning rusher. But he almost certainly will be supplanted as the starter by Hendrix, a Notre Dame transfer who will be eligible immediately. He followed new coach Chuck Martin, who had been an assistant at Notre Dame. While Gearing is a physical runner, Hendrix offers a better mix as a runner and passer. Hendrix also has a comfort level with Martin's offense.
Starter/backup: Blake Jurich/Joe Gray
Buzz:David Fales now is in the NFL, and the Spartans are going to see a drop in production. How big a drop will determine where they finish in the Mountain West. Going into his redshirt freshman season in 2011, Jurich was considered the Spartans' quarterback of the future, but he hasn't done much, with 20 career pass attempts. Gray, a senior, was seen as a recruiting coup when he signed out of Los Angeles' Dorsey High in 2011, but he has attempted just four passes in his career.
Starter/backup: John Wolford/Tyler Cameron
Buzz: New coach Dave Clawson is a gifted offensive coach, but he doesn't appear to have all that much to work with. Cameron was the backup last season but was inconsistent during spring drills, and Wolford, a true freshman, won the job early in fall camp. He put up huge numbers in high school in Florida.
Starter/backup: Drew Hare OR Matt McIntosh OR Luther Maddie
Buzz: Have fun, coach Rod Carey. You and your staff have to find a new starter to replace do-everything star Jordan Lynch, who finished third in the Heisman voting last season. Hare, a sophomore, and McIntosh, a junior, combined for 11 rushes and 11 pass attempts last season. Hare probably is the best passer of the trio. Maddie is a sophomore and a good runner who transferred from MAC foe Western Michigan.
Starter/backup: Brandon Bridge/Matt Floyd
Buzz: Bridge, a Canadian who began his career at FCS member Alcorn State, is expected to start after serving as the backup last season. He's a big guy (6-foot-5, 220 pounds) with dual-threat ability. Floyd is a transfer from USF with immediate eligibility. He is more of a running threat than a passer, but he played poorly at USF.
Starter/backup: Kevin Ellison/Favian Upshaw
Buzz: The Eagles have a new coach, Willie Fritz, who is overseeing a change from the triple option to more of a spread attack. But is there a quarterback on the roster who can be successful in the new offense? Ellison started six games last season. Upshaw is a transfer from FIU who has excellent speed but is an iffy passer.
Take a look at the best college players to watch in the fall.
Starter/backup: Colby Kirkegaard/Tom Thornton
Buzz: Kirkegaard, a senior who has played in seven games in his career, redshirted last season under former coach Dave Christensen, who ran a spread attack. New coach Craig Bohl favors a pro-style attack, and the quarterback situation could be in flux the whole season.
Starter/backup: Andrew McNulty/Josh Greer
Buzz: McNulty, a junior, was a backup for the past two seasons, and will go into summer camp atop the depth chart. He has thrown just five passes in the past two seasons. Greer is a JC transfer who went through spring practice. A big positive is that the new quarterback will operate behind what appears to be Conference USA's best offensive line.
Starter/backup: A.J. Erdely or Austin Grammer or Bret Stockstill
Buzz: Grammer, a sophomore, is the only one of the three with college experience. Erdely is a redshirt freshman, while Stockstill -- the son of head coach Rick Stockstill -- is a true freshman who enrolled early and went through spring practice. Each of the contenders is considered a better runner than passer, and given that MTSU is extremely deep at tailback, this is going to be a run-first team.
Starter/backup: Blake Frohnapfel/A.J. Doyle
Buzz: Doyle started last season, when UMass had one of the worst offenses in the nation. Frohnapfel is a transfer from Marshall who has immediate eligibility, and he won the starting job in camp.
Starter/backup: Dane Evans/Jabe Burgess
Buzz: Evans (6-4/210) started five games last season but completed just 43.1 percent of his passes and threw 10 picks and just four TD passes. Burgess is a freshman who went through spring drills. One positive: Tulsa looks to have a nice receiving corps.
Check out the best moves of college football cheerleaders in 2013.
Starter/backup: Ikaika Woolsey/Taylor Graham
Buzz: Woolsey has some running ability, and that got him the starting nod over Graham, an Ohio State transfer whose dad, Kent, played in the NFL.
Starter/backup: Cody Clements/Jeremiah Briscoe
Buzz: Clements signed with Washington State out of high school in California, but never played and ended up at a junior college. He had an OK spring. Briscoe is a redshirt freshman.
127. Florida International
Starter/backup: E.J. Hilliard or Alex McGough
Buzz:FIU was horrendous on offense last season, averaging 219.0 yards per game. Jake Medlock, last season's starter, transferred to Division II Valdosta (Ga.) State for his senior year. Hilliard was the top backup last season and started three games; McGough is a true freshman who played well in the spring and has a nice arm.
Starter/backup: Tyler Rogers/Barry Coffman
Buzz: Neither has taken a college snap. Rogers, who has good mobility, is a junior-college transfer and Coffman's a redshirt freshman.
Mike Huguenin can be reached at mike.huguenin@nfl.com. You also can follow him on Twitter @MikeHuguenin.