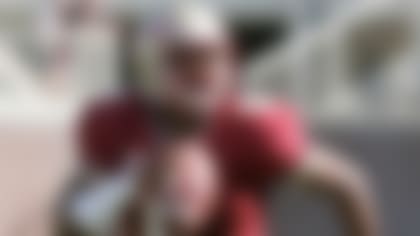 There still are seven weeks until the first game of the season, and to help pass the time, we decided to rank all the FBS quarterback situations.
Not a top 10 or a top 25, but all 128.
The most important thing to note before you dive in: This is not simply a comparison of the talent level of the starters (we'll let the 2015 and 2016 NFL Drafts sort that out). Instead, there are some variables.
The most important is how comfortable coaches should be entering the season with their quarterback situation -- both starter and reserve. That "comfort level" encompasses the remaining variables, too.
No. 2 is how a quarterback fits into his offense -- obviously important when it comes to considering run-first quarterbacks.
No. 3 is the experience level of the starting quarterback.
No. 4 is the experience level of the backup. (A team with an experienced backup is going to rank higher than a team without an experienced quarterback.)
Finally, No. 5 is an objective opinion of how these guys will produce in their offense this season.
As an example using all five variables: Navy's Keenan Reynolds is 5-foot-11 and 195 pounds, and is barely an adequate passer. He has no shot at playing in the NFL; indeed, he probably could play for (maybe) 20 FBS programs (and it would be as a reserve for some of them). But Reynolds is a great fit for what Navy does offensively, and he is coming off a historic season in the Midshipmen's triple-option offense. He's ranked highly on our list but, frankly, wouldn't be in the top 100 nationally if it came to sheer talent (there are backups at big schools with more innate talent).
Here's a look at the top 10 quarterbacks situations in the FBS:
Starter/backup: Jameis Winston/Sean Maguire
Buzz: Winston (6-4, 235) is the reigning Heisman winner, and led FSU to the national title last season as a redshirt freshman. He threw for 4,057 yards and 40 TDs, and also rushed for four scores. He had seven 300-yard games and eight games with at least three TD passes. While he has a few mechanical issues to tweak, another big season is expected as FSU goes for its second consecutive national title. His off-field problems are a bigger worry than any on-field issues, though. Maguire, a sophomore, played some in mop-up duty last season.
Starter/backup: Marcus Mariota/Jeff Lockie
Buzz: Mariota (6-4, 215) was a Heisman front-runner as a sophomore for much of the 2013 season before fading down the stretch; he also had three games in which he completed 50 percent or fewer of his passes, and needs to work on his consistency as a passer. Still, he is a great fit for the Ducks' high-powered spread offense, as evidenced by his 3,665 passing yards, 31 passing TDs (against just four picks), 715 rushing yards and nine rushing TDs. In his two seasons as the starter, he has 63 TD passes and just 10 interceptions to go along with 14 rushing touchdowns. Heisman-type numbers again are a given. Lockie, a sophomore, was elevated to the backup role when projected second-teamer Jake Rodrigues transferred after spring drills.
Take a look at the top 10 players from Baylor to play in the NFL.
Starter/backup: Bryce Petty/Seth Russell
Buzz: Petty (6-3, 230), a senior, threw for 4,200 yards and 32 TDs (with just three interceptions) and rushed for 14 TDs last season. He performed beyond expectations as a first-time starter. He needs to improve his completion percentage (it was 62.0 last season), and if he does that, a 4,500-yard season becomes basically a given. He has a ton of weapons surrounding him, too. Russell, a sophomore, played well in mop-up duty as a backup last season.
Starter/backup: Shane Carden/Kurt Benkert
Buzz: Carden (6-2, 221) is heading into his third season as the starter. He is coming off a 4,139-yard, 33 TD season and has thrown for 7,255 yards and 56 TDs in his two seasons as the starter. He had two 400-yard games and seven 300-yard outings last season. He also completed 70.5 percent of his passes last season, an impressive figure considering he put it up 549 times; he completed 66.1 percent of his passes as a first-time starter in 2012, so it's safe to say he understands ECU's version of Mike Leach's "Air Raid" offense. Benkert is a redshirt freshman.
Starter/backup: Brett Hundley/Asiantii Woulard
Buzz: Hundley (6-3, 222) isn't a finished product, but he still is a high-level quarterback. He threw for 3,071 yards and 24 TDs and added 748 rushing yards and 11 more scores last season as a sophomore. He needs to cut down on his interceptions, though (20 in two seasons). A third year working with coordinator Noel Mazzone could lead to a 30-touchdown season in the air. He has OK speed and can be a punishing runner. Woulard is a redshirt freshman who is a good athlete.
Starter/backup: Chuckie Keeton/Darell Garretson
Buzz: If Keeton is fully recovered from the torn ACL he suffered in early October, he will be a dark-horse Heisman candidate. When he was healthy as a sophomore in 2012, he accounted for 3,992 yards of total offense and 35 TDs. He is a dangerous runner and a skilled passer. He doesn't have a huge arm, but he does trust his arm and can make important throws when needed. His career TD-interception ratio is a sterling 56-13. Garretson started seven games as an injury replacement as a true freshman last season, and guided the Aggies to a 6-1 mark.
Starter/backup: Rakeem Cato/Gunnar Holcombe
Buzz: Cato is a small guy (6-0, 188) with a big arm; he has thrown for 8,117 yards and 76 TDs as the full-time starter in the past two seasons, and he should be expected to again throw for 4,000 yards this season (he did so in 2012 and missed by 84 yards last season). Cato, a senior, also will be at the controls of a team that could (should?) go 12-0. He handles the Herd's up-tempo offense with aplomb; no team has averaged more plays per game over the past two seasons combined than Marshall. Holcombe, a redshirt freshman, is the only other scholarship quarterback on the roster.
Take a look at iconic images through the years from one of the greatest rivalries in college football, the Army-Navy game.
Starter/backup: Keenan Reynolds/Tago Smith
Buzz: Reynolds, a junior, isn't that big (5-11, 195), but he plays huge and is a perfect fit for Navy's triple-option offense. He rushed for 1,346 yards and 31 TDs last season; he is one of just four players in NCAA history with 30-plus rushing TDs in a season. He also threw for 1,057 yards and eight TDs. Expect the passing numbers to go up a bit this season. Smith is a sophomore with good speed.
Starter/backup: Taylor Kelly/Mike Bercovici
Buzz: Kelly (6-2, 211), a senior, is entering his third season as the starter. He threw for 3,635 yards and 28 TDs last season; he also rushed for 608 yards and nine scores. Kelly has thrown 57 TD passes in two seasons and obviously is comfortable in coach Todd Graham's offense. Kelly does need to cut down on his interception total (21 in the past two seasons). Bercovici, a junior, has played sparingly.
Starter/backup: Sean Mannion/Brent VanderVeen
Buzz: Mannion (6-5, 220), a senior, was second in the nation with 4,662 passing yards and third with 37 TD passes last season. He loses his favorite receiver (Brandin Cooks) and there's a new offensive coordinator (John Garrett, who had been Tampa Bay's wide receiver coach, replaces Danny Langsdorf, who became the New York Giants' quarterback coach), but don't expect a big drop in production. The offense isn't going to change and there is a deep group of receivers, even if there isn't a proven go-to guy. VanderVeen is a sophomore with a nice arm, but he did not play last season.
Mike Huguenin can be reached at mike.huguenin@nfl.com. You also can follow him on Twitter @MikeHuguenin.