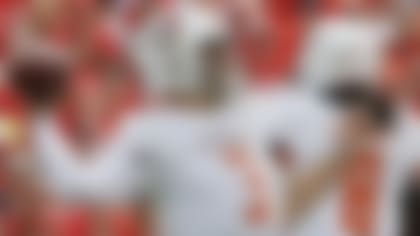 81. Bowling Green (preseason: 25th)
Main starter: James Knapke
Buzz: Starter Matt Johnson was lost for the season in the opener, and Knapke has taken over. He has thrown 10 TD passes but also eight interceptions, and is struggling with his accuracy.
82. Southern Miss (preseason: 71st)
Main starter: Nick Mullens
Buzz: Mullens started the final six games as a true freshman last season, and he has started to come on of late, playing well in his past three games.
83. Oregon State (preseason: 10th)
Main starter: Sean Mannion
Buzz: What is going on in Corvallis? Mannion, a senior, was second in the nation with 4,662 passing yards (358.6 yards per game) and third with 37 TD passes last season. He has thrown five TD passes and four picks this season, and is averaging just 260.8 yards per game.
84. Virginia Tech (preseason: 97th)
Main starter: Michael Brewer
Buzz: Brewer, a Texas Tech transfer who arrived over the summer, has played well at times. But he also has thrown 11 interceptions, with at least one coming in each game. He threw five picks in the Hokies' two losses.
85. Louisiana-Lafayette (preseason: 16th)
Main starter: Terrence Broadway
Buzz: Broadway, a senior, is in his third season as the starter for the Ragin' Cajuns, and he played relatively poorly in the first half of the season. He always has had a problem with interceptions and that has continued this season (he has seven TD passes and eight picks).
86. Idaho (preseason: 109th)
Main starter: Matt Linehan
Buzz: Linehan is a redshirt freshman who is the son of former St. Louis Rams head coach and current Dallas Cowboys assistant Scott Linehan. He is averaging 309.2 passing yards per game, with nine TDs and a 61.3 completion percentage. But he also has tossed 11 picks. Still, he has a nice upside.
87. Arkansas (preseason: 87th)
Main starter: Brandon Allen
Buzz: Allen is who we thought he was: He is an OK game manager who can be effective as a passer as long as the rushing attack is piling up big yards. He has done a nice job of avoiding big mistakes, though.
Check out the alternate college football uniforms worn during the 2014 season.
88. Texas (preseason: 65th)
Main starter: Tyrone Swoopes
Buzz: The loss of David Ash to a career-ending concussion has really hurt the Longhorns' offense. Swoopes is a good athlete but far from a polished quarterback.
89. Minnesota (preseason: 89th)
Main starter: Mitch Leidner
Buzz: Leidner is a big, physical runner and this is a run-first offense. He needs a lot of improvement as a passer, though.
90. Fresno State (preseason: 62nd)
Main starter: Brian Burrell
Buzz: The assumption was the Bulldogs would miss Derek Carr, and they have. The passing attack frequently seems out of sync, and while Fresno State quarterbacks have combined to throw 14 TD passes, they also have tossed nine interceptions. Burrell's lack of accuracy also is a concern (three games with a completion percentage of 50.8 or worse).