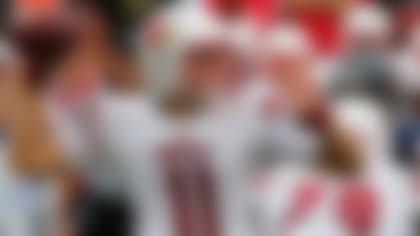 71. Louisville (preseason: 46th)
Main starter: Will Gardner
Buzz: Gardner has been uneven for coach Bobby Petrino, and he also has been injured, leading to a lot of time for true freshman Reggie Bonnafon. The deep ball has been missing from Louisville's offensive arsenal, and the Cardinals are completing just 55.7 percent of their passes.
72. Oklahoma (preseason: 34th)
Main starter: Trevor Knight
Buzz: Katy Perry's favorite college quarterback hasn't come close to living up to the expectations created by his masterful performance in last season's Sugar Bowl upset of Alabama. He has been an inconsistent passer (six TDs, five picks), and hasn't been as productive as expected on the ground.
73. BYU (preseason: 22nd)
Main starter: Taysom Hill
Buzz: Hill was one of the best dual-threat quarterbacks in the nation until he was lost for the season with a severe leg injury. If he were healthy, he's a top-10 quarterback. But new starter Christian Stewart, a senior, is limited and BYU drops a long way because of that. Stewart had played in one career game before this season.
74. Arkansas State (preseason: 67th)
Main starter: Fredi Knighten
Buzz: Knighten is further along as a runner than as a passer. While he has seven TD passes, three came against Sun Belt bottom-feeder Georgia State. He has six rushing TDs.
75. Duke (preseason: 51st)
Main starter: Anthony Boone
Buzz: Duke's passing attack isn't all that productive, but at least Boone has cut down on his picks. Five of his eight TD passes came against FCS opponent Elon. He has proven to be an effective runner, though.
Check out the alternate college football uniforms worn during the 2014 season.
76. Akron (preseason: 50th)
Main starter: Kyle Pohl
Buzz: Akron is winning with defense. Pohl is avoiding mistakes, but he isn't making that many big plays in the passing game.
77. Penn State (preseason: 11th)
Main starter: Christian Hackenberg
Buzz: Hackenberg is as talented as any quarterback on this list. But his on-field performance has been mediocre. He plays behind a porous line that also struggles to open holes for the run. He has five TD passes and seven picks, and is ninth in the Big Ten -- which isn't exactly filled with great quarterbacks -- in passer rating.
78. Missouri (preseason: 33rd)
Main starter: Maty Mauk
Buzz: Mauk looked good early in the season, but in three games against Power Five conference opponents, he has completed just 48.5 percent of his passes, with one TD and five interceptions. He has eight interceptions overall and just a 54.4 completion percentage.
79. Florida Atlantic (preseason: 35th)
Main starter: Jaquez Johnson
Buzz: Johnson, a junior, was the Conference USA newcomer of the year after transferring in from a junior college last season. He hasn't been as productive this season, especially as a runner.
80. Louisiana-Monroe (preseason: 72nd)
Main starter: Pete Thomas
Buzz: Thomas (6-5, 235) is on his third school; he was a hyped recruit at Colorado State and started for two seasons with the Rams before eventually leaving for North Carolina State, where he started last season but fell out of favor with the coaching staff. He has a strong arm, but is doing a lot of dink-and-dunk stuff with ULM. He is avoiding mistakes, though.