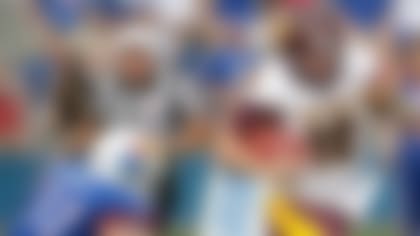 61. Central Michigan (preseason: 75th)
Main starter: Cooper Rush/Cody Kater
Buzz: Rush was a redshirt freshman when he was thrown into the breach last season, and he obviously learned some lessons. He is completing 64 percent of his passes, for 10 TDs and four picks for a team that's playing better than expected in the MAC.
62. Iowa State (preseason: 79th)
Main starter: Sam Richardson
Buzz: Richardson has benefited from the tutelage of new coordinator Mark Mangino. Richardson threw 11 TD passes last season and already has tossed 10 this season. He's also a productive runner.
63. Boise State (preseason: 48th)
Main starter: Grant Hedrick
Buzz: Hedrick is second in the nation in completion percentage, at 72.1. But he has more interceptions (10) than TD passes (seven). He has proved to be a running threat, though.
Check out the alternate college football uniforms worn during the 2014 season.
64. Iowa (preseason: 45th)
Main starter: Jake Rudock
Buzz: Rudock has had some injury issues but generally has provided steady quarterback play. He has improved his completion percentage by almost eight points over last season.
65. Maryland (preseason: 36th)
Main starter: C.J. Brown
Buzz: Brown, a sixth-year senior, continues to battle injury problems. He is a good runner but just an OK passer, which hurts when you consider the Terps' talented receiving corps.
66. Miami of Ohio (preseason: 114th)
Main starter: Andrew Hendrix
Buzz: Hendrix is a Notre Dame transfer who was eligible immediately. He has thrown 17 TD passes and has provided a huge spark to what had been a horrible offense. But he is completing less than 50 percent of his passes and has tossed seven picks.
67. Memphis (preseason: 93rd)
Main starter: Paxton Lynch
Buzz: Lynch (6-6, 225) is a big guy with a strong arm and has provided an offensive spark for the Tigers. Half his six interceptions came in one game (a loss to Houston). He has thrown nine TDs and isn't afraid to air it out.
68. UCF (preseason: 91st)
Main starter: Justin Holman
Buzz: Pete DiNovo was the surprise winner of the job out of fall camp, but he lasted less than a full game as the starter. Holman, who backed up Blake Bortles last season, must improve his accuracy, and sometimes trusts his arm too much. He can be an effective runner.
69. Louisiana Tech (preseason: 104th)
Main starter: Cody Sokol
Buzz: Sokol is a transfer from Iowa who was eligible immediately. He's done a solid job, though he has thrown seven interceptions (to go with 13 TD passes).
70. UAB (preseason: 126th)
Main starter: Cody Clements
Buzz: Clements signed with Washington State out of high school in California, but never played and ended up at a junior college. He threw for 435 yards against Mississippi State, and is completing an impressive 70.6 percent of his passes. He has eight TD passes and five picks.