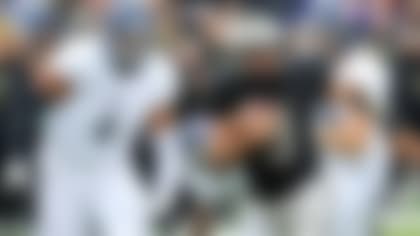 51. Army (preseason: 66th)
Main starter: Angel Santiago
Buzz: Army has attempted just 57 passes in six games, but Santiago has done a nice job as a runner in the Black Knights' triple-option attack, with 466 yards and six TDs. And when Santiago does throw, he is completing his passes (23-of-34, 67.6 percent).
Check out the alternate college football uniforms worn during the 2014 season.
52. Rice (preseason: 77th)
Main starter: Driphus Jackson
Buzz: Jackson is a good athlete whose dual-threat abilities are tailor-made for the Owls' offense. He has been better than expected as a passer, but his rushing numbers are a bit below what was expected.
53. Rutgers (preseason: 96th)
Main starter: Gary Nova
Buzz: Take a bow, Ralph Friedgen. Nova, a senior, has been maddeningly inconsistent throughout his career, but Friedgen -- Rutgers' new offensive coordinator -- has helped in that regard. Nova was brutal in a loss to Penn State, but has rebounded nicely and is fourth nationally in quarterback rating. He leads the nation in yards per attempt at 10.7.
54. Western Michigan (preseason: 103rd)
Main starter: Zach Terrell
Buzz: Terrell started six games as a redshirt freshman last season, and has been a steady performer this season in a passing attack that looks to go deep often. He has completed at least 69 percent of his passes in half of WMU's six games and has thrown 10 TD passes.
55. Toledo (preseason: 111th)
Main starter: Logan Woodside
Buzz: Alabama transfer Philip Ely won the job, then was hurt in the opener. Woodside has stepped in admirably and has accounted for 11 TDs.
56. Georgia (preseason: 43rd)
Main starter: Hutson Mason
Buzz: Mason has been helped by conservative play-calling by coordinator Mike Bobo, but he still has provided a steady hand by throwing eight TD passes against three picks. He has thrown for 147 or fewer yards in four of the Bulldogs' six games.
57. South Carolina (preseason: 42nd)
Main starter: Dylan Thompson
Buzz: Man, the Gamecocks miss Connor Shaw. Thompson has hit some big plays in the passing game, but he has thrown six interceptions and is inconsistent with his accuracy.
Take a look at iconic images through the years from one of the greatest rivalries in college football, the Army-Navy game.
58. Navy (preseason: 8th)
Main starter: Keenan Reynolds
Buzz: Reynolds, a junior, has been bothered by injuries and has missed two games. Injuries are one reason his production has dropped way off. He rushed for 1,346 yards and 31 TDs last season; he is at 388 and eight, respectively, this season.
59. Temple (preseason: 38th)
Main starter: P.J. Walker
Buzz: Walker has been steady as a passer but underwhelming as a runner. He hasn't made quite the strides expected as a sophomore.
60. Utah (preseason: 59th)
Main starter: Travis Wilson
Buzz: Wilson has had concussion issues, and when he was cleared for contact in June, it was seen as a good thing for the Utes' offense. Thing is, while he has thrown for seven TDs and no picks, he appears likely to lose his job to Kendal Thompson, a transfer from Oklahoma who provides a running threat.