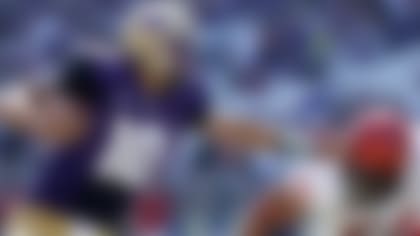 41. Washington (preseason: 61st)
Main starter: Cyler Miles
Buzz: Miles was suspended for the opener, but he has played solid football since returning, with nine TD passes and no interceptions.
42. Air Force (preseason: 113th)
Main starter: Kale Pearson
Buzz: The Falcons used four starting quarterbacks during last season's 2-10 debacle, but Pearson -- a senior who missed all but one game last season with a torn ACL -- has provided steady play this season. He has been far better than expected as a passer (six TDs) and is the No. 2 rusher on the team. Air Force has exceeded expectations and Pearson is a big reason.
Check out the alternate college football uniforms worn during the 2014 season.
43. Northern Illinois (preseason: 117th)
Main starter: Drew Hare
Buzz: Do-everything star Jordan Lynch graduated, but Hare has played well, with 10 TD passes and one interception. He also has done a solid job as a runner, though he isn't anywhere close to being as productive as Lynch in that facet.
44. Oklahoma State (preseason: 39th)
Main starter: Daxx Garman
Buzz: Garman began the season as the backup, but took over as the starter when J.W. Walsh was injured during the second game. Garman is effective throwing the deep ball and has thrown eight TD in his four starts.
45. Kentucky (preseason: 92nd)
Main starter: Patrick Towles
Buzz: Towles has some running ability, but it's his passing that has been impressive. He has thrown 10 TD passes, and outside of a three-interception game against Florida, he has avoided mistakes.
46. North Carolina State (preseason: 70th)
Main starter: Jacoby Brissett
Buzz: Brissett sat out last season after transferring from Florida and generally has played well (14 TDs, two interceptions). One problem: His play has dropped dramatically in his past two outings (18-of-48, 37.5 completion percentage, 209 yards one TD, one pick in big losses to Clemson and Boston College).
47. Tennessee (preseason: 78th)
Main starter: Justin Worley
Buzz: Worley has been better than expected, especially considering he plays behind a porous line. He has thrown 12 TD passes, which is one more than he had thrown in his first three seasons combined. And outside of a loss to Oklahoma, he has been an accurate thrower.
48. Boston College (preseason: 84th)
Main starter: Tyler Murphy
Buzz: Murphy is a transfer from Florida who was eligible immediately. He is an excellent runner; he has rushed for 711 yards and eight TDs, both the top number nationally among quarterbacks. But he has been a weak passer (three TDs, six picks).
49. Middle Tennessee (preseason: 122nd)
Main starter: Austin Grammer
Buzz: Grammer, a sophomore, won a three-way battle for the starting job in fall camp. Outside of a three-pick game against Minnesota, he has looked good as a passer and is completing 70.2 of his attempts. He also has rushed for five TDs.
50. Stanford (preseason: 17th)
Main starter: Kevin Hogan
Buzz: Hogan is the fulltime starter for the second season, and he fits nicely in coach David Shaw's conservative offense. The question, though, is whether the coaches want to be that conservative or have to be that conservative. Hogan has thrown 11 TD passes but seven came in wins over Army and FCS foe UC Davis.