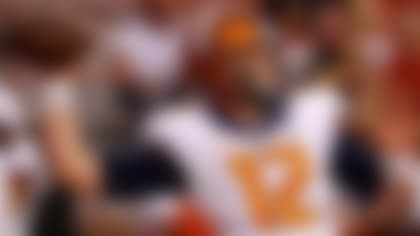 31. Illinois (preseason: 68th)
Main starter: Wes Lunt
Buzz: Illinois is bad, but it's not Lunt's fault. He sat out last season following a transfer from Oklahoma State and he now is on the shelf at Illinois because of an injury. But he led the Big Ten in passing before his injury (313.8 yards per game, with 13 TDs and a 66.1 completion percentage).
Check out the alternate college football uniforms worn during the 2014 season.
32. Nebraska (preseason: 56th)
Main starter: Tommy Armstrong Jr.
Buzz: Armstrong has rushed for 427 yards and also has thrown 10 TD passes. His lack of accuracy (51.9 completion percentage) hurts, though.
33. North Carolina (preseason: 26th)
Main starter: Marques Williams
Buzz: Williams is playing well; UNC's problem is a pitiful defense. He leads the Tar Heels in rushing and has tossed 11 TD passes. That he leads UNC in rushing is troublesome: UNC's tailbacks haven't produced, which puts more pressure on Williams in the passing game.
34. Nevada (preseason: 19th)
Main starter: Cody Fajardo
Buzz: Fajardo has been better as a runner than as a passer this season, and he's averaging 301.0 yards of total offense per game. He has accounted for 15 TDs.
35. Alabama (preseason: 41st)
Main starter: Blake Sims
Buzz: Sims was the surprise winner of the quarterback battle, beating out touted Florida State transfer Jacob Coker. Sims played well early on (eight TD passes in the first four games). But he has struggled a bit in the past two games, though his completion percentage (67.8) remains high. He is seventh nationally in quarterback rating, the highest of any SEC quarterback.
36. Texas State (preseason: 73rd)
Main starter: Tyler Jones/Connor White
Buzz: Jones leads the Sun Belt with 13 TD passes and is completing 67.4 percent of his attempts. He also has rushed for 264 yards and four TDs.
37. Miami (Fla.) (preseason: 85th)
Main starter: Brad Kaaya
Buzz: Kaaya, a true freshman, has responded well after winning the starting job. He still makes mistakes because of his inexperience (nine picks), but he has thrown an ACC-leading 16 TD passes, is completing 63.0 percent of his passes and is averaging 258.0 passing yards per game.
38. Texas Tech (preseason: 31st)
Main starter: Davis Webb
Buzz: Webb is tied for fourth nationally with 19 TD passes, but he also has thrown 11 interceptions and his completion percentage has dropped a bit from last season (62.0, from 62.6). In three games against Big 12 opponents, Webb has nine TD passes and seven picks -- and Tech has lost all three.
39. Buffalo (preseason: 37th)
Main starter: Joe Licata
Buzz: Licata threw for 2,824 yards and 24 TDs last season, and is on a pace for 3,244 yards and 31 TDs this season. He has thrown 18 TD passes, but his interception total (seven) is too high.
40. Georgia Tech (preseason: 83rd)
Main starter: Justin Thomas/Tim Byerly
Buzz: Thomas is a former state high school 100-meter champion in Alabama and leads Tech with 589 rushing yards. He also has thrown seven TD passes.