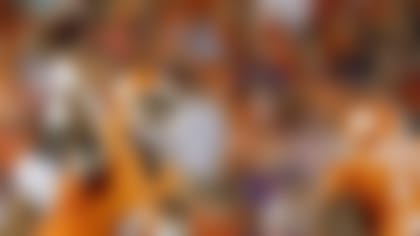 21. Clemson (preseason: 49th)
Main starter: Deshaun Watson
Buzz: Watson has been a revelation as a true freshman, accounting for 15 touchdowns despite opening the season as the backup and starting just three times. But he is injured and seems destined not to return until early November. That means the starting job goes back to senior Cliff Stoudt, who began the season as the starter and now must be a game-manager type until Watson returns.
22. USC (preseason: 30th)
Main starter: Cody Kessler
Buzz: Kessler has thrown 11 TD passes and just one pick, and has upped his completion percentage to 69.1 this season (four points higher than last season). He has had two 300-yard games this season, doubling the amount he had last season.
23. West Virginia (preseason: 63rd)
Main starter: Clint Trickett
Buzz: Trickett was hurt for much of last season, but has been healthy and productive this season. He is completing 68.4 percent of his passes and has thrown for 12 TDs and 2,203 yards (367.2 yards per game).
24. Cincinnati (preseason: 52nd)
Main starter: Gunner Kiel
Buzz: The highly touted Kiel began his career at Notre Dame before transferring to Cincinnati and sitting out last season. He has thrown for 300 yards in three of his five starts and has 18 TD passes.
25. Old Dominion (preseason: 14th)
Main starter: Taylor Heinicke
Buzz: Heinicke was the national FCS player of the year in 2012, when he threw 44 TD passes, and he had nine 300-yard games last season. But ODU is in its first season as a FBS member this season, and the step up in competition has led to a drop in production. Still, Heinicke has thrown for 1,815 yards and 18 TD passes in seven games.
26. Kansas State (preseason: 29th)
Main starter: Jake Waters
Buzz: Waters doesn't wow anyone with his athleticism, but he is a steady hand who gets the job done. He leads the Wildcats in rushing and has accounted for 13 TDs.
27. Utah State (preseason: 6th)
Main starter: Darell Garretson
Buzz: For the second season in a row, Garretson has taken over after starter Chuckie Keeton suffered a torn ACL. And for the second season in a row, Garretson is playing at a high level. He has thrown seven TD passes and rushed for two TDs in his three starts, and his passer rating would be 15th nationally had he met minimum games-played qualifications.
Take a look at the great players, coaches and teams that have shaped the history of college football.
28. Massachusetts (preseason: 123rd)
Main starter: Blake Frohnapfel
Buzz: Frohnapfel is a transfer from Marshall who had immediate eligibility, and he has given UMass a huge offensive lift. He has thrown 18 TD passes, including 12 in the Minutemen's three MAC games. He also threw three TD passes in a narrow loss to Colorado. His completion percentage is low (54.9), but he gets zero help from his running game.
29. Colorado (preseason: 60th)
Main starter: Sefo Liufau
Buzz: Liufau started seven games last season, becoming the first true freshman quarterback to start a game for the Buffs since 2008. He has thrown 19 TD passes this season. His interception numbers are too high, though (seven).
30. Georgia Southern (preseason: 119th)
Main starter: Kevin Ellison
Buzz: New coach Willie Fritz has overseen a change from the triple option to more of a spread attack, but the offensive change hasn't fazed Ellison in the least. He has rushed for 655 yards and seven TDs and also has tossed five TD passes. In games against ACC teams Georgia Tech and North Carolina State -- two losses by a combined five points -- he accounted for 561 yards of total offense and three TDs.