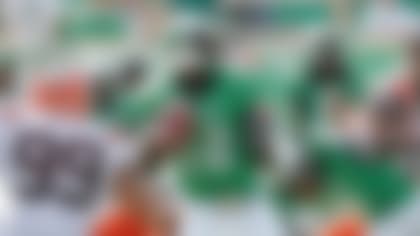 Life for teams outside the "Power Five" conferences in the playoff era isn't going to be much different than it was for them during the BCS era.
As usual, there are both some true star players and some solid teams in the five non-power conferences. And, as usual, those players and teams basically will fly beneath the radar.
Still, the best team from outside the "Power Five" leagues is guaranteed a bid in a "major" bowl, and one of the teams toiling in relative anonymity has the best shot of anybody in the country to finish the regular season unbeaten.
Here's a quick look at each league.
Predicted finish
1. UCF: Last season's league champ obviously will miss QB Blake Bortles, but there is enough talent on hand -- especially on defense -- for another title.
2. Cincinnati: A lot depends on QB Gunner Kiel, a highly touted transfer from Notre Dame. The Bearcats don't play league favorite UCF and get East Carolina and Houston at home. If Cincinnati has more than one conference loss, it will be a surprise.
3. Houston: The offense should be potent, and if the defense toughens up against the run, the Cougars will have a shot at the league title.
4. East Carolina: League newcomer (the Pirates arrive from Conference USA) will have an explosive passing attack, but the defense seems to lack enough overall talent to win the title.
5. SMU: From fifth place down, the league looks to be a jumbled mess. Coach June Jones has to find a ground game after the Mustangs were 117th in the nation in rushing last season.
6. Tulane: The Green Wave moves into the AAC from Conference USA, and doesn't appear to have enough offensive talent to legitimately contend in the new league.
7. Memphis: The defense made huge strides last season; now it's time for an offense led by TB Brandon Hayes to step up.
8. USF: Last season was a disaster because of a horrible offense. It seems too much to ask for the offense to have a complete turnaround in one season given the talent on hand. Still, there's a chance at a .500 record.
9. Connecticut: New coach Bob Diaco takes over a program that has fallen a long way in a short time (remember that the Huskies were in the BCS in the 2010 season). WR Geremy Davis is good, but the offense as a whole looks bad.
10. Temple: Sophomore P.J. Walker is a nice building block, but does he have any help? LB Tyler Matakevich will make a ton of tackles (140 stops is a possibility).
11. Tulsa: The Golden Hurricane is making the move from Conference USA, and coach Bill Blankenship is on the hot seat. There is no proven skill-position talent on offense.
Predicted finish
East Division
1. Marshall: This is a talented team. And the schedule is such that the Thundering Herd has the best chance of anybody in the nation to finish the regular season unbeaten.
2. Middle Tennessee State: The Blue Raiders need to find a competent quarterback. Everything else looks good.
3. Western Kentucky: Bobby Petrino's one season as coach was a success. Now he turns it over to Jeff Brohm, who used to be his quarterback at Louisville.
4. Florida Atlantic: Yes, FAU ended last season on a four-game winning streak, but the last three wins were over teams that combined to win four games. This team has a ways to go before it truly is competitive.
5. Old Dominion: The Monarchs are making the move from the FCS ranks. QB Taylor Heinicke has thrown for 4,000 yards in each of the past two seasons and is a great fit for the Monarchs' version of the spread.
6. UAB: The new coach is Bill Clark, who had been at FCS member Jacksonville State. His old team might have more talent than his new team. The Blazers' best player is Ty Long -- and he's their kicker.
7. Florida International: This is Ron Turner's second season as coach, and he already is on the hot seat. Refresh our memories: Why exactly was Mario Cristobal fired as coach?
West Division
1. Rice: The Owls are coming off just the third 10-win season in school history. Rice never has gone bowling in three consecutive seasons; that will change this season.
2. UT San Antonio: This is just the Roadrunners' fourth season of football, but they have a legit shot at winning the division title. Coach Larry Coker has done great work in getting the program to this level so quickly.
3. North Texas: The Mean Green is coming off its first winning season since 2004. The defense should be one of the best in the league, but the offense is a big concern.
4. Louisiana Tech: The Bulldogs lack talent and have a tough schedule that includes visits to Oklahoma and Auburn. Iowa transfer Cody Sokol needs to play well at quarterback for this team to sniff .500.
5. Southern Miss: The Golden Eagles won 12 games in 2012, but have won just one game since. This season, though, Conference USA is so shallow that even a team coming off a one-win season has legit hopes for a bowl.
6. UTEP: The offense has some potential. The defense? Let's just say it's good the offense has potential.
Overall league winner: Marshall.
Predicted finish
East Division
1. Bowling Green: New coach Dino Babers has a lot of offensive firepower at his disposal, and QB Matt Johnson could be (should be?) in line for a 4,000-yard/35-TD season. Even better is that the defense should be the best in the MAC.
2. Ohio: Frank Solich has guided the Bobcats to five consecutive winning seasons; the last time that happened at Ohio was a seven-season stretch from 1958-64. Ohio should be OK defensively, but the offense is a concern.
3. Akron: The Zips won five games last season -- just one win less than in the previous four seasons combined. Coach Terry Bowden is in his third season and looks to have the program moving forward.
4. Buffalo: QB Joe Licata should contend for All-MAC honors, and the offensive line should be one of the best in the MAC. But there is no proven skill-position talent.
5. Kent State: The Golden Flashes won a school-record 11 games in 2012, then slumped to four wins last season. The program was rocked this week by the death of starting C Jason Bitsko.
6. Miami: New coach Chuck Martin arrives from Notre Dame, where he had been offensive coordinator. That side of the ball needs a ton of help: Miami was winless last season and scored just 14 TDs.
7. Massachusetts: This is new coach Mark Whipple's second tenure as the Minutemen's coach; he was in charge from 1998-2003 and led the school to the Division I-AA national title in '98. The offense has miles to go: The Minutemen were held to single-digit points six times last season.
West Division
1. Toledo: If a new quarterback comes through, Toledo could win the MAC. The non-conference schedule is tough, but the MAC schedule is easily navigable except for back-to-back contests in November against Northern Illinois and Bowling Green. The game with NIU should determine the division title.
2. Northern Illinois: NIU has won 46 games in the past four seasons and is the best program in the league. But questions at quarterback could mean a second-place finish in the division this fall.
3. Ball State: Pete Lembo might be the best coach in the MAC, and if he can fill a gaping hole at quarterback, the Cardinals could contend for the division title. What seems more likely is a third-place finish in the division but also a third consecutive bowl appearance.
4. Central Michigan: WR Titus Davis is a big-timer, and the offensive line returns all five starters. The defense remains questionable.
5. Western Michigan: The Broncos won just once last season, but the offense has potential. If the defense goes from awful to merely adequate, Western could be a middle-of-the-pack MAC squad. That's a big "if."
6. Eastern Michigan: New coach Chris Creighton comes from FCS member Drake. Good luck, coach: EMU has had more than four wins just once in the past 18 seasons.
Overall league winner: Bowling Green
Predicted finish
Mountain Division
1. Utah State: QB Chuckie Keeton is back after missing the final seven games last season with a torn ACL. His presence should lift an offense that returns just two full-time starters. There is a good group of linebackers, and they will head what should be a solid defense.
2. Boise State: Chris Petersen is gone, and former Broncos assistant Bryan Harsin takes the reins. Line play on both sides of the ball is a concern. Even with the questions along the O-line, TB Jay Ajayi has 1,500-yard potential.
3. Colorado State: QB Garrett Grayson sure can sling it. But there are questions about the tailbacks and the defensive line.
4. Wyoming: New coach Craig Bohl arrives from FCS powerhouse North Dakota State, and there are non-conference games against Oregon and Michigan State. But if the Cowboys get consistent quarterback play, they could go bowling.
5. Air Force: The Falcons are fallen a long way, winning just twice in 2013. The defense was abysmal last season, and any hopes of improving the win total rests on that side of the ball.
6. New Mexico: Coach Bob Davie is entering his third season, and you have to think he sometimes wishes he had remained in the broadcast booth. His background is on defense, but the defense was a sieve last season, allowing 516.6 yards per game.
West Division
1. Fresno State: Life after Derek Carr begins for the Bulldogs. Still, there is enough talent on hand for them to repeat as league champs. FS Derron Smith is a potential All-American.
2. Nevada: QB Cody Fajardo is a true dual-threat quarterback, and he heads what should be a productive offense. The defense returns eight starters, but the Wolf Pack surrendered 505.3 yards per game last season and that number must be reduced drastically.
3. San Diego State: SDSU has been to four consecutive bowls -- the longest such stretch in school history -- and have a shot at winning the division if a rebuilt defense comes through. The secondary is a huge concern.
4. UNLV: UNLV hasn't had back-to-back winning seasons since 1983-84. The offense is good enough to get to six or seven wins, but the defense is mighty iffy, especially at linebacker.
5. San Jose State: Prolific QB David Fales is gone, and there are questions everywhere on offense -- most notably, who replaces Fales? The new defensive coordinator is the well-traveled Greg Robinson, who spent last season at Texas. Trust us: He had a lot more to work with in Austin, though DT Travis Raciti and LB Vince Buhagiar are potential all-league guys.
6. Hawaii: Coach Norm Chow is heading into his third season and definitely is feeling the heat. There's an alarming lack of offensive playmakers, and the front seven on defense will have five new starters.
Overall league winner: Utah State.
Predicted finish
1. Louisiana-Lafayette: ULL will be going for its third consecutive nine-win season and should ring up a ton of points. Thing is, if the Ragin' Cajuns get to nine wins again, you have to figure coach Mark Hudspeth moves on.
2. Arkansas State: Speaking of coaches moving on, Arkansas State will be on its fifth coach in as many seasons. Blake Anderson replaces Bryan Harsin, who replaced Gus Malzahn, who replaced Hugh Freeze, who replaced the fired Steve Roberts. There is talent on hand for Anderson, just not as much as at ULL.
3. South Alabama: The offense won't be anything special, though TE Wes Saxton has NFL potential. The defense should be tough, especially in the secondary.
4. Troy State: The Trojans owned this league for a while, but now are a middle-of-the-pack team. The defense needs to show vast improvement.
5. Louisiana-Monroe: Well-traveled QB Pete Thomas -- this is his third school -- has a big arm, and the passing attack could be good. If Thomas plays at a high level, the Warhawks could finish second in the league.
6. Texas State: The Dennis Franchione-coached Bobcats need to rev up their offense; they also need some JC transfers to pan out defensively.
7. Georgia Southern: The Eagles are making the move from the FCS ranks, and new coach Willie Fritz (who comes from FCS power Sam Houston State) is junking the triple-option offense for more of a spread look. But is there a quarterback on the roster who can throw effectively?
8. Appalachian State: This is another former FCS power moving up in the ranks. But the move might not be coming at a good time, as the Mountaineers won just four games last season -- their worst season since 1993.
9. Idaho: Idaho was an independent last season and faces huge travel issues this fall. And coach Paul Petrino -- Bobby's brother -- doesn't have much talent with which to work.
10. Georgia State: The Panthers were one of just two winless teams in the FBS ranks last season -- Miami (Ohio) was the other -- and if they can get to three wins this fall, it will have been a successful season.
11. New Mexico State: As with Idaho, the Aggies were an independent last season. As with Idaho, the Aggies face travel issues this fall. And as with Idaho, there isn't much talent on the roster. Just two starters return on defense.
Mike Huguenin can be reached at mike.huguenin@nfl.com. You also can follow him on Twitter @MikeHuguenin.