As the Green Bay Packers' organized team activities commenced on Monday, nobody found themselves caught in the middle of the rift between the club and its MVP quarterback, Aaron Rodgers, quite like Jordan Love. But the Packers' 2020 first-round draft pick, selected to secure the future of the QB position for the franchise much as Rodgers was 15 years earlier, is trying to focus on more inward-looking concerns.
Among the flaws the Green Bay coaching staff noticed in Love's development as a rookie was that on the deep ball -- a Rodgers specialty -- the former Utah State quarterback tended to lift his left heel as he completed the throwing motion. Packers head coach Matt LaFleur and quarterbacks coach Luke Getsy believe Love can milk more accuracy from a better-anchored left foot, so it was among the directives for Love's offseason improvement.
"He'd get some coaching points that [coaches] want him to work on, and he'll let me know those things, and I'll incorporate that into his workout," said Steve Calhoun, who runs Armed and Dangerous in Southern California and has been Love's private coach for almost a decade now. "(On the deep ball,) they want his heel on the ground, so he can have more balance through the throw and be more accurate down the field. He'll let me know what they want him to work on, and I'll incorporate that."
Love's readiness to lead the Packers beyond the Rodgers era has understandably been a topic since the day Green Bay traded up in last year's draft and invested the No. 26 overall selection in him. But in the 13 months since, through no doing of Love's own, it's become a much hotter one.
Second-year quarterbacks who participate in fewer than 25 percent of their teams' snaps as rookies are eligible to take part in their organizations' rookie developmental programs in the offseason. Love took advantage of that program last week -- and now, with Rodgers not reporting, the 22-year-old is due to gain valuable experience at the Packers' 10 OTA practices that will be spread over the next four weeks.
Calhoun said he and Love don't discuss the Rodgers drama, keeping their focus strictly on technique improvements. Texas Tech head coach Matt Wells, Love's coach at Utah State through 2018, said he's maintained a strong relationship with Love as a listener and sounding board, but declined to divulge what he knows of Love's mindset regarding Rodgers' future with the team. Wells remembers a quarterback who never had a problem separating football from distractions, but in the snowy mountains of Logan, Utah, controversy didn't exactly reign. Nothing, certainly, like it has in Green Bay with the growing distance between Rodgers and the Packers.
"My advice to Jordan would just be to be you. Be Jordan Love. Be the same guy who got you in the building, which is a guy that's thorough, a grinder and a great teammate," Wells said. "All those things that got him drafted high and got him in the building, just keep being that guy now."
What got Love drafted high was an ability to make high-difficulty throws and a dazzling knack for playmaking under two very different sets of circumstances at USU. As a redshirt sophomore in 2018, Wells' last season as head coach, Love led the Aggies to an 11-2 campaign and a bowl victory. That season marked the peak of his college career, as he threw for 3,567 yards and 32 touchdowns against just six interceptions. For Wells, the signs of a special quarterback were on display right from a narrow season-opening loss to Michigan State, in which Love threw for 319 yards and led a touchdown drive for a 31-30 USU lead with just five minutes left.
"That's the first time we got a glimpse that this guy is a legit quarterback with a real future," Wells said.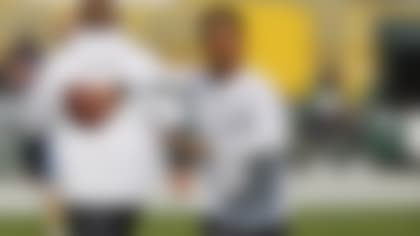 A year later, under a new coaching regime and with a surrounding offensive cast bereft of talent, his 17 interceptions led college football's FBS level. NFL Network analyst Marc Ross, formerly the New York Giants' vice president of player evaluation, saw through those struggles. Ross, who studied Love extensively as part of his analyst duties at NFL Network and viewed him as a potential top-five player in the 2020 draft, contrasted the quarterback's final season at Utah State with the elite talent that surrounded recent first-round quarterbacks from Alabama, Tua Tagovailoa and Mac Jones.
"When you've got all the blocking, you've got everybody open, as a quarterback, you're really just distributing. You're shooting layups and uncontested threes," Ross said last week. "With Jordan Love at Utah State (in 2019), none of the players around him even came close to the NFL. He had to do everything on his own. He's pretty much had to beat people off the dribble to create something for that offense. Did he make mistakes? Definitely. But the playmaking he showed -- I really loved him."
So much so that Ross ranked Love as the No. 2 quarterback in the 2020 draft, ahead of Tagovailoa and Justin Herbert and behind only Joe Burrow. "I have a little man crush on him," Ross admitted before the draft.
In many ways, Love's rookie year in the NFL was a lost season. COVID-19 protocols shut down many of the developmental opportunities for rookies league-wide, most notably the cancellation of the entire preseason, and Love wasn't a polished product to begin with. He spent the year as the team's No. 3 quarterback, responsible for running the practice squad during the week.
Despite the obstacles, Love did find opportunities to learn during his rookie season – some of the learning coming from an unexpected source. During an appearance on "The Rich Eisen Show" earlier this month, Packers running back Aaron Jones revealed how it was Rodgers who took Love under his wing in practices.
"Maybe it might be a play, and what he saw if it was the first read or the second read or the third read, maybe what he saw or maybe a little bit on the mechanics side of it, he just goes into so many different things. Or it could be the sound of the cadence, trying to get them to jump offsides, little things. ... He's just trying to better the players around him, truly."
Love didn't play a single down last year, as the Packers designated him inactive for the 17 weeks of the regular season as well as the playoffs. Instead, the team went with Tim Boyle as Rodgers' primary backup. According to NFL Network draft analyst Daniel Jeremiah, however, that alone doesn't degrade Love's long-term potential.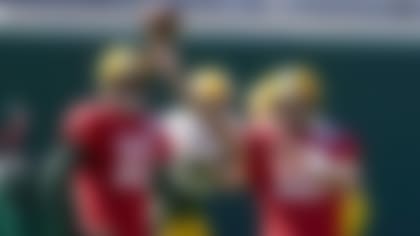 "If Aaron Rodgers gets hurt (last year), at that point and time, you might revisit that. But just to have someone who can get you out of a game, you might want a more veteran guy, so I wouldn't read too much into that," Jeremiah said. "But to me, going into this season, if he doesn't win the No. 2 job outright and clean this year, that'd be cause for concern."
In a moment of candor after the first round of this year's draft, Packers GM Brian Gutekunst, peppered with questions regarding Rodgers' future with the team, told reporters that Love "has a long way to go," but that the club is "ecstatic for his development."
Just days later, the Packers signed quarterback Blake Bortles. And who could blame them? If Rodgers' distaste for his employer has spiraled downward far enough to compel him to hold out or retire, it only makes sense for the Packers to pair a quarterback with significant game experience (Bortles) with a first-round investment who has none (Love).
"Obviously, we think the world of Jordan and where he's going to grow and develop," Gutekunst said at the completion of Day 1 of the draft last month. "I think it's pretty early to be able to tell you that because obviously with no preseason games last year and just kind of the no-spring, but we have a lot of confidence in his talents, in his work ethic and where he's going to go. But it's a little early for that."
Only game action – and perhaps a glimmer will come over the next four weeks, with Love taking first-team snaps in OTA practices -- will reveal just how ready he is to take over an NFL offense. It wouldn't be the first time he has emerged from the shelter of a learning year to big success.
At Liberty High in Bakersfield, California, he starred for the varsity a year after being relegated to junior varsity.
At Utah State, he redshirted in 2016 only to take over the starting job midway through the following season.
And in Green Bay, he just might get the chance to put a developmental year to quick use once again.