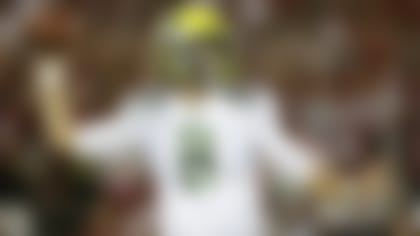 There figures to be at least seven starting quarterbacks who played for a Pac-12 school in the NFL this season, and that number could swell considerably based on this year's crop of quarterbacks out West who will be hearing their names called by NFL Commissioner Roger Goodell before too long. While other conferences proudly boast about their running backs, wide receivers or defensive linemen, in the Pac-12, the 2014 season begins and ends with a discussion about the quarterbacks.
A remarkable 10 teams return a starter at the position, with only Arizona and Washington having to figure things out with a fresh face. It's not just the fact that Pac-12 programs are bringing back players with experience, either -- these guys are good. Really, really good.
The SEC can rightly pump its chest for producing four signal-callers who were drafted in May, but the Pac-12 has the potential to equal that number in 2015 ... in the first round. Oregon's Marcus Mariota rightfully enters the season as a Heisman Trophy favorite and is being touted by some as the No. 1 overall pick when his time in Eugene is up. UCLA's Brett Hundley has graced the cover of Sports Illustrated twice in three weeks and is one reason the Bruins are not only the favorite in the South Division but a potential College Football Playoff dark horse.
"Never seen anything like this where you have multiple guys in our conference that you could say could be the No. 1 pick overall in the draft," Stanford's David Shaw recently said. "You have multiple guys in the conference that could be All-Americans and could lead the nation in quarterback rating or lead the nation in yards and yards per attempt, in touchdown passes, and that could be any of five or six guys that could do that this year."
Oregon State's Sean Mannion figures to set a number of the conference's passing records and could put them out of reach for some time if he continues on the pace he set last year. Taylor Kelly at Arizona State is often overlooked but directs the Sun Devils' offense as well as anybody operates an offense in the country. USC's Cody Kessler started 2013 slow but was outdueling the nation's leading passer by the end of the season, and he'll matchup early with Stanford's big-play signal-caller Kevin Hogan. It says plenty about the depth the Pac-12 has when those names come up before the Air Raid savants (Washington State's Connor Halliday and Cal's Jared Goff) and the dual-threats from the mountains (Utah's Travis Wilson and Colorado's Sefo Liufau).
If you're not familiar with the quarterbacks out West, we suggest you read up quickly. They are all quality starters, and they are here to lead the Pac-12 to a banner season on the gridiron.
South Division
1. UCLA: The defense has playmakers at every level and a more consistent Hundley on offense make the Bruins hard to beat if they're on their game.
2. USC: The Trojans still have the most talented starting 22 in the conference, but depth will once again be a key question. Steve Sarkisian's up-tempo offense could be right behind Oregon in most categories.
3. Arizona State: The offense will be really good, and that's a good thing because the Sun Devils might have to win some shootouts with all the new faces on defense.
4. Arizona: Rich Rodriguez is going to have another new quarterback, but whoever it is will be throwing to the best wide receiving corps in the league. Defensive depth continues to improve, but finding a new workhorse running back will be key in 2014.
5. Utah: Can the Utes get back to a bowl game? Having Travis Wilson back under center is a step in the right direction. How quickly the defense gels will be key in determining if Kyle Whittingham is on the hot seat heading into next season.
6. Colorado: Mike MacIntyre is building the Buffs up the right way -- and they'll be better this year -- but the team is still a few steps behind their Pac-12 brethren.
National title contenders
Oregon, Stanford and UCLA: If anybody makes it out of the Pac-12 unscathed, they will certainly have earned a high seed in this year's College Football Playoff. The Ducks once again have a shot at the title and need to act while their window is open with Mariota running the show. Their defense is vastly underrated, but a healthy quarterback should be enough to get out of the conference championship game and make some noise against the powers to the east. The Cardinal's loaded schedule gives Stanford hope, even if the team loses one of its tough road contests. Stanford has the talent and scheme to beat anybody in the country. UCLA remains the biggest question mark among the contenders. The Bruins have quality coaching and plenty of talent, but also a history of falling short of expectations. If the Bruins are to truly become elite under Jim Mora, this is the season to do so.
Offensive Player of the Year
QB Marcus Mariota, Oregon: Mariota (6-foot-4, 215 pounds) seemed like he became an afterthought on the national landscape last season after suffering a knee injury and losing to Stanford, but that glosses over how great his season was. His completion percentage slipped slightly from his first year as a starter, but he threw for 3,665 yards and posted a whopping 31-4 touchdown-to-interception ratio that was one of the best in the country. All this while averaging nearly 10 yards a carry, late-season slide included. He needs to have some new weapons emerge at receiver, but nobody is primed to put up better numbers and challenge for the Heisman like Mariota in the Ducks' offense.
Defensive Player of the Year
DE Leonard Williams, USC: Williams (6-5, 310 pounds) was an All-American last season despite a bum shoulder, which means his 2014 ceiling is high. He had 74 tackles, 13.5 TFL and six sacks in 2013, and those numbers should go up despite opponents throwing at least a double-team his way. New coordinator Justin Wilcox turned Hau'oli Kikaha into a 13-sack player out of nowhere at Washington, so the sky is the limit for Williams this year -- even with more attention paid to the junior.
QB Kevin Hogan, Stanford: It's hard to call a quarterback who has helped lead his team to back-to-back Rose Bowls a "breakout player," but Hogan has never been the brightest star on the Cardinal. He gets passed over for some of the other bigger names at the position in the conference, but he's entering his third season as a starter and his decision making should be key to the offense. Without a workhorse tailback to hand off to and a number of explosive playmakers at receiver, Hogan is in the running to earn All-Conference honors and keep Stanford among the nation's elite.
QB Brett Hundley, UCLA: He's said this is his last season in Westwood, and UCLA is primed to capture the conference title for the first time in over a decade. That puts a lot of pressure on the affable signal-caller for the Bruins, whose media game might be as good as his play on the field. He completed 67 percent of his passes in 2013 and posted 24 touchdowns, good numbers for sure, but they might have to be better if the team is to live up to expectations. If he can cut down on his turnovers and sacks -- two big issues in the past -- then the sky is the limit. But make no mistake, the pressure is on the one they call the "savior" around campus.
Three best non-conference games
Michigan State at Oregon, Sept. 6: This might be the best non-conference game of the season in college football. The Spartans have a blueprint to stop the Ducks from Rose Bowl opponent Stanford, and the big-play Ducks getting an early win could propel them to a national title.
UCLA vs. Texas, Sept. 13: Texas is always a marquee opponent, and playing at AT&T Stadium should give UCLA an early look at what could await if it makes it to the national title game. This is a big stage for Hundley and Co. to announce they're for real in 2014.
Notre Dame at USC, Nov. 29: Yes, the shine was taken off this one with some of the recent news regarding the Irish, but it remains one of the great non-conference rivalries in the sport and still has the potential to be a top-20 matchup. If Steve Sarkisian wants to keep his fan base happy, winning this is a must.
Three biggest conference games
Oregon at UCLA, Oct. 11: This could be the first of two meetings and a possible Pac-12 Championship Game preview.
Stanford at Oregon, Nov. 1: This has been the Pac-12's version of LSU-Alabama the past few years, and that should continue in Eugene with the Ducks looking for revenge.
USC at Stanford, Sept. 6: We'll find out early on if either team is for real in the conference race with this Week 2 matchup.
Preseason All-Conference Team
QB Marcus Mariota, Oregon (6-4, 219, junior)
RB Byron Marshall, Oregon (5-10, 205, junior)
RB D.J. Foster, Arizona State (5-11, 203, junior)
WR Nelson Agholor, USC (6-1, 190, junior)
WR Ty Montgomery, Stanford (6-2, 220, senior)
TE Connor Hamlett, Oregon State (6-7, 266, senior)
T Andrus Peat, Stanford (6-7, 316, junior)
T Jake Fisher, Oregon (6-6, 300, senior)
G Alex Redmond, UCLA (6-5, 300, sophomore)
G Josh Garnett, Stanford (6-5, 325, junior)
C Hroniss Grasu, Oregon (6-3, 297, senior)
DE Leonard Williams, USC (6-5, 300, junior)
DT Danny Shelton, Washington (6-2, 339, senior)
DT Arik Armstead, Oregon (6-8, 290, junior)
DE Henry Anderson, Stanford (6-6, 287, senior)
LB Myles Jack, UCLA (6-1, 230, sophomore)
LB Shaq Thompson, Washington (6-1, 228, junior)
LB Hayes Pullard, USC (6-1, 235, senior)
CB Ifo Ekpre-Olomu, Oregon (5-10, 195, senior)
CB Marcus Peters, Washington (6-0, 190, junior)
S Jordan Richards, Stanford (5-11, 210, senior)
SS Su'a Cravens, USC (6-1, 225, sophomore)
K Andy Philips, Utah (5-10, 190, sophomore)
P Tom Hackett, Utah (5-11, 187, junior)
KR Ty Montgomery, Stanford (6-2, 220, senior)
PR Nelson Agholor, USC (6-1, 190, junior)