Oregon State quarterback Sean Mannion picked a bad time to look like, well, Sean Mannion.
Before last week, Mannion had avoided the mind-numbing bad decisions that had characterized the early part of his college career, compiling 3,263 yards and 30 touchdowns against three interceptions in his first eight games this season. But in his most recent game, he threw three interceptions in a 31-14 loss to USC on Nov. 1.
Week 11: Top QB performances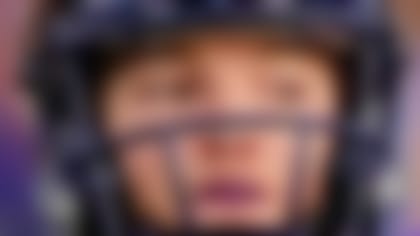 Johnny Manziel and Maty Mauk each tossed 5 TD passes Saturday -- good but not quite good enough to be No. 1 in our top 10 quarterback performances of Week 11. More ...
The redshirt junior will have had 15 days to stew over his first multiple-interception game of the season and sixth career game with three or more interceptions before the Beavers take the field against at Arizona State.
Most troubling about Mannion's turnovers was where they occurred -- his two red-zone interceptions potentially represented the difference between a dreadful loss and a one-possession game.
"Both plays, he was hurried a little bit, but -- and he would tell you this -- they were bad decisions," Oregon State head coach Mike Riley said. "The second one was a throwaway. He's been doing such a great job with that all year, and I think it was an example of just trying to make too much happen. Again, he's had a great year making those kinds of decisions and I expect him to get back to doing that."
There were some positives in the loss. The Beavers averaged 5.8 yards per carry and held a ferocious USC pass rush to two sacks. Riley said he believes the offensive line is finally coming together.
"Not that we did great, but we did better against SC, and they have got a great front," Riley said. "We were certainly not perfect. But we've got an opportunity to take a step forward in our improvement from what we did Stanford to SC now to Arizona State."
But to break a two-game losing streak, which could easily be five when Oregon State ends the regular season Nov. 29, it will all come down to Mannion. At 6-foot-5, 220 pounds, he has prototypical size and arm strength to be a viable NFL prospect next season, and he has shown it at times in a one-dimensional offense behind a makeshift line. That doesn't matter when Mannion places too much value on those physical gifts and mistakes ensue.
Led by safety Alden Darby and corner Osahon Irabor, the Sun Devils have an aggressive secondary that ranks second in the Pac-12 and 14th in the FBS with 13 interceptions. In-state rival Oregon has an even better defensive backfield, so Mannion will have to be in control for Oregon State to have a shot in either of those games.
More than any other quarterback in the Pac-12, Mannion is the most indispensible factor in his team's success. Only by returning to the form that made Mannion a viable Heisman Trophy candidate just a few weeks ago can get the Beavers back on track.