Oregon quarterback Marcus Mariota will not be playing in the BCS national championship game, Rose Bowl, or Pac-12 championship game this season, but, at this point, Duck fans would settle for seeing the redshirt sophomore play next Friday in the Civil War.
Mariota took a knee to the head trying to tackle Arizona cornerback Shaquille Richardson after throwing his second interception of the game -- he had not been picked off all season heading into Saturday -- at the end of a 42-16 upset by the Wildcats.
Week 13: Top QB performances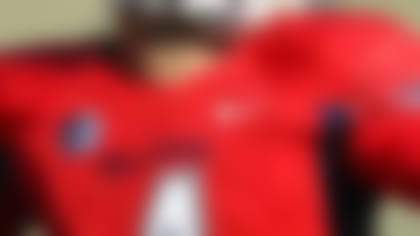 Fresno State's Derek Carr threw seven TD passes Saturday, but it wasn't enough to earn the No. 1 spot on our list of the top 10 QB performances of the weekend. **More ...**
Mariota had to be helped to the sideline and was surrounded by teammates and staffers as he was examined by team doctors. Running back Ka'Deem Carey and quarterback B.J. Denker, virtually flawless all afternoon, ran out the final 5:40 of the fourth quarter, so it was not immediately known whether Mariota would have been able to return to the game.
Still sporting the heavy brace on his left knee, Mariota was 27-of-41 passing for 308 yards and two touchdowns but added 52 rushing yards on eight carries and was not sacked.
However, Mariota was picked off on the first play of the game, as a diving Richardson kept the ball from falling out of bounds before it was corralled by freshman linebacker Scooby Wright. Mariota had gone 353 pass attempts without an interception, dating back to UO's loss to Stanford last November.
Mariota also missed some throws and looked reluctant at times to take off and run, one of the reasons UO's five trips into the red zone resulted in just 16 points. Then again, it wouldn't have mattered as the defense was completely unable to stop Carey and Denker.
Whether Mariota declares for the draft is not the immediate concern for UO. Whether he will be available against Oregon State next week to salvage a season that is falling apart will be the more pressing matter.