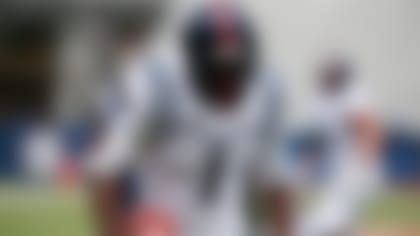 It's fun to talk about numbers in sports, and while projecting stats might seem an exercise in futility to some, did we mention that it's fun to talk about numbers in sports?
Besides, we're still about six weeks away from the start of the college football season, so why not slip on the Nostradamus hat and try to figure out who will lead various statistical categories in each league?
Today, we're spotlighting the SEC.
Passing yards: Ole Miss QB Bo Wallace
Buzz: There isn't a proven, star-quality passer returning in the SEC, and about half the league is turning the quarterback position over to a new player. That makes handicapping the league's leading passer no easy task. The pick here, however, is Bo Wallace of Ole Miss. Dylan Thompson of South Carolina, Hutson Mason of Georgia, and whoever lands the Texas A&M quarterback job are all possibilities, but we know this much about Wallace: He'll take a ton of snaps in the Rebels' hurry-up, no-huddle attack, and he has some excellent targets to throw to in Laquon Treadwell and Evan Engram, among others. Plus, unlike Thompson and Mason, Wallace won't be handing off to a big-time rusher 25 times a game. Wallace threw for 3,346 yards last year, which should be more than enough to lead the league if he can match that total this year.
Rushing yards: South Carolina RB Mike Davis
Buzz: Davis, Georgia's Todd Gurley and Alabama's T.J. Yeldon are immensely talented rushers, but Davis will lead the SEC for a couple of reasons. One, he won't have to share carries with his backups as much as Gurley will with Keith Marshall, or Yeldon will with Derrick Henry. Two, he'll be seeing plenty of daylight given that the top offensive line in the SEC will be blocking for him. The left side of the Gamecocks' front -- seniors Corey Robinson at tackle and guard A.J. Cann -- will blow open some huge holes. Davis ran for 1,183 yards last season despite slowing down toward the end of the year, and missing a game against a cupcake opponent in Coastal Carolina. With a healthy year and a strong finish in 2014, he's a 1,500-yard back waiting to happen.
Receiving yards: Ole Miss WR Laquon Treadwell
Buzz: For some of the same reasons we like Bo Wallace to lead the league in passing, we like Treadwell to lead it in receiving. With Donte Moncrief now off to the NFL, Treadwell will step into the team's No. 1 receiving role this fall. The Rebels will throw the ball as much or more than any school in the conference. Several returning receivers in the SEC posted more receiving yards than Treadwell last season, including Mississippi State's Jameon Lewis (923), Auburn's Sammie Coates (902) and Alabama's Amari Cooper (736). That makes Treadwell something of a darkhorse pick, but if Wallace tops the league in passing, Treadwell's numbers will follow.
Tackles: Tennessee LB A.J. Johnson
Buzz: A league-leading tackler is typically not only a standout linebacker, but one who plays for a lousy defense, as well. That's because the best players on the best defenses get off the field on third down and thus don't play as many snaps. The star linebacker with limited help around him, by contrast, is the guy making tackle after tackle on 12-play drives. That's why Georgia's Ramik Wilson led the league last year, and why former Kentucky linebacker Avery Williamson was among the league leaders twice. Georgia's defense has a chance to be significantly better this fall, while Tennessee's figures to struggle again. As such, we expect Johnson to rack up more than 100 stops for the third consecutive year, and lead the league in doing it.
Check out the best moves of college football cheerleaders during the 2013 season.
Sacks: Kentucky DE Bud Dupree
Buzz:The top five sack artists in the SEC last season are all now in the NFL, so the field for 2014 is wide open. Dupree posted seven sacks last season to rank sixth in the league as the leading returner in the category. His counterpart on the other end of the UK defensive line, Za'Darius Smith, is good enough to challenge for the league lead as well, and thus good enough to prevent teams from putting too much blocking help on Dupree's side. Dupree figures to be drafted and actually considered an early jump to the NFL after last season. Two pass-rushing linebackers who could also challenge for the SEC sack title are Vanderbilt's Caleb Azubike and Georgia's Leonard Floyd.
Interceptions: Florida CB Vernon Hargreaves
Buzz: Ole Miss safety Cody Prewitt led the league as a junior last season with six, twice as many as Hargreaves made. But Prewitt is a hitter first and a coverage guy second, and while he'll be one of the best safeties in the SEC this fall, he's not a good bet to lead the league in picks again. Hargreaves blanketed receivers last season as a freshman and is primed for a big year in 2014. He'll likely draw some of the toughest assignments against some of the league's top receivers, giving him plenty of opportunities for interceptions.