Jalen Saunders' draft prospects will be diminished simply because of his size, as the Oklahoma senior wide receiver is listed at 5-foot-9 and 157 pounds. Downgrading him because of his stature would be a mistake, though, Sooners co-offensive coordinator Jay Norvell says.
Week 14: Top WR performances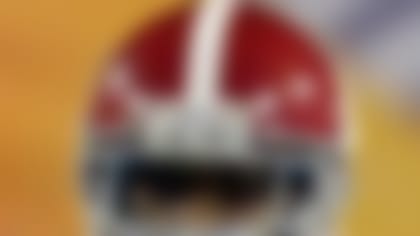 Amari Cooper's 99-yard TD reception put Alabama ahead of Auburn until "the return." He tops our list of the 10 best WR performances of Week 14. **More ...**
Saunders leads OU with 51 receptions for 615 receiving yards and ranks second with five touchdown receptions. Saunders also ranks second in the Big 12, averaging 14.6 yards per punt return.
Saunders played mostly in the slot last season after transferring from Fresno State, even matching a school single-game record with 15 receptions against Notre Dame in his OU debut. But he has been used out wide more often this season. That's where he lined up on the 76-yard touchdown reception that sparked a win over Texas Tech earlier this season.
In Saturday's Bedlam rivalry game against Oklahoma State, Saunders is likely to be covered by cornerback Justin Gilbert, who has asserted himself as one of the top senior defensive backs in college football this season with six interceptions, fourth-most in the FBS.
In his midseason update of the top 100 seniors in college football, Gil Brandt has UCLA LB Anthony Barr No. 1 and a previously unranked player in his top 5. **More ...**
Gilbert (6-feet, 200 pounds) is known for his aggressive style of play, but Norvell believes Saunders can match that physicality.
"He's shown that he'll mix it up," Norvell said. "We've used him in a lot of situations where you would use a bigger receiver and he goes in there and throws his body around. I'm probably most proud of that from him, how he has been a physical player."
The NFL isn't exactly overflowing with wide receivers measuring less than 6-feet, but Wes Welker (5-9), DeSean Jackson (5-10) and Steve Smith (5-9) have carved out outstanding careers. If Saunders can deliver against Gilbert, it should at least earn him a chance to prove he can join that elite company.